Last month Coldwater Creek (NASDAQ:CWTR) issued an earnings report that made it pretty clear the company is headed toward bankruptcy unless it finds an 11th hour savior. The dire financial situation was covered well in a Seeking Alpha article titled "Coldwater Creek: Next Stop - Chapter 11." The stock mysteriously jumped 14% on the day before CWTR reported earnings - perhaps from short-covering - and promptly fell 30% after the earnings report. The stock proceeded to slide another 34% before CWTR threw the kitchen sink at investors in the form of a press release discussing alternative futures for the now desperate company.
The day after this press release, CWTR fell yet again - this time 25% to a fresh all-time closing low of $0.94/share. By the end of the week the stock recovered all its losses before fading back in Friday's trading (October 18, 2013).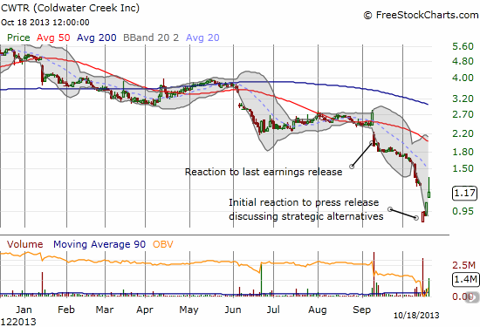 A sickening slide for CWTR
Source: FreeStockCharts.com
The kitchen sink came in the form of CWTR overwhelming investors and traders with a heavy load of bad news combined with a de facto information blackout all thinly dressed up under the rhetoric of "shareholder value." The company announced that in the month since it reported earnings "…the negative comparable retail sales trend identified in the second quarter has accelerated. Despite the benefits from its ongoing cost cutting initiatives and real estate optimization activities, the Company expects third quarter results to be below its previous guidance." This comes after saying the following about trends in the last conference call:
…we continue to struggle with inconsistent traffic patterns, and this trend continued in the second
quarter…We remain focused on reacting to trending categories and improving our ability to chase goods, which is an important component of our speed-to-market strategy…we have identified several new trending subcategories and are actively reinvesting in them for the fourth quarter.
Adding to the market angst, CWTR has decided to stop providing quarterly guidance "..until such time as its business returns to a more predictable cadence." The information blackout will be complete because CWTR will also not release any updates on any of the strategic alternatives it may pursue including, but not limited to "…partnerships, joint ventures or a sale or merger of the Company." The information blackout is understandable but it substantially increases the risks to anyone holding the stock. At any moment and at any time, the company could suddenly announce a complete collapse in its business and the failure of finding any palatable strategic alternatives. Into this darkness the market is likely to sell CWTR stock on the mere sniff of any news. In particular, signals pointing to a bankruptcy will force selling first and asking questions later.
However, this is exactly where the speculative buying opportunity comes when trading at the edge of bankruptcy. These kinds of quick trigger reactions quickly exhaust willing sellers. Into the proceeding vacuum should come short-covering and/or "bargain hunters" who find the lower entry point worth the risk. Like last week, the rebound could be strong enough to reverse initial losses.
Note how in reaction to last week's press release, the stock plummeted to its low for the day and rallied from there to close at its highs. This was likely the action of shorts once again locking in profits after sellers exhausted themselves (as of the time of writing, shorts are 15% of CWTR's float - they have been covering for the last 6 months or so at a snail's pace). All that was left for the rest of the week was the lingering hope that CWTR might somehow be able to save itself.
I am now watching CWTR closely because this trade could be a dress rehearsal for what is to come for J.C. Penney (NYSE:JCP).
JCP's post-recession recovery peaked out around $41 in early 2012. It has been downhill from there to an all-time low of $7 on Friday, interrupted periodically by relief rallies on clouds of hope. On September 27th, JCP announced the pricing of a large stock offering that netted $785M for JCP's eager coffers. Buyers of that offering at $8.96 share have very quickly lost 22%. It is clear the market does not believe this money will truly solve the company's problems. The company is buffeted by constant rumors, and it felt compelled to issue an update on its turn-around on October 8th stating…
Over the last six months, we have made significant strides and are now seeing positive signs in many important areas of the business, in spite of what continues to be a difficult environment for consumers and retailers in general. While pleased with the improving trends and more predictable performance, we are still in the early stages of the turnaround and will maintain a relentless focus on achieving our long-term goals for the benefit of our customers, associates and shareholders.
JCP listed improving sales trends, strong liquidity, "rebuilding its base of highly satisfied and loyal customers," stocking the correct inventory, and new leadership as compelling positives. It also admitted that is still struggling with its new Home Store concept and strategy. Altogether this news provided a week-long respite from the selling which promptly resumed in force a week later as rumors of credit concerns still descended upon the company. This drama is likely to drag on for quite some time since JCP now has the capital and liquidity to keep fighting against the odds and limp through the holiday season for what could be its last stand. The $5 mark will be the next level to watch since many funds have rules against holding stocks price less than $5. CWTR kept bouncing off he $5 mark for two months in the summer of 2011. When that support finally caved, CWTR quickly plunged 21% within a week. That $5 level served as staunch resistance until CWTR's last unsuccessful retest of $5 in late 2012 and early January 2013.
You can bet the minute someone hollers bankruptcy at JCP in a crowded trading pit with even a shred of credible evidence, traders and investors will be selling first and asking questions later…
Be careful out there!
Disclosure: I am short JCP. I wrote this article myself, and it expresses my own opinions. I am not receiving compensation for it (other than from Seeking Alpha). I have no business relationship with any company whose stock is mentioned in this article.
Additional disclosure: I am long and short JCP puts (net short).