"Be sure to put your feet in the right place, then stand firm." - Abraham Lincoln
Thesis: There is an elevated risk of a short-term U.S. REIT correction due to a lower demand for U.S. Treasuries and year-end tax harvesting of capital losses.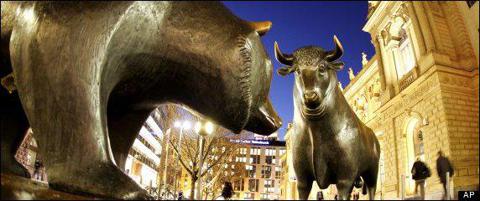 The 2013 REIT Bear Market
After the Fed April 30-May 1, 2013 meeting minutes were released on May 22, 2013, the REIT bear began gnawing at REITs across the board. The U.S. Dow Jones Real Estate Index, as measured by the iShares Real Estate ETF (NYSEARCA:IYR), is down 11% from the May 21 close of $75.54 and is up 3.9% on the year (red line on chart below).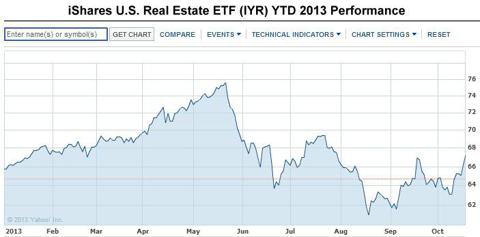 Why The Summer Sell-Off?
As REITs carry a higher risk than treasuries, a risk premium is warranted. When the demand for U.S. treasuries decreases, rates go up. The risk premium will adjust to such movement and is displayed in a higher general yield for the U.S. REIT market, which thereby lowers aggregate REIT valuations.
The Current State Of The U.S. REIT Index
The IYR has recovered from the summer swoon and is currently up 3.9% on the year. The strength over the last two months has stabilized the 50-day simple moving average for the first time since the sell-off began.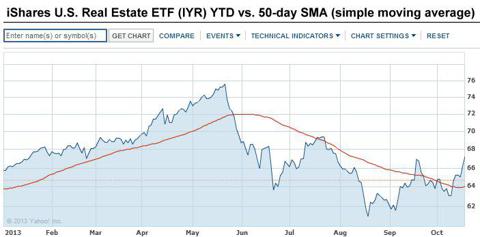 Anticipating The Continuation Of REIT Weakness
While a brief REIT recovery is under way, the S&P 500 continues to make new multi-year highs. While this is a bullish sign for stocks in general, including REITs, there are specific, probable risks inherent in the market that may present near-term REIT weakness, specifically within the next 30 days. These threats include a renewed weakness in the U.S. treasury market and REIT sales to create beneficial losses for tax purposes.
REIT Threat #1: Continued U.S. Treasury Weakness
The U.S. debt market has come under pressure this year as the 10-year yield has increased this year from 1.76% to 2.59% (as of 10-17-13). That is an increase of 83 basis points, or .83%. When measured in terms of dollars demanded for holding these assets, investors now command 47.2% more income than they did at the beginning of the year.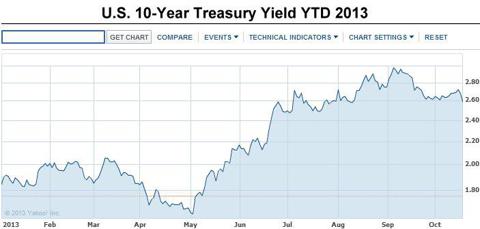 With the yield increasing 47.2% on the 10-year and short-term bonds still trading at near zero percent, the yield curve has steepened, the U.S. cost of long-term borrowing has increased and investors have shown an aggregate preference to move away from U.S. long-term debt.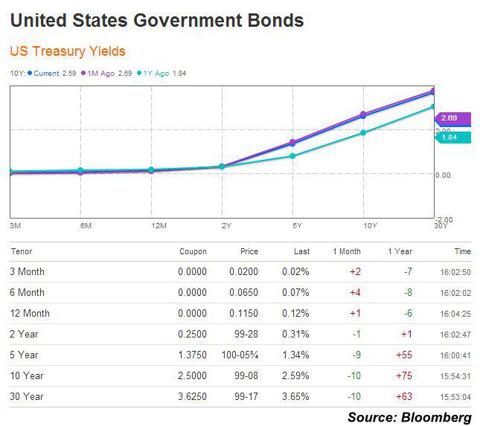 There are several key factors to the continual weakness in long-term U.S. government bonds. These include a global sell-off due to government fiscal irresponsibility and the recent Federal government closure, a continued increase in the U.S. money supply, a global preference to hold non-dollar asset reserves, key nations looking to remove the dollar as the reserve currency of the world and aggregate ex-U.S. central bank bond sales.
The catalyst to further the sell-off in treasuries could potentially be the lack of faith in the U.S. government, stemming from both the recent shutdown and a proven inability to rein in spending. The U.S. is at the tip of the debt ceiling and has too many expenses. President Barrack Obama clearly is in favor of a larger public sector and an increase in government spending, which ultimately favors a larger debt to finance.
China, the largest holder of U.S. debt, has been transparent about eliminating the dollar as the world's reserve currency for several years; however, this is not a catalyst for a rapid treasury descent. Any large sales by China would spook the market and devalue the rest of their holdings, as well as potentially destabilize a market that they rely on heavily for their exports.
Looking beyond China, countries with smaller holdings of U.S. bonds are quietly shrinking their positions. According to the U.S. Treasury's website, major sovereign debt holders, including France, Germany, Russia, Hong Kong, Belgium, Switzerland, Thailand and Israel, have reduced their positions in U.S. debt from January 2013 levels.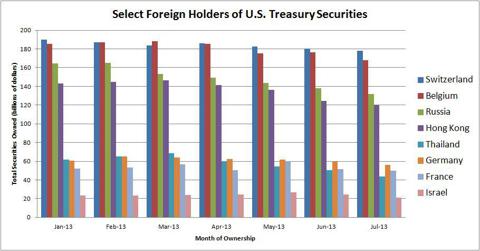 From January to July 2013, Russia led the exit with dispositions of over $32 billion in U.S. treasury securities. Along with the aforementioned nations, these select countries in aggregate dropped their holdings nearly $112 billion.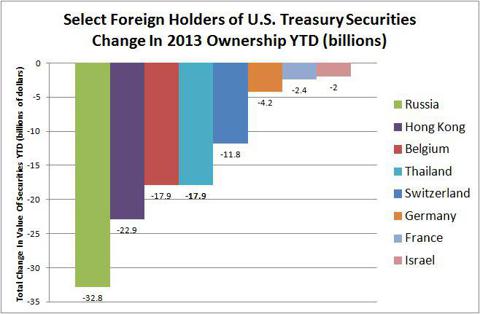 In terms of the reduction in U.S. debt on a percentage basis, Thailand has reduced their U.S. debt at the most rapid rate of our select foreign holders list. In total, Thailand reduced its position by 29.1% and on average, these eight countries have dropped their holdings this year by 12.6%.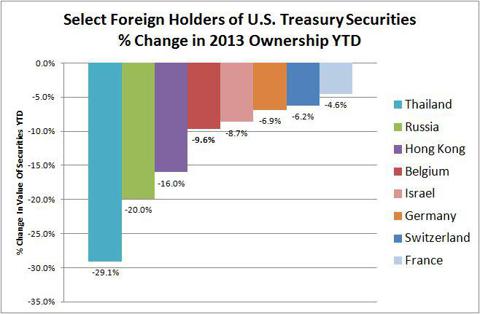 The weakening positions of U.S. debt from these leading nations could be a catalyst for other nations with manageable U.S. debt levels to follow suit. With higher yields trending, several nations have lost value in their long-term holdings of U.S. treasuries this year and are surly looking to limit such a continued risk.
As of July 2013, foreign nations accounted for $5.59 trillion of the U.S. debt. When a country like Brazil, who owns over $256 billion worth of U.S. debt, or a smaller nation like Ireland ($117.9 billion) or India ($59.1 billion) sees a trend for the exits, a combination of rapid sales could quickly disturb the market.
On another note, with the Fed taper inevitable, an announcement this year regarding a 2014 gradual withdrawal could spook the already tender market and lower the price of treasury bonds as rates would increase.
To recap the first threat, the largest catalysts for short-term U.S. treasury weakness include:
Continual sales of bonds from select foreign holders
An increase in the rate of select foreign holder sales
Other foreign holders following suit with sales
Reduced QE prospects in early 2014 causing sales
REIT Threat #2: Year-End Capital-Loss Harvesting
As most investors are aware, capital gains can be offset with losses for tax purposes. With the S&P 500 up over 22% YTD, there are plenty of gains on the books. REITs, however, have been one of the weakest asset classes in 2013.
While REITs are up 3.9% YTD, the current level is below most of the year's trading ranges, leaving many investors underwater. As such, REITs are an easy sell for those looking to cut their tax bill. With forward-looking markets, the selling could begin in November instead of December as investors look to get in front of the end-of-year tax selling bandwagon.
Conclusion
With the IYR yielding 3.85% at $67.20, there is an inherent risk of an increase in aggregate REIT market yield due to a potential rise in the U.S. 10-year treasury yield. In anticipation of harvesting capital losses to offset capital gains by year-end, investors may shift selling to the beginning of November instead of December to stay in front of the curve.
While the U.S. REIT market can be argued a great long-term investment, these short-term risks create a false sense of security that leave the REIT market susceptible to immediate downside risk. In this respect, anticipation of a continued 2013 REIT correction may reward cautious investors.
Disclosure: I have no positions in any stocks mentioned, and no plans to initiate any positions within the next 72 hours. I wrote this article myself, and it expresses my own opinions. I am not receiving compensation for it (other than from Seeking Alpha). I have no business relationship with any company whose stock is mentioned in this article.