It has been one helluva year for the stock market. Year-to-date through October 18, the broader market, as measured by the S&P Composite 1500 Index, was up 23%. That's great by any measure. Many fund managers who have been able to at least match that performance would be happy to close the books now and head for the beach until New Year's Day.
Last week, the S&P 500 reached a new all-time high of 1745.31. Despite the gyrations over the past few months, the bullish pattern of higher highs and higher lows has continued throughout the year. Yet, the trading action since July suggests that the market's momentum is declining.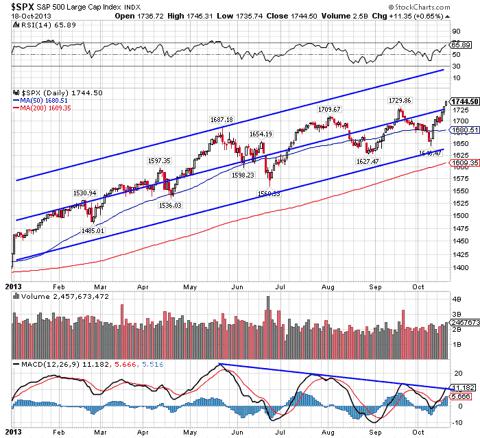 This can be seen in the chart above, a year-to-date chart of the S&P 500, courtesy of Stockcharts.com. Overlaid on the S&P's price action is a Raft Regression channel. The middle blue line is a least-squares linear regression of the S&P 500's year-to-date performance, based upon closing prices. The upper and lower bounds of the channel are determined by the intra-day high or low that is furthest from the regression line (in this case, the May 27 high of 1687.18).
Since mid-August, most of the price action in the S&P 500 has been below the linear regression line. Viewed in this way, the S&P looks like it is rolling over, even though it has continued to make higher highs and higher lows.
The Moving Average Convergence Divergence (MACD) indicator also confirms slowing market momentum. Since May 22, it has made progressively lower highs, even as the S&P has made higher highs.
This chart is obviously backward looking. The picture can therefore change easily within a short period of time. With last week's rally, the S&P has moved back above the regression line. A sustained advance from here would put the index well above the middle line and break the downtrend in the MACD. The odds of this happening, however, are probably less than 50-50, because the Relative Strength Index, shown at the top of the chart, is moving near the 70 level, which typically indicates an overbought condition.
More importantly, after a 23% advance in 9½ months (about 30% annualized), the momentum of the market should slow eventually. Although it is possible that such momentum could be sustained for awhile, such a rapid advance cannot be sustained indefinitely.
The stock market's ability to sustain its uptrend since July is actually quite remarkable. The market has been hit with a lot over the past five months - a roughly 80 basis point increase in the 10-year Treasury yield to 2.60% (most of which was associated with expectations of the beginning of the tapering of the Fed's Quantitative Easing program), the potential for U.S. military involvement in Syria and the battle in Congress over the Affordable Care Act, the budget deficit and the debt ceiling (and the prospect of a default on U.S. debt).
Although temporarily at bay, all of these issues remain outstanding. Others, like the slow recovery in Europe, negotiations over Iran's nuclear program and the slowing growth in China, could also hurt the market. The stock market has clearly climbed this wall of worry in recent weeks. Its strong performance should not be taken lightly.
Despite this year's advance, the S&P 500 remains below its historical average trailing multiple. As I discussed in my newsletter in August, the S&P 500 has traded in a range from 12 times trailing operating earnings in 1989 to 30 times at the peak of the dot.com boom, with an average valuation multiple of 18.8 times from 1989 to 2013. At current the current level, the Index is valued at 17.6 times trailing operating earnings. This is below the historical average, leaving the market with plenty of upside potential.
No matter which way the market moves in the next few weeks, the most important assessment is whether any advance is sustainable. Keynes reminded us long ago about the market's ability to remain irrational for long stretches of time. I do not know for sure whether the bull market will continue; but I do have a view on what it would take for me to remain bullish.
Sustainability, in my mind, depends upon whether the economy and stock market can remain in synch. The rate of economic growth (and by extension, corporate profits) must be consistent with the stock market's valuation multiple. The economy's sustainable growth rate depends upon a credible glide path to a sustainable Federal deficit and debt. This would raise business and consumer confidence and eventually, the pace of job growth.
A sustainable stock market advance will also, in my view, require a shift in market sentiment from "QE is good" (because it indirectly helps to pump money into the stock market) to "QE is bad" (because the Fed cannot expand its balance sheet indefinitely).
It is possible that the market is already beginning to make this shift. Stocks rallied into but quickly sold off on the Fed's surprise decision to delay the start of its QE tapering in September. This may have been another case of "buy on the rumor; sell on the news;" or investors might have turned their attention quickly to the debt and deficit fight in Washington; but it is also possible that they sense that the Fed must begin to unwind its QE program before too long to avoid a severe recession or a sharp rise in inflation or both.
In the near-term, here are some of the guideposts for market performance:
Third quarter corporate earnings. So far this earnings season, year-on-year earnings growth estimates for the third quarter have come down steadily. They currently stand at 1.3%, according to FactSet's Earnings Insight. 97 S&P 500 companies have reported so far. 69% have beat consensus on earnings and 53% on revenues, both below four year averages. 14 of 18 companies have lowered earnings guidance. Earnings have come in 2.3% below estimates on average, but a lot of this was due to JP Morgan's big earnings miss. Consequently, this ratio of actual to expected earnings should improve as more companies report. 144 S&P 500 companies will report earnings this week. So far, this is shaping up to be a mildly disappointing earnings season; but more than 80% of S&P 500 companies have yet to report, so the tone could very well change
Fourth quarter earnings estimates are still too high. Based upon data from S&P Dow Jones Indices, bottoms-up operating earnings estimates are currently expected to be $28.67 in the fourth quarter, up double digits from the 2012 fourth quarter. Analysts will almost certainly revise these figures down, especially in light of the Federal government shutdown. It is difficult to say whether these anticipated downward revisions will have any impact on stock prices, however, since analysts' estimates tend to be optimistic and are routinely revised downward as reporting dates draw near. Given the steady expansion in the market multiple so far this year, investors may not care much about near-term consensus earnings estimates.
Revenue growth is probably a key factor in the sustainability of the market's advance. Higher multiples do imply rising expectations about future corporate earnings. In its quarterly earnings webcast, S&P Capital IQ asserts that revenue growth will be a more important driver of future earnings growth because there is a limit to how much corporate earnings can grow from cost cutting. I agree.
A more permanent solution to the madness in Washington would help. Congress will face a negotiating deadline again early in the new year, which could lead to a repeat performance. If so, the economy could suffer another setback, which may very well stall or end the market's advance. The decision by Republicans to challenge the ACA was a bad strategic move. This fight would be divisive and very costly. Instead, the focus should be on entitlements. Any major progress on entitlement reform could put the country on a more sustainable fiscal trajectory. Accordingly, an entitlement reform agreement would likely be very well received by the financial markets.
Housing is still an important driver of the economy. Expectations for the rebound in new home production have slipped in the past few months, due to rising mortgage rates. Higher rates have undoubtedly pushed some potential buyers out of the market, especially at the low end; but more mortgage lenders are apparently finding ways to close loans with downpayments of 10% or less. Even though house price increases are expected to moderate, there is still anecdotal evidence that the housing market remains strong across much of the country.

Publicly-traded homebuilder stocks appear to be bottoming out after falling 25% from their highs in May. From its May 10 high to its August 30 low, the Lark Research Homebuilder Stock Index fell 25.7% to a key support level. It has since risen nearly 8%.

The May-August decline represents a long awaited correction after a sustained advance from Sept. 2011 that saw the index more than triple in value. Towards the end of the run-up, the stocks looked expensive, but earnings estimates have since come up significantly, so that the group now trades roughly in line with the market. Given the increase in mortgage rates, order growth has slowed, so it is possible that earnings estimates may be tempered somewhat near term. Even so, the group still has meaningful earnings growth potential, if the recovery in housing is sustained.

More builders will report third quarter results in the next two weeks, which may confirm some slowing in recovery momentum. If and when a final resolution is reached in Washington, I expect that growth expectations for both the economy and homebuilder shares will rise.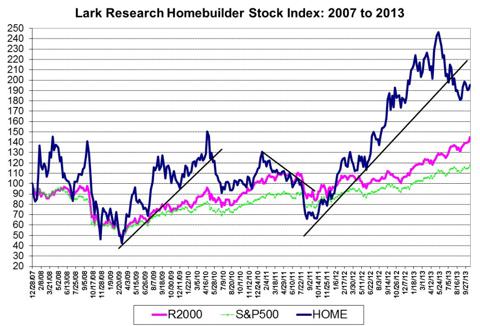 Disclosure: I have no positions in any stocks mentioned, and no plans to initiate any positions within the next 72 hours. I wrote this article myself, and it expresses my own opinions. I am not receiving compensation for it (other than from Seeking Alpha). I have no business relationship with any company whose stock is mentioned in this article.