One of the more puzzling aspects of the China Internet stock boom has been the general lack of interest in ChinaCache International (NASDAQ:CCIH). Well until the stock recently got a major boost from limited publicity.
Anybody following the original China Internet boom back in 2010 might recall that ChinaCache had a hugely successful IPO that soared 100%. The 'Akamai of China' quickly collapsed on the fears of fraud that hit every Chinese stock for the next couple of years. The stock has now doubled in the last month; yet it still trades at industry low multiples by an extreme margin.
Failed IPO
Though the stock soared on the IPO back in Oct. 2010, it never held the price unlike some of the other China stocks. The leading provider of Internet content and application delivery services quickly reached $35 after a month of trading, but the stock plunged all the way into the $3s within a year.
Though the company has struggled off and on to generate profits since the IPO, it has continued to report decent growth. The amazing part is that Seeking Alpha hasn't had an article published on this stock since Stone Fox Capital back on Oct. 3, 2010 (see ChinaCache International IPO Pops 100%: Small Investors Left Out Again). Interesting to read the suggestion that paying $15 back three years ago would've been ideal instead of the $30 that the stock reached on the opening day. Ironically though, the company continues to grow at 30% while the market would've let you purchase it for only $5 last month. The stock was so ignored last year that it even regularly traded less than 10,000 shares on a daily basis. See the below daily totals from a particularly weak period back in June last year: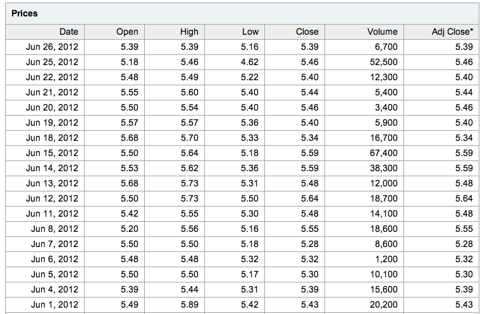 Two Compelling Charts
One doesn't have to look much further than a couple of charts on revenue growth and multiples comparing Chinese Internet stocks to see why ChinaCache could be one of the most undervalued stocks in the tech sector. Pulling up the numbers for Baidu (NASDAQ:BIDU), Sina (NASDAQ:SINA), Sohu.com (NASDAQ:SOHU), Qihoo 360 Technology (NYSE:QIHU), and Youku Tudou (NYSE:YOKU) one can quickly see a disconnect in the group.
The first chart to review is the quarterly revenue growth rates over the last couple of years. Without looking at the names, investors would probably not see any major laggards other than maybe the one only showing 20% growth.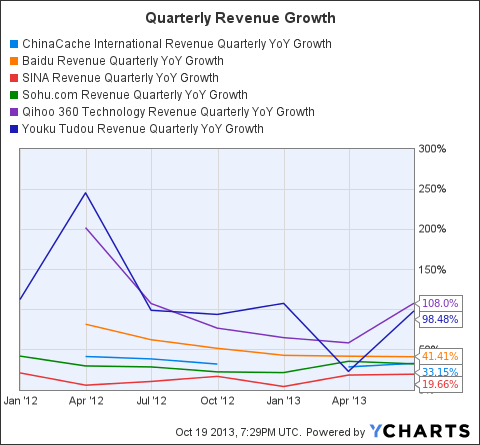 CCIH Revenue Quarterly YoY Growth data by YCharts
While that growth isn't horrible in its own right, it belongs to Sina. The interesting part is that ChinaCache has growth that gets close to that of Baidu.
The second chart gets interesting with the comparison of the forward sales multiples. This multiple is good for a quick way to analyze valuations amongst a group. It doesn't factor any differences in margins and profits or account for different growth rates. The previous chart though showed that a distinction should exist possibly with the 100% growers of Qihoo and Youku Tudou.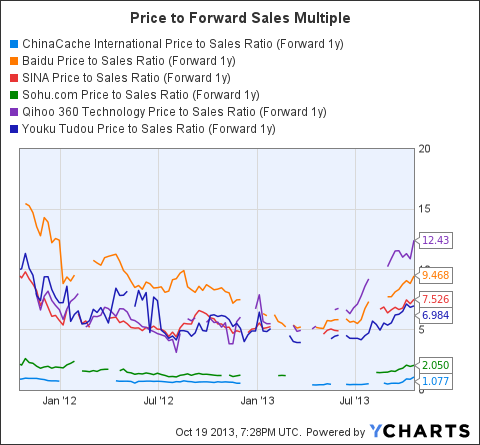 CCIH Price to Sales Ratio (Forward 1y) data by YCharts
The chart though shows a group of stocks trading at multiples between nearly 7x forward revenues and over 11x those revenues. Two stocks trade at substantially lower multiples that surprisingly includes ChinaCache.
The Dirty Details
Even after the massive rise, ChinaCache is only worth $200 million with revenues expected to reach right around $200 million next year. The analyst estimates are very limited on this stock but the company is forecasting over 30% growth for Q313. Revenues are expected to reach $44 million for the quarter, but the most important news of the year might just have been the cloud services deal with Microsoft (NASDAQ:MSFT).
With a lack of analyst coverage and investor interest, the stock languished for nearly three years. Possibly the deal to integrate its self-service CDN services with Windows Azure China provided a level of legitimacy that any analyst couldn't provide.
Conclusion
By all appearances the market forgot about ChinaCache. It doesn't get the attention of the hot stocks like Baidu or Qihoo and it doesn't have the excitement of any social media or wireless aspects. It doesn't have the old school trust of stocks like Sina or Sohu.com either. Not to mention the stock reached a valuation level of below $100 million that likely caused investors to stay away. The other stocks all maintained valuations in the billions that attracted hedge fund investors and more analysts that decreased the likelihood of fraud and kept investors interested.
Based purely on the numbers, ChinaCache could logically reach a revenue multiple of 5. It seems improbable to suggest a 400% gain, but the revenue growth and potential in China backs up that speculation. The only apparent catalyst needed is confidence by the investor community that might have occurred when Microsoft signed on.
Disclosure: I am long CCIH. I wrote this article myself, and it expresses my own opinions. I am not receiving compensation for it (other than from Seeking Alpha). I have no business relationship with any company whose stock is mentioned in this article.
Additional disclosure: The information contained herein is for informational purposes only. Nothing in this article should be taken as a solicitation to purchase or sell securities. Before buying or selling any stock you should do your own research and reach your own conclusion or consult a financial advisor. Investing includes risks, including loss of principal.