Goldman Sachs (NYSE:GS) remains somewhat in a narrow trading range of $150-170 dollars since June waiting for impulses for either breaking out at the top or falling below its subsistence level of around $150. Goldman Sachs is one of a select group of banking firms that have managed to narrow the differential between share price and book value per share. Goldman Sachs traded above two times price to book value before the financial crisis and at 0.5 times book value immediately after the collapse of financial companies and their shares in early 2009. Goldman Sachs was clearly a bargain then, evidenced by Warren Buffett's GS endorsement. But Goldman Sachs remains a Strong Buy based on its historical tangible P/B ratio that averages at 1.6 over the last ten years. In the exuberance phase of the capital markets 2005-2007 the ratio ballooned all the way up to 2.8. While Goldman Sachs is now currently trading at just about book value investors need to realize that both accounting conventions (conservative value estimates and fair value accounting) as well as Goldman Sachs' historical P/B valuation give shares much more upside potential that already witnessed over the last four years.
Share performance
Goldman Sachs has returned 55.4% which is fairly in line with other US large-cap financial enterprises. Bank of America (NYSE:BAC) outperformed due to its mortgage settlements which dragged down shares for a long time.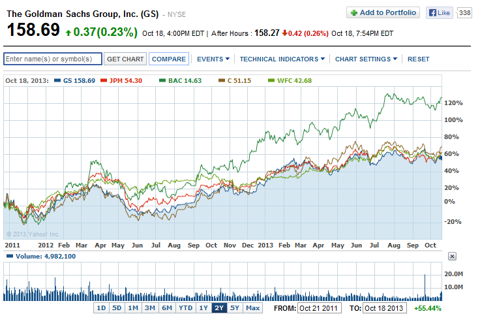 Although the US financial sector has done well I see much more upside potential in the future. Banks exhibit one of the highest sensitivities to GDP growth implying that they are likely to be doing really well when the economy booms (higher M&A- and IPO activity, more and larger debt issuances, higher mortgage-, loan- and securitization demand). The financial sector will do well in early and late expansion phases in the business cycle which I think will allow bank stocks to perform a few more years with above-average returns. Regulatory intervention and higher capital requirements could be a drag on industry profitability but the long-term prospects of the financial industry are attractive. There will be no economic growth without an effectual financial sector providing loan- and credit growth.
Business overview and Q3 2013 results
In a buoying financial sector Goldman Sachs. With a Basel 1 Tier 1 capital ratio of 16.3% and a Basel 1 Tier 1 common ratio of 14.2% Goldman Sachs is among the best capitalized companies in the banking sector.
Goldman Sachs' investment banking unit had net revenues of $1.17 billion in the third quarter which is nearly unchanged compared to Q3 2012. Equity underwriting did well with a 46% increase in net revenues to $276 million compared to $189 million in Q3 2012. Financial Advisory net revenues declined 17% to $423 million due to lower M&A activity.
Institutional Client Service did poorly with revenues down 32% to $2.86 billion compared to $4.18 billion in Q3 2012. This was mainly due to lower revenues in FICC (minus 44%): A trend investors could already see in Citigroup's (NYSE:C) and Bank of America's Q3 results.
Investing & Lending revenues were down 18% y-o-y to $1.5 billion due to lower revenues from debt securities and loans.
Investment Management revenues increased 2% to $1.2 billion in Q3 2013 driven by higher average assets and changes in the asset mix. As of the third quarter Goldman Sachs had $991 billion of assets under supervision.
Goldman's operating expenses decreased 25% to $4.56 billion in Q3 2013 compared to $6.05 billion in Q3 2012 mainly driven by 35% lower compensation expenses.
Goldman Sachs earned $3.07 per basic share and $2.88 per diluted share in the third quarter 2013 (compared to $2.95 and $2.85 in Q3 2012). Book value per common share now stands at $153.58 and the tangible book value per common share at $143.86 (both up 2% q-o-q). This means that Goldman Sachs currently trades at a 3.3 premium to book value and at a 10% premium to tangible book value per share. It is a rare occurrence for a financial company in 2013 to trade at premiums, though small, to both book value metrics.
Valuation
Compared to peer firms Goldman Sachs trades slightly above the average P/E of 10.08. As depicted in the graph below the financial sector offers quite a few bargains with interesting EPS growth prospects. Neither of the companies below are expensive. Far from it. J.P. Morgan (NYSE:JPM) and Citigroup are the cheapest companies from an earnings perspective. Wells Fargo (NYSE:WFC), Buffett's favorite large-cap banking franchise, trades at about the same multiple than Goldman Sachs and Bank of America. P/B and P/E ratios depicted below are sourced from financial data providers such as Finviz, Yahoo Finance and Capital IQ and do not necessarily allow reconciliation to balance sheet and income data but are accurate enough to allow peer comparisons: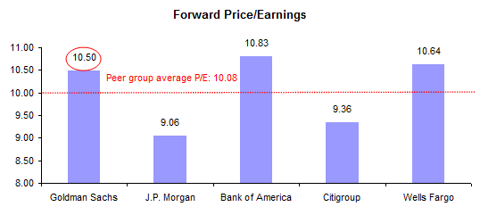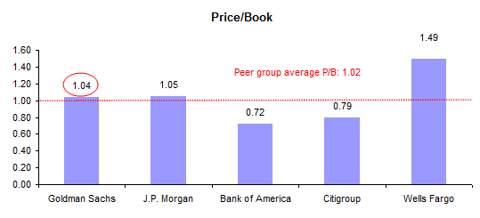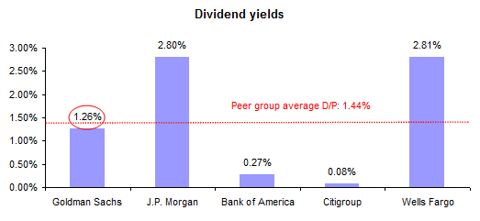 Conclusion
Goldman Sachs presented Q3 results that were impacted by lower M&A and client activity just like results from Bank of America and Citigroup. Goldman Sachs is one of the best capitalized financial firms in the sector and continues to commit to share repurchases. In the third quarter the company repurchased 10.2 million shares worth $1.65 billion. 65.7 million more shares are authorized under its existing share repurchase program. Goldman Sachs is a highly profitable banking franchise (annualized Q3 RoE of 8.1%) with material discounts to its historical P/B ratios. Goldman Sachs currently trades at slight premiums to both tangible and book value. Historically, Goldman Sachs has traded at multiples of over two times tangible book value which gives Goldman's shares still serious price appreciation potential.
Disclosure: I am long BAC, C, JPM, GS, WFC. I wrote this article myself, and it expresses my own opinions. I am not receiving compensation for it (other than from Seeking Alpha). I have no business relationship with any company whose stock is mentioned in this article.