Over the past several years I have followed and invested in several leading biotech, medical device and pharmaceutical related companies dating back to the early 1990's. A few of these stocks were Amgen (NASDAQ:AMGN), one of the fastest growing biotechs of all time to Medco Health Solutions, an American Pharmacy Benefits Management (PBM) company, now known as Express Scripts (NASDAQ:ESRX) after it was acquired for $29 billion. While I won't go into a deep analysis on each of the company's listed in this article, I will try to briefly touch on the company mentioned, its profile, and shed some light on some interesting details for you to review while considering some additional stocks to trade or invest in your portfolio.
EXP BIOTECH RESEARCH: IMMEDIATE STOCKS TO FOCUS ON
QUESTCOR PHARMACEUTICALS
Over the past year I have been following the story and excitement behind one of this year's most impressive biotech performers, Questcor Pharmaceuticals (up +160% YTD) where I have written about it here in October 2012 and more recently here on October 8, 2013 when the stock was around $57 and I was calling for another reversal which it is doing and very well. Last Friday's close was $65.80.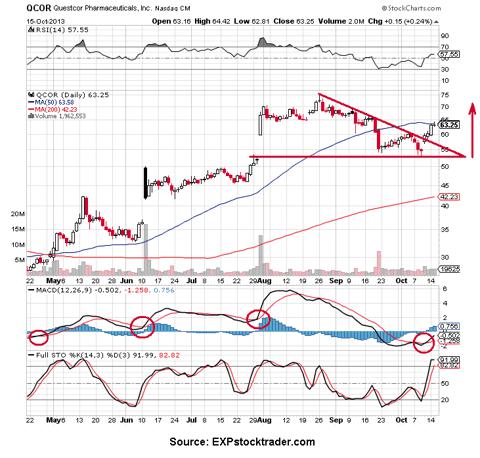 Click to enlarge
(Click to enlarge)
Some Background
Questcor Pharmaceuticals was founded in 1992 and is headquartered in Anaheim, CA. It operates as a biopharmaceutical company which focuses on the treatment of patients with serious, difficult-to-treat autoimmune and inflammatory disorders. The company's primary product is H.P. Acthar Gel, an injectable drug for the treatment of proteinuria in the nephrotic syndrome of the idiopathic type, or NS, the treatment of acute exacerbations of multiple sclerosis, or MS, in adults, the treatment of infantile spasms, or IS, in infants and children under two years of age, and the treatment of certain rheumatology related conditions, including the treatment of the rare and closely related neuromuscular disorders dermatomyositis and polymyositis. QCOR has been a solid trading stock for several months.
This stock has left behind many analyst expectations that still may not have caught up to QCOR's long term potential - 19 indications. If it continues on the path that it is going and earn $5.70 in earnings with an 18 P/E, we are reasonably looking at a $90 - $100 stock. Here's the math: ($5.70 x 18 = $102.60). Lazard says $85 but this can change. I think they are light.
This stock may move much higher longer term as its drug barriers are overcome. Stay with the plan by year-end unless some new competing drug or negative policy is released.
In The Meantime, Please Don't Be Fooled By Any Ongoing Short Scare Tactics -- Several Game Changers Are In The Pipeline
Both On-Label Indications and New Indications
Research and Development Progress:
"Questcor's continued strong financial performance has enabled the Company to increase investment in research programs to further clarify the potential immune-modulating properties of Acthar and identify Acthar mechanisms of action applicable to other inflammatory and auto-immune diseases with high unmet medical need," noted Dr. David Young, Chief Scientific Officer. "The Company is also identifying new patient populations in which to evaluate Acthar through clinical studies. Questcor has funded or has approved funding for approximately 70 research projects, including company-sponsored clinical and pre-clinical studies and independent physician sponsored studies."
Also, as indicated online by another Seeking Alpha associate, Questcor Pharmaceuticals is a healthcare name that deserves to be on an M&A list as it generates some of the highest takeover talk on a day-to-day basis. Benzinga also reported that there was unconfirmed chatter of interest from Sanofi (NYSE:SNY), and although it's been linked to some other names, the latest talk has had the strongest legs.
Year-to-date, the stock has more than doubled, as Questcor has generated earnings beats in four of its past five quarters. Questcor is a quality company that offers good growth prospects with a dividend yield just under 2%, so even if takeover chatter stalls, there's still reason to be invested here. Acthar, the company's flagship hormone medication for diseases like multiple sclerosis, saw its sales jump more than 40% last quarter (qoq), and Bank of America/Merrill Lynch upgraded Questcor to a "Buy" on this news last month. BofA's price target on Questcor is set at $80, which represents a 38% upside from current levels.
Expected QCOR Growth Rate is 30% using 5 Year Analyst Consensus Growth Rate. Earnings on QCOR are due out at the end of the month and are expected to BEAT the consensus estimate of $1.34. Look for any slight drop to add or hold to your current position going into to the New Year where many followers expect to see this stock reach $100 per share of more in due time.
SUNSHINE HEART
While trying to discover more leaders, I would like to introduce to you another top stock performer for 2013 (up +80% YTD).
Significant Market Potential Is Sited Here
Sunshine Heart was founded in November 1999 and is headquartered in Eden Prairie, MN and is an early stage medical device company, which develops innovative technologies for cardiac and coronary disease. It is focused on developing, manufacturing and commercializing the C-Pulse System for treatment of Class III and ambulatory Class IV heart failure. Sunshine Heart has completed an approved U.S. Food and Drug Administration (FDA) feasibility clinical trial of the C-Pulse System and presented the results in November 2011. In March 2012, the FDA notified the Company that it could move forward with an investigational device exemption (IDE) application. Sunshine Heart received unconditional approval from the FDA in November 2012 to initiate its pivotal trial. In July 2012 Sunshine Heart received CE Mark approval for its C-Pulse System in Europe.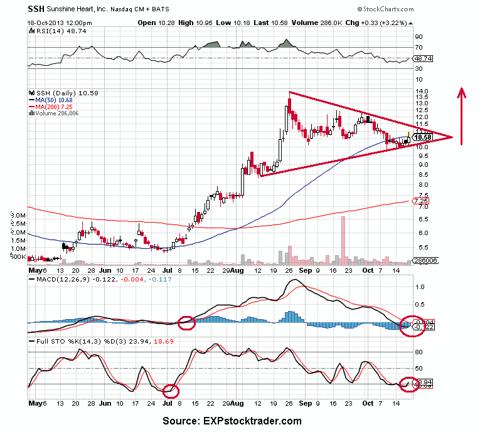 Click to enlarge
(Click to enlarge)
An Unmet Need Is Present
First, The U.S. and Europe Long-Term Outlook Looks Promising
Given that the company is in the early stage of development, it is nevertheless expected that meaningful procedural volume will build in Europe on the C-Pulse's continued expansion in the key European markets, as well as, introductions to the U.S. market. European expansion could to drive significant growth in the next few years along with the U.S. FDA approval of the C-Pulse System in a few years. This marks a pivotal event in the top line trajectory for the company.
Second, research suggests that there are roughly 1.5M NYHA Class III and ambulatory Class IV heart failure patients in the U.S., or roughly 25-30% of the overall U.S. heart failure population. A key inclusion criterion of SSH's U.S. pivotal trial is heart failure (HF) patients with left ventricular ejection fraction (LVEF) of ≤ 35%.
The analysis of a large scale heart failure trial conducted to examine the effect of a mainstream heart failure drug on mortality and hospitalization in stable patients with HF analysis (the Digitalis Investigation Group trial) found that of the 7,788 stable, but clinically confirmed HF patients screened for the trial, 66% had LVEF of ≤35%.
If one were to take this 66% theory to the broader population of 1.5M moderate heart failure patients, the results would conclude that there very well might be close to 1M patients in the U.S. likely to be eligible for the trial under the LVEF inclusion criterion. Here's the math. (1.5M x 66 = 990K).
I believe that within this market, SSH's realistic target population will be those patients moving towards advanced Class IV heart failure.
Taking a conservative estimate of 130,000 patients in the U.S. who are experiencing severe heart failure may represent the ideal target group and if successfully reached at a cost of $59K per device, the estimates total a significant market opportunity of $7.5B in the U.S. alone, and we are not even counting Europe.
Now, by applying similar estimates of 66% to Europe's estimated 3.7M patients in Class III/ambulatory Class IV heart failure implies "the math" further indicates a multitude of patients in Europe who would ideally become very good candidates for the C-Pulse system.
A Game Changer In The Making?
Remember that science and breakthrough technologies in medical advances do take time. While this may be a few years off, fully implantable heart assist devices is something out on the horizon, but could very well be achieved by SSH. I think that this is the real "goal". One should also note that this has not yet been achievable by either Heartware (NASDAQ:HTWR) or Thoratec (NASDAQ:THOR) who have invested several costly years into its R&D.
Sunshine Heart, Inc. Closes Public Offering of Common Shares
On September 24, 2013 -- Sunshine Heart, Inc. announced the closing of its previously announced underwritten public offering of 4,381,500 shares of its common stock, which includes the full over allotment of 571,500 shares, at a price to the public of $10.50 per share. The net proceeds from the sale of shares by Sunshine Heart, after underwriting discounts and other offering expenses, totaled approximately $42.6 million.
The TCT Presentation Is Pending
By the way, European trial data is expected to be released soon and if positive, (which I believe it will be) this stock may see a big move almost immediately. If not, then the shares will experience a setback, but the my inclination says that we go higher from here as suggested by the run up into the TCT conference that will be held on October 27 - November 1, 2013 in San Francisco. The session that SSH will be attending is on October 28 called: Device-Based Approaches for Heart Failure: Recent Developments and New Directions -- Session III: LVADs for "Less Sick Patients" and presented at 10:39 am PST by Dr. Schmitto.
Please see its corporate presentation for more and watch this one closely.
NPS PHARMACEUTICALS
After looking further into this company and its business strategy, one saying comes to mind. That is, the trend is your friend. The trend on this stock is real proof of success that it is working its business plan. I see strong stock accumulation on small dips that have occurred over the past year.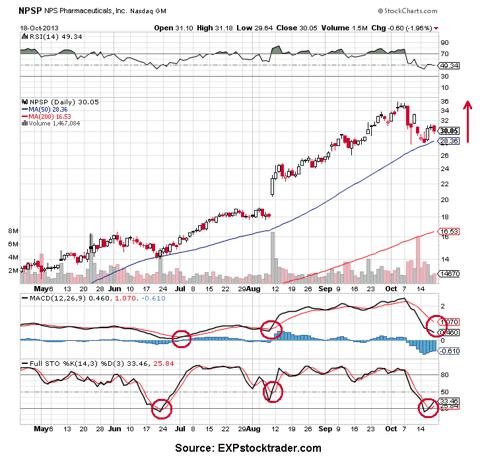 Click to enlarge
(Click to enlarge)
Some Background
NPS Pharmaceuticals was founded in 1986 and is headquartered in Bedminster, NJ and operates as a biopharmaceutical company focusing on pioneering and delivering therapies that transform the lives of patients with rare diseases worldwide. The company's lead product, Gattex 0.05 mg/kg/d for Injection for subcutaneous use is the treatment of adult patients with short bowel syndrome (SBS) who are dependent on parenteral support. It is also developing Natpara for the treatment of adult hypoparathyroidism and expects to submit its marketing application to the U.S. Food and Drug Administration in 2013.
The company is currently advancing two late-stage programs. Teduglutide, a proprietary analog of glucagon and preclinical development for additional intestinal failure related conditions. Its NPSP series is supporting a clinical development as a hormone therapy for hypoparathyroidism.
Note:NPS Pharma's CEO Says Natpara will have greater potential than Gattex
The market appears to be valuing Gattex, but according to its CEO, he believes that Natpara will have even a greater potential than Gattex. On October 7, 2013 NPS Pharmaceuticals a biopharmaceutical company pioneering and delivering therapies that transform the lives of patients with rare diseases worldwide, presented encouraging data from the company's pivotal Phase 3 study of Natpara® (recombinant human parathyroid hormone 1-84, rhPTH(1-84)), known as REPLACE, suggesting the investigational therapy has a beneficial effect on bone health in patients with hypoparathyroidism. Investigators also reported findings from the PARADOX burden of illness survey suggesting that patients with hypoparathyroidism have a substantial burden of illness in the skeleton and joints and experience bone-related symptoms and comorbidities despite receiving standard care, such as calcium and active vitamin D. Findings from REPLACE and PARADOX were presented in respective poster sessions at the Annual Meeting of the American Society for Bone and Mineral Research (ASBMR) in Baltimore, MD.

"The new findings presented from the REPLACE study add to the growing body of clinical evidence demonstrating the effects of Natpara in the treatment of hypoparathyroidism, a rare endocrine disorder," said lead study investigator, John P. Bilezikian, MD, professor of medicine, Division of Endocrinology, Columbia University College of Physicians and Surgeons. "Treatment with Natpara may restore bone remodeling in patients with hypoparathyroidism, as shown by improvements in a number of measures. The data support the notion that Natpara may have a direct benefit on bone health."

Natpara is a bioengineered replica of human parathyroid hormone that is being developed by NPS for adults with hypoparathyroidism, a rare endocrine disorder that is characterized by insufficient levels of parathyroid hormone, a principal regulator of the body's mineral homeostasis. Abnormal bone structure with high bone mineral density is a well-recognized consequence of hypoparathyroidism that is likely caused by decreased bone turnover in the absence of parathyroid hormone.
Overall, in the REPLACE trial, flexible dosing of Natpara (50, 75 or 100µg/day subcutaneous injection) improved bone remodeling by the increase in bone turnover markers and the reduction in bone mineral density while the patients treated with only calcium and active vitamin D had no such improvement. This is real progress folks.
You can read more about the REPLACE trial and PARADOX in the company's press release.
Global Potential Is Sited:
The company is looking for the long-term strategy and is expected to launch both products internationally subject to approvals of course. What continues to impress me is its solid strategy, and excellent management who is focused on implementing its business strategy and doing what they say they will do.
Recent Analyst Buy Ratings:
9/20/2013 JPMorgan $40.00
9/25/2013 Janney Montgomery $45.00
9/26/2013 Leerink Swann $47.00
10/2/2013 Oppenheimer $39.00
10/3/2013 Wedbush $43.00
10/3/2013 Bofa/Merrill $46.00
10/9/2013 Summer Street $39.00
10/17/2013 MLV Capital $39.00
So far they are walking the walk, and not just talking the talk. I call this real execution. Stay with the uptrend and accumulate on any drops is my plan.
ROCKWELL MEDICAL
Rockwell Medical is another 2013 top performing biopharmaceutical company (up significantly since July 2013), developing a pipeline of drug therapies targeting end-stage renal disease (ESRD) and chronic kidney disease (CKD) with innovative products and services for the treatment of iron deficiency, secondary hyperparathyroidism and hemodialysis.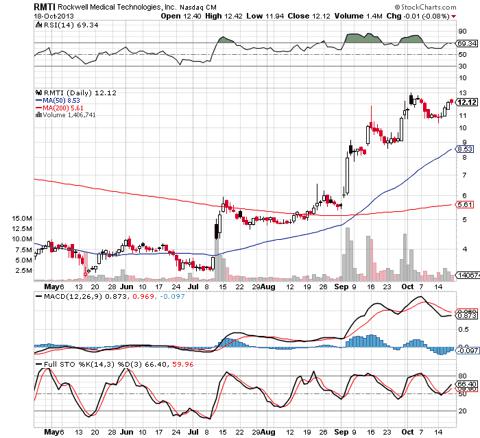 Click to enlarge
(Click to enlarge)
As one of the few major suppliers in the U.S., Rockwell's products are sold in the two largest dialysis centers, DaVita (NYSE:DVA) and Fresenius (NYSE:FMS) and used to improve the quality of life of patients with kidney failure on hemodialysis, by removing toxins and replacing critical nutrients in the dialysis patient's bloodstream. Currently, Rockwell has three manufacturing and distribution facilities located in the U.S. Its operating infrastructure allows for a ready-made sales and distribution channel that is able to provide seamless integration into the commercial market for its drug products, Triferic™and Calcitriol upon FDA market approval. Rockwell's lead drug candidate is called Triferic™ previously known as Soluble Ferric Pyrophosphate ((SFP)), and has been approved for the treatment of iron deficiency in dialysis patients.
Triferic™
During regular dialysis treatments, Triferic™ delivers iron to the bone marrow of a dialysis patient in a non-invasive, physiologic manner via dialysate. To date, in completed clinical trials, Triferic™ has demonstrated that it can safely deliver sufficient iron to the bone marrow and maintain hemoglobin without increasing iron stores (ferritin), while significantly decreases ESA use. Triferic™ is expected to address an estimated $600M U.S. market.
FDA Manufacturing Approval Calcitriol Vitamin D Injection Is Pending (Should Pass)
Rockwell is also preparing to launch its FDA approved generic drug called Calcitriol, a treatment for secondary hyperparathyroidism (a parathyroid disorder) in dialysis patients. Shown to significantly reduce elevated parathyroid hormone levels, Calcitriol's active Vitamin D injection is indicated in the management of hypocalcemia in patients undergoing chronic renal dialysis. As soon as Rockwell receives FDA manufacturing approval, it will be able to supply an estimated $350M U.S. market. I am expecting positive news here and a good bump in the stock again.
Some Prior DD:
Rockwell's Key Benefits
Rockwell's exclusive renal drug therapy pipeline supports disease management initiatives to:
1) Improve the quality of life and care of dialysis patients in a growing market
2) Deliver safe and effective therapy
3) Decreases drug administration costs
4) Improves patient convenience
Some Financials - Second Quarter Results
1) Sales increased 7.1% up to $13 million compared to $12.1 million in Q2 last year.
2) Multi-year contract with DaVita calls for increased business.
3) CitraPure sales climbed significantly - increasing 61% over the last quarter.
4) CitraPure is an innovative concentrate product that contains no acetate, the buffering agent used in a traditional concentrate product.
5) CitraPure completely removes acetate and replaces it with citrate.
6) CitraPure improves patient outcomes and actually makes patients feel better.
7) CitraPure lowers a providers cost of treatment.
8) Gross profit for the quarter was $1.7 million consistent with last year.
9) Research and development costs were $10.2 million.
10) Net loss for the quarter was $11.9 million and consistent with last yr, $2.5 million loss in Q1.
11) Net loss is a result of the clinical development work for Triferic™ (SFP).
12) Company guidance: Sales and profits are expected to move higher looking forward, and investors should expect the R&D burn rate to continue to decrease upon completing its clinical development.
13) Cash on hand: Rockwell had $41 million in cash at the end of the quarter
14) Shares outstanding: Company has about 39.9 million shares outstanding.
Clinical Data Review
Rockwell has completed two Phase III studies CRUISE -1 and CRUISE -2. On July 1, 2013 Rockwell released positive clinical data from the pivotal CRUISE -1 study of Triferic™ its iron delivery drug for iron replacement in hemodialysis patients.
On September 4, 2013 its CRUISE-2 study successfully met its pre-defined primary efficacy endpoint, which was a change in hemoglobin from Baseline to End-of-Treatment between the Triferic™ and placebo groups.
I do believe that Triferic™ will become the "new standard of care" in iron therapy and was approved by the FDA on September 17, 2013. More data is expected to be released at the ASN Kidney Week 2013 Annual Meeting, November 7-10 in Atlanta, GA.
Cost Reduction Goals Are Huge
The CRUISE -1 and CRUISE -2 results combined with the recent positive PRIME study data demonstrate that Triferic™ can effectively deliver iron and maintain hemoglobin without increasing iron stores, while significantly reducing ESA use. The PRIME study demonstrated a statistically significant 35% reduction in ESA use for patients receiving Triferic™ compared to the patients receiving placebo. ESA sales are costing taxpayers billions each year. Epogen, Procrit and Aranesp have ranked among the top selling drugs in the U.S., generating more than $8 billion a year for two companies, Amgen and Johnson & Johnson (NYSE:JNJ). Amgen alone has one of the most lucrative monopolies of all time, yielding the biotechnology company over $40 billion in sales over the past 20 years.
Triferic™ has demonstrated that it is able to deliver both significant clinical and economic benefit to patients. Beyond the clinical data the additional key component is the company's claim that it could reduce dialysis treatment costs by $700MM. This is a significant savings and one solution to Medicare's cost reduction agenda.
Within The Next Several Months:
Rockwell expects that the great majority of its customers will be purchasing CitraPure, where sales have climbed significantly by increasing 61% over the last quarter. I also expect Calcitriol to enable Rockwell to increase sales and profit margins considerably while strengthening its existing business. Rockwell's data also supports my strong belief that Triferic™ (formerly SFP) will set a new standard, and significantly raise the bar in the current IV iron therapy market for dialysis patients.
The PRIME study demonstrated that regular administration of SFP-iron via dialysate reduced the usage of erythropoietin stimulating agents (ESAs) during hemodialysis by 37.1% while maintaining iron balance and maximizing iron delivery. Also, remember that there was favorable data included in the DRIVE plus DRIVE-II studies, which shows that patients in the ferric gluconate group required significantly less epoetin usage.
Upgrade Summary -
RMTI has been the subject of a number of other recent research reports:
Summer Street raised their price target on shares of Rockwell Medical from $20.00 to $25.00 in a research note to investors on Thursday, September 5th. They currently have a "Buy" rating on the stock.
Craig Hallum initiated coverage on shares of Rockwell Medical in a research note to investors on Friday, September 13th with a "Buy" rating and a $16.00 price target on the stock.
September 27, Stifel Nicolaus increased their target price on shares of to $18.00.
The company presently has a consensus rating of "Buy" and a consensus average price target of over $19 based on the last three upgrades from Craig Hallum, Summer Street and Stifel.
GALECTIN THERAPEUTICS
Galectin Therapeutics is another winner for 2013 and was founded in 2000. It's headquartered is in Newton, MA and is a development stage company which is engaged in the drug development to create new therapies for cancer and fibrotic disease.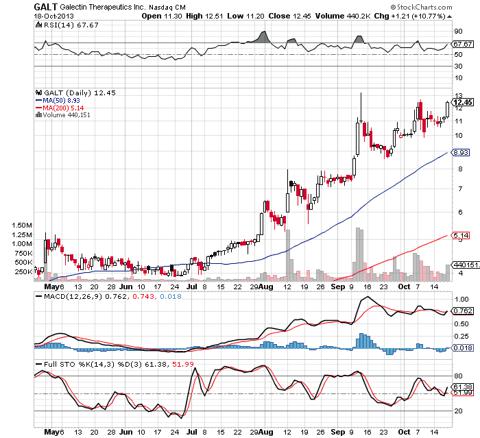 Click to enlarge
(Click to enlarge)
Galectin's drug candidates are based on the method of targeting galectin proteins, which are key mediators of biologic and pathologic function and its focus is on diseases with serious, life-threatening consequences to patients and those where current treatment options are limited. The company contends that only Galectin and Gilead Sciences (NASDAQ:GILD) have programs focused on advanced fibrosis, which is the key cause of liver failure in patients.
The company has stated that:
"We think we have an advantage over Gilead because of the multiple points in NASH pathogenesis that GR-MD-02 works on."

Galectin is also using GR-MD-02 to study fibrosis in other organs. Earlier this year, the company reported a reversal of fibrosis in the kidneys of diabetic mice, and earlier this month, the company said that GR-MD-02 had a robust effect on reducing lung fibrosis using a mouse model that simulates human disease. GM-CT-01 had a somewhat reduced effect.

Dr. Traber says the company is having ongoing partnering discussions with large pharmaceutical companies but that nothing is imminent. "These discussions will provide a foundation for partnering opportunities at the most opportune time."

In Galectin's cancer program, Dr. Traber explains that the vast majority of cancers secrete large amounts of galectins, which have multiple roles in tumor pathogenesis, including tumor cell invasion, metastasis and angiogenesis.
What's The Focus?
The vast majority of cancers secrete large amounts of galectins which have multiple roles in tumor pathogenesis. It's focus is tumor immunotherapy based on the hypothesis that the combination of galectin inhibitors and immunotherapy's will enhance the ability of the immune system to recognize and kill tumor cells in metastatic melanoma, which is our initial cancer indication.
Dr. Traber says researchers in Brussels have found that tumor cells secrete galectin-3, which binds to, and blocks the actions of, tumor-infiltrating T-lymphocytes, the major immune cell in the body's defense against cancers. In addition, research has shown that GM-CT-01 blocked galectin-3 and, in turn, restored the ability of the T-lymphocytes to kill tumor cells.
Potential sites for galectin inhibition in tumor immunology:
In addition to this so-called "Galectin Effect," he says researchers in Portland have found that when galectin-3 was inhibited in vivo with GR-MD-02, there was enhanced accumulation of CD8 T-cells as well as a lowering of the tumor defense mechanisms. Experiments in tumor-bearing mice, using various immune modulatory drugs in combination with galectin inhibitors, have shown enhanced efficacy against the tumors with the combination treatment. A Phase 1 clinical trial in melanoma with a combination of GR-MD-02 and Bristol Myers-Squibb's (NYSE:BMY) Yervoy is in the design phase, he adds.
This performance of this stock has done well this year and the chart indicates a Bull Flag run like we saw on INCYTE (NASDAQ:INCY) last year when it was in the teens ($16) and is now trading at around $38.00. Top investment funds may be accumulating these shares now and on any pullback. I believe that GALT is worth your attention too.
Disclosure: I am long QCOR, SSH, NPSP, RMTI, GALT. I wrote this article myself, and it expresses my own opinions. I am not receiving compensation for it (other than from Seeking Alpha). I have no business relationship with any company whose stock is mentioned in this article. I may add to these positions on any dips in the following 72 hours.