Cepheid's (NASDAQ:CPHD) third quarter net loss per share of 6 cents was much better than the Zacks Consensus Estimate of 12 cents as well as a loss of 12 cents reported in the third quarter of 2009. Although revenues for the quarter came down by 7% to $41.6 million, the company managed to reduce its losses considerably due to a reduction in operating expenses.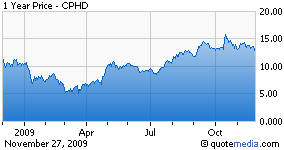 Total product sales of $40.8 million declined 4% from $42.4 million recorded in the year ago period. While system sales declined 24%, reagent and disposable sales increased 6% compared to the year ago period.
Among the different markets, Clinical segment consisting of Clinical Systems ($5.8 million) and Clinical Reagents ($24.1 million) contributed about 73% to total product sales, which increased 7% year over year to $29.9 million. Cepheid's other markets – Industrial, Biothreat and Partner recorded revenues of $5 million (up18%), $4 million (down 54%) and $1.9 million (up 15%), respectively. While domestic sales declined 10% year over year, international sales recorded an increase of 33%.

Gross margin on product sales declined to 44% compared to 45% in the third quarter of 2008. While cost of goods sold remained unchanged at $23.7 million, the reduction in product revenues brought down gross margin. However, operating expenses came down significantly primarily due to lower R&D and SG&A expenses.
At the end of the reported quarter, cash and cash equivalents including short term investments were $58.37 million, up from $23.48 million at the end of December 2008.
The quarter has been quite significant for Cepheid as 94 GeneXpert systems and 629 modules were installed. At the end of the quarter, a cumulative total of 1,241 GeneXpert systems and 6,757 modules had been placed worldwide. The company's portfolio of GeneXpert tests includes 7 tests sold in the US and 11 in Europe. We are optimistic about the potential of the recently launched tests which include the Xpert MRSA product (the recently introduced Clostridium difficile test), tuberculosis tests and Xpert test for HemosIL Factor II and Factor V which are expected to add to the revenue stream going forward.

In addition to announcing third quarter results, Cepheid presented its outlook for 2009. The company expects revenues in the range of $165 - $169 million and loss per share of 13 – 16 cents.
We remain concerned about the declining trend of the company's system sales. We believe a tight spending environment in the current recessionary situation is impacting the ability of healthcare providers to purchase capital equipment. Cepheid, being in the molecular diagnostics segment, has a huge potential as this is the fastest growing segment of the in vitro diagnostics market. We have a Neutral recommendation on the stock.