Advancements in technology and the addition of more innovative gaming platforms has led to new opportunities for the gaming industry. From 2005 to 2012 industry revenues have grown at a tremendous CAGR of 11.72% from $29 billion in 2005 to $63 billion in 2012. For an industry with a market cap of over $100 billion the gaming industry is becoming one of the leading forms of entertainment as video games are gaining more popularity than movies. This is evident in the fact that Activision Blizzard (NASDAQ:ATVI) has been buoyed in recent years by Call of Duty, a war-simulation series that has sold over 100 million copies worldwide. "Call of Duty: Black Ops" crossed the $1 billion mark after six weeks' sales. "Call of Duty: Black Ops2," the mega warfare hit of the season, grossed over $500 million in the U.S. within 24 hours of its release and hit $1 billion in sales 15 days after its release.
Company Introduction
Activision Blizzard develops and publishes interactive software products and content, with a focus on developing and publishing video games for various platforms. They develop and publish video games for online interfaces, various video games consoles, tablets, handheld and mobile devices as well as personal computers.
Business Segments
The company conducts its business through three operating segments: Activision Publishing, Blizzard Entertainment and Activision Blizzard distribution. The Activision Publishing segment is a leading international developer and publisher of interactive software products and content. Activision develops games based on both internally developed and licensed intellectual property. The company sells games both through retail channels and by digital download through ecommerce platforms. The Blizzard Entertainment segment offers subscription-based massively multi-player online role-playing games "MMORPGs." It gains revenue from both its subscriber base and its World of Warcraft franchise, which it develops, hosts and supports. Blizzard also develops, markets, and sells role-playing action and strategy-based PC games. Such games include the multiple-award winning Diablo and Star Craft franchises. In addition, Blizzard maintains a proprietary online game-related service called Battle.net.
Activision Blizzard's Distribution segment consists of operations in Europe that provide warehousing, logistical and sales distribution services to third-party publishers of interactive entertainment software. The third-party publishers in Europe house their own publishing operations and manufacturer interactive entertainment hardware.
Revenues
The concentration of retail revenues among key core titles has become a trend in the interactive gaming industry. The company's four largest franchises in 2012 were Call of Duty, Diablo, Skylanders and World of Warcraft. They accounted for approximately 83% of Activision Blizzard's net revenues and a significantly higher percentage of its operating income for the year.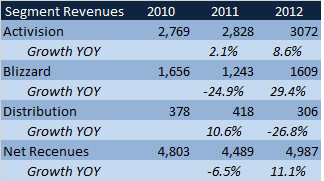 Source: annual report 2012
Activision's net revenues increased by 8.6% for 2012, compared to 2011, primarily due to revenues from the Skylanders franchise and the "Skylanders Giants" launch in the fourth quarter of 2012. The full-year revenues from "Skylanders Spyro's Adventure" that was launched in the fourth quarter of 2011 also increased revenues. Additionally, the increase in revenue was supplemented by the strong performance of Call of Duty: Black Ops II which launched in the fourth quarter of 2012. For 2011, net revenues from the Activision segment increased by 2.1%, compared to 2010, primarily due to the strong performance of "Call of Duty: Modern Warfare 3" that was released at the end of 2011.
Activision Blizzard's net revenues increased 29.4% in 2012, compared to 2011, primarily due to the release of Diablo III in May 2012, and "World of Warcraft: Mists of Pandaria" in September 2012. The increase in net revenues was partially offset by lower subscription revenues from World of Warcraft and a smaller subscriber base. Blizzard's net revenues decreased to 24.9% in 2011, compared to 2010 primarily due to no new titles being released in 2011. Distribution's net revenues decreased in 2012, compared to 2011, primarily due to a weaker U.K. market.
International sales are also a fundamental part of Activision Blizzard's business. Net revenues from international sales accounted for approximately 50% of its total net revenues in 2012, 50% in 2011, and 46% in 2010.
Greatest Achievements To Date
The company sold 8.8 million copies of Modern Warfare 3 in its first month of sales and broke sales records set by previously released games. In fact, the previous record holder was another Call of Duty title, "Call of Duty: Black Ops," which sold 8 million copies. Unfortunately, "Call of Duty: Black Ops 2" sold only 7.4 million copies in its first month, which may be signaling a decline in the popularity of the series.
Furthermore, "Modern Warfare 3" earned $775 million in its first five days. That's far more than "Avatar," the current highest grossing movie, made during the week of its release. Call of Duty is actually worth more than many of the top movies in Hollywood. If you add the life-long sales of "Avatar," "Titanic," and "The Avengers," which are the three highest-grossing movies of all time, they still would not match the $6 billion that the Call of Duty franchise had earned by the time "Modern Warfare 3" was released.
Another one of the biggest achievements for the company is that approximately 100 million people have played a Call of Duty game. That's a larger population than most countries. The entire fan base of the Call of Duty franchise has a greater population than Germany, France, and the U.K. Most interestingly, when you add the time spent by every player playing a Call of Duty game it equates to over 2.85 million years of playtime. That's longer than humans have existed on the Earth.
Biggest Concerns
Since the success of tablet and smartphone games the company's online gaming sales has been showing a decline over the years. Last year the worldwide subscriber base for World of Warcraft dropped 5.88% from 1.20 million in 2011 to 9.6 million in 2012. The majority of the decline was seen in the eastern countries of China, Taiwan, and Korea. However, a decline has also been noted in North America, Europe and Latin America. With the launch of "World of Warcraft: Cataclysm" in 2010, the subscriber base reached a new peak of more than 12 million subscribers. Since then, however, the subscriber base has been on a downward trend.
Upcoming Games
The year 2013 has been busy for Activision as many new games will be launched. In the first quarter 2013 the company has extended its all-time favorite StarCraft series by launching "StarCraft II: Heart of the Swarm." In the second quarter of 2013 the company launched "Fast and the Furious: Showdown," an expansion pack of World of Warcraft titled "Mist of Pandaria" and "Deadpool."
The company is saving its heavy hitters for Christmas holiday season. The company will launch three of its biggest hits:"Diablo III" in the third quarter, "Call of Duty: Ghost," and "Skylanders SWAP Force" in the fourth quarter. The company has also announced its projects for 2014 that includes "Diablo III: Reaper of Souls" and "Destiny."
Cheap on Multiples

Source: Morningstar
Based on the company's valuation multiples and compared to industry averages the company seems to be undervalued on P/E, P/B and P/CF ratios. Moreover, the company is a paying higher dividend yield than the industry average.
Conclusion
The company's revenue growth is highly dependent upon the success of its four largest franchises: Call of Duty, Diablo, Skylanders and World of Warcraft. The company launched expansion packs of all of its four franchises in 2013 in hopes that they would provide a huge boost to its revenues as well as its future growth. Also, the company's undervalued multiples will also attract investors seeking to reap the benefits from this opportunity.
Disclosure: I have no positions in any stocks mentioned, and no plans to initiate any positions within the next 72 hours. I wrote this article myself, and it expresses my own opinions. I am not receiving compensation for it (other than from Seeking Alpha). I have no business relationship with any company whose stock is mentioned in this article.