Company Overview
In this analysis we will calculate the real costs of production of Alexco Resource Corporation (NYSEMKT:AXU). AXU operates the Bellekeno mine, the only primary silver mine in Canada and is developing other high-grade silver prospects in the area.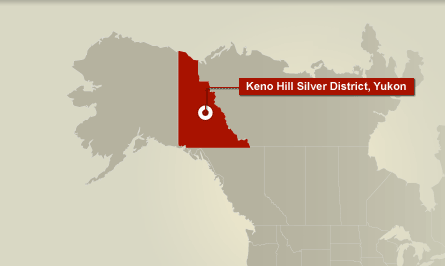 As investors can see, the Bellekeno mine is located in Canada's Yukon District and the company is rapidly exploring other promising high-grade silver prospects on its other District properties. Two more mines are already under development, and Alexco has a goal of identifying 100 million ounces of silver in this prospective District and ramping up to more than 7 million ounces of annual silver production within the next decade.
Investors should note that the company has announced plans to shut down operations during the winter which will allow the company to avoid selling silver at current low prices. But more importantly the efforts will conserve cash because at current prices the company is producing silver significantly in the negative. The company plans to use the winter period to significantly restructure the underlying fixed costs at Keno Hill, as well as refine plans for a production ramp-up to 400 tonnes per day in the 2014 -- 2015 time period.
Let us now take a look at the company's current operations and calculate how much it costs the company to produce silver.
Calculating the True Mining Cost of Silver - Our Methodology
In an earlier article, we gave a thorough overview of the current way mining companies report their costs of production and why it is inaccurate and significantly underestimates total costs. Then we presented a more accurate methodology for investors to use to calculate the true costs of mining gold or silver. Please refer to that article for the details explaining this methodology, and I would encourage all precious metals investors to understand this concept.
Real Costs of Production for AXU - Q2FY13
Let us now use this methodology to take a look at AXU's results and come up with their average cost figures. When applying the methodology for the most recent quarter and FY2012, we standardized the equivalent ounce conversion to use the average LBMA price for Q2FY13. This results in a lead-to-silver ratio of 24.8:1, and a zinc-to-silver ratio of 27.8:1. Investors should remember that our conversions change with metal prices and this will influence the total equivalent ounces produced for past quarters - which will make current-to-past quarter comparisons much more relevant.
Notes about True All-in Costs Table and AXU Calculations
AXU reports its financials in Canadian Dollars (NYSEARCA:CAD), so all numbers have been converted from CAD to USD based on the average exchange rate during the application period.
Additionally, AXU has an environmental services division that creates revenues for the company. Since our goal is to only evaluate the production costs, we removed all revenue and costs associated with this division and also removed the taxable income (or loss) that is estimated for these profits. While these profits and losses should be included in the company's earnings, they should not be used to calculate the average cost per silver-equivalent ounce.
But this environmental division should be included when evaluating the total value of the company because it is very profitable and as of Q2FY13 contributed 30% to the total revenue of AXU, with a 50% top-line revenue growth rate.
Observations for Investors
True Cost Figures - AXU's true all-in cost figures for Q2FY13 was $31.01 per silver-equivalent ounce, which was a significant improvement from Q1FY13's $36.71 per silver-equivalent ounce. Though it is still very much above the costs to produce silver of competitors and the company needs to bring it down much further or suspend operations until the price improves.
It is very important to note that AXU has a silver streaming agreement with Silver Wheaton (NYSE:SLW) that requires it to sell the company 25% of its annual production at $3.90 per silver ounce. This agreement to sell silver to SLW contributed around $3 million to production costs in Q2FY13, or a little over $4 per silver-equivalent ounce in the quarter. This is one of the reasons we really dislike silver-streaming agreements for companies we own, it leads to significant underperformance for investors by removing a good part of the leverage the company has to the silver price.
We haven't analyzed all the other primary silver companies' Q2FY13 numbers yet, but compared to the ones we have analyzed; AXU's costs are higher than other primary silver producers. Competitors such as Pan-American Silver (NASDAQ:PAAS) (costs over $25), Endeavour Silver (NYSE:EXK) (costs over $25), Great Panther Silver (NYSEMKT:GPL) (costs over $25), Hecla Mining (NYSE:HL) (costs around $22), Coeur D'Alene Mines (NYSE:CDE) (costs just over $30), Silver Standard Resources (NASDAQ:SSRI) (costs over $25), and cost leader First Majestic (NYSE:AG) (costs under $20).
From a true all-in costs point-of-view, AXU is producing silver-equivalent ounces at a cost much higher than most of its competitors even when subtracting the $4 per ounce due to the SLW agreement. But it does take some time for costs to be lowered and obviously this is a focus of management. We will be very interested to see AXU's progress in lowering costs in their Q3FY13 report because that will be critical in judging the company's liquidity.
Obviously, production costs are too high at current silver price levels so costs will need to be cut significantly. Investors should pay very close attention to cost cuts made by management in the upcoming Q3FY13 report.
Disclosure: I am long AG, EXK, GPL, SIVR. I wrote this article myself, and it expresses my own opinions. I am not receiving compensation for it (other than from Seeking Alpha). I have no business relationship with any company whose stock is mentioned in this article.