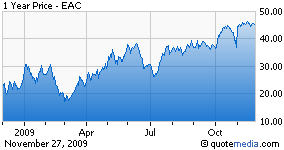 Buy-recommended Encore Acquisition Company (NASDAQ:EAC) offers unlevered appreciation potential of 10% to a McDep Ratio of 1.0 where stock price would equal Net Present Value (NPV) of $50 a share. We raise NPV from $44 a share on the basis of delayed cost reductions that now appear to have been achieved a few quarters after oil price declined.
Released late October 27, third quarter results demonstrated strong recovery in unlevered cash flow (Ebitda) not only with lower than expected operating cost, but also higher volume and higher price. NPV is sensitive to expected performance in our valuation that capitalizes cash flow at unlevered multiples (PV/Ebitda) related to reserve life (Adjusted R/P) for natural gas and oil.
Work proceeds on long lead time enhanced recovery oil investments in Wyoming, Montana and North Dakota. Balancing the timing of new volumes, the company scored in the Bakken oil formation and the Haynesville natural gas formation testing high flow rate wells. While such shale formation wells decline rapidly, their volumes can help the corporate trend until enhanced recovery projects contribute. Price is also in a rising trend with futures for oil and natural gas over the next six years quoted above the 40-week average.
Originally published on October 28, 2009.