Bears can criticize Jeff Immelt, CEO of General Electric (NYSE:GE), all they want but he has delivered for the second quarter in a row where it matters the most, a beat on margins, something that GE has failed to deliver in most of Immelt's era. Despite of what is a very tough environment for a company like GE with large shares in its core end markets, GE delivered two quarters in a row of margin beats and Immelt deserves credit for it.
Margins remain the biggest and most heated debate concerning GE. Bears view GE as too big to succeed, too slow to respond to changes in macro conditions, and too complex to execute on costs. However, General Electric continues to prove them wrong.
The company reported 3Q13 operating EPS of $0.36, one cent above the consensus estimates of $0.35. More importantly the quality of earnings as compared to expectations was very impressive. Despite a strong 2Q13, GE stock underperformed in the past three months and management has also remained largely quiet during the same period, which helped bears paint a more negative picture. The company needed a quality, clean earnings beat and it has delivered just that.
Record Backlog Of Orders Position The Company Well For 4Q13 and 2014
General Electric's orders for the quarter rose 19% to $25.7 billion. U.S. orders were up 18%, Europe +17%, growth market orders +22%. Total orders at the end of third quarter stand at a record $229 billion, $6 billion more than the last quarter. The record backlog of orders positions the company well for 2014.
"It was encouraging to see the strength in their orders," said Nick Heymann, an analyst at William Blair & Co. "The performance on margins was good and takes a little bit of pressure off the fourth quarter to reach the levels they've talked about."
The backlog for everything from locomotive to jet engines to turbines increased from the year before, as the company benefits from global economic themes such as greater air transport and need for electrical generation.
Simplification Continues
GE Capital has contributed to GE's underperformance in the last few years. However, a smaller GE Capital, rising margins and ROIC drive GE more in the industrial space. A recovery in the company's core late cycle markets combined with portfolio restructuring, simplification and cash reinvestment is likely to attract more investors to GE.
There is a heightened sense of urgency at GE to simplify its portfolio. The company indicated during the earnings call that further announcements of exits will come November 15 GE Capital meeting. "We are still planning staged exits of the value maximizing platforms of GE Capital," said Immelt. "We have got a big meeting set November 15. I think there will be more clarity at that time on the capital side. And we continue and the rest the company continues to look at ways to make the company more streamlined and more effective."
Correlation With Industrials Improves Further
As you can see from the figure below (left), since the financial crisis and particularly in 2013 GE shares have been trading more like an industrial stock. As the company shifts its earnings mix further toward industrials its correlation with industrials also increased as compared to financials. During the 2008-2009 credit crisis, GE traded with a high correlation to financial stocks, as measured by the XLF ETF. However, since then the conglomerate has been trading more like an industrial stock. The fact that GE now trades with a much higher correlation to industrial stocks shows the progress the company has made since the financial crisis in shifting its business more toward industrials, and warrants improvement in valuation multiples as the company continues to make progress on its portfolio shift.

Source: Citi & Google Finance
The conglomerate has been trading at a significant discount compared to its multi industry peers since the financial crisis. The Fairfield, Connecticut,-based company's relative multiple vs. peers has compressed over the last decade, particularly during the 2008-2009 credit crisis, when the company experienced the most dramatic decline. Before the financial crisis in general and particularly in the early 2000s, General Electric's shares consistently traded at a premium to peers. Since the 2009 crisis, shares have averaged a 15% discount to peers and have traded with a 25%-5% relative range vs. peers. Lower financial peer valuation multiples are the reason behind most of the multiple compression but going forward this should be less of an overhang as through asset sales and organic revenue growth the company shifts its earnings mix further to industrial.
GE has a forward P/E of 13.5 in comparison Siemens AG (SI) has a forward P/E of 13.8, Honeywell International (NYSE:HON) 15.2, United Technologies Corp (NYSE:UTX) 15.3, and 3M Company (NYSE:MMM) 16.1.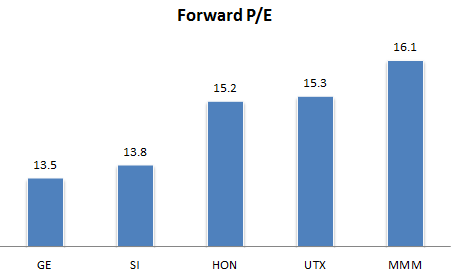 The company has a price-to-book ratio of 2.1 compared to the industry average of 2.9. It has price-to-sales ratio of 1.8, slightly more than the industry average of 1.7. Finally GE has a price-to-cash flow ratio of 9.2 compared to the industry average of 16.7. The company has a sector leading dividend yield of 3.0%. In comparison, SI has a dividend yield of 2.4%, UTX 2.2%, and HON 1.9%.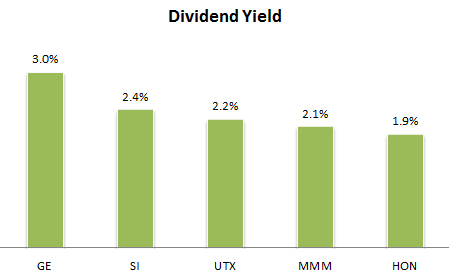 Conclusion
We have a buy rating on GE. General Electric has a strong and high margin services business, good emerging markets positioning, strong R&D franchise, and a late-cycle portfolio which positions the company for outgrowth over balance of cycle. The high quality of earnings, industrials performing better than expectations, a record backlog of orders, and an unchanged 2013 earnings framework builds further confidence into the GE story. GE back to its core with rising margins and ROIC is a very compelling investment opportunity. Investors' biggest concern about GE has been the margin execution and with two consecutive quarterly beats eased some of those concerns and builds confidence into highly-scrutinized 70bps margin improvement target.
The company achieved strong 120bps margin expansion within industrial and posted 32% pick up in equipment orders. GE's much analyzed 70bps 2013 margin target is currently the key metric for the street, and given order strength and strong margin performance largely de-risks that target. The strong backlog of orders also positions the company well for 2014.
A GE back to its core roots is a very compelling investment story. Focusing on businesses where it has core competitive advantages, e.g. infrastructure, focusing on being the low-cost supplier, beating margins in a clean way, showing better orders than expected, executing on most initiatives in a far better way than the recent past. Overall GE is moving in the right direction and looking at a healthy 4Q13 and 2014. In the meantime, a sector-high dividend yield of 3.0% pays investors for their patience.
Disclosure: I have no positions in any stocks mentioned, and no plans to initiate any positions within the next 72 hours. I wrote this article myself, and it expresses my own opinions. I am not receiving compensation for it (other than from Seeking Alpha). I have no business relationship with any company whose stock is mentioned in this article.