Armanino Foods (OTCPK:AMNF) stock was very attractive in early 2012. I was looking for a small company with good 1-year and 5-year returns, with low debt, and a stock price that had held up well during the global financial and European Debt crises.
AMNF share price during 2008-9 and summer 2011 versus S&P

AMNF began as a family food business then became incorporated in 1986. In 2005 it de-listed from NASDAQ and traded OTC. AMNF is not required to file with the SEC; financial information, current only, is available on its website. AMNF produces frozen and refrigerated Italian pastas, meat products and sauces in its leased facility in Haward, California. It distributes through three brokers, mostly in California. Company admits there is competition, and dependency on few brokers and a few large customers. But the business is in frozen dinners, so if you're still feeling conservative after two financial shocks, that would seem like a safe kind of business in which to invest.
Management
Edmond Pera, CEO since 2000, is paid a salary of $200,000 and gets a bonus half that. There has been no reported or disclosed insider buying, but the Chairman of the Board, who has been on the Board since 2001, has a 6.7% stake in the company.
Corporate strategy
The company competes on brand recognition which it states is good on the West Coast, and on cost. Revenues, income, and returns indicate that AMNF has been successful. Sales have grown from $20M in 2008 to near a projected $28M in 2013, net income more than quadrupled.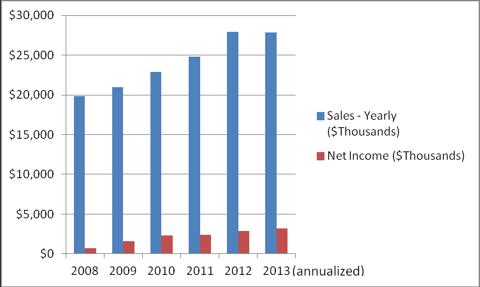 Balance sheet
40M shares are authorized, 32M issued. 10M preferred shares are authorized, none issued. Stock options for employees account for only 0.25M shares. The 2002 option plan expired in May, 2012.
From 2010 through 2012, 3.1M shares were repurchased at $0.70 to $0.94 per share at an aggregate cost of $2,394,294. Good thing management bought when it did! Since early 2011 to late 2012, during which time the share price remained almost flat at around $0.80, the share price and market cap have doubled.

AMNF began paying regular quarterly dividends in early 2006, increased them during the 2008 shock to the market, and now pays $0.012 quarterly which yields over 3% of the current share price.
The company's capital expenses are very low. According to its 2012 annual report, its property & equipment (factory and office equipment, plus one truck - they state they own all their equipment except for a CO2 tank) is valued at about $4.5M, net of depreciation less than $1M.
Growth in the companies assets: property, plant & equipment in particular, do not seem to underlie the growth in sales.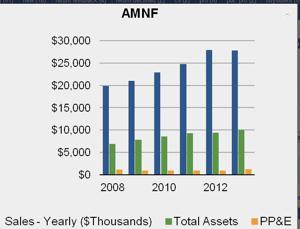 In May of 2012 when I bought shares in AMNF, it was continuing to grow sales and profits much more rapidly than would be expected from its P/E at around 12, and was sporting a share price that had remained flat for a year. Now roll forward to 2013, July - the price is rising to well over $1 but the quarterly earnings have leveled off, so the P/E is expanding. Seems quite possible that the company is producing frozen dinners to the maximum capacity of its leased plant in Hayward. They plan to buy some new equipment to ramp up production, but make no mention of a major expansion in their 2013 2nd Quarter Report.
I like to look at stock valuations taught by EVA Dimensions. They use the spread between Net Operating Profit After Tax (NOPAT) and Weighted Average Cost of Capital (OTC:WACC) as a predictor of value that the market will add to or subtract from a company's capital base (MVA). Data on AMNF was not available at their website, so I performed the calculations and plotted them below. If we assume that since revenues have leveled off in Q1-Q2 of 2013, then NOPAT and EVA will decline, and the MVA and stock price will be led lower as well.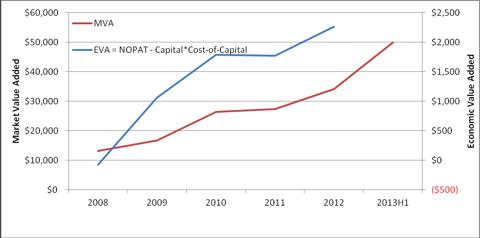 P/E for AMNF is now about 19. Price-to-book is now about 9 and higher than some of its much larger peers.
2013 Q2 figures put Enterprise value (EV)-to-sales at 1.9. Deep value investors look for stocks in companies which sell at or below book value, EV/Sales<1.5, or whose market capitalizations are less or not much greater than current assets less total liabilities (so-called net-nets).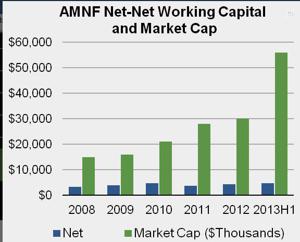 Conclusion
With the stocks in the US on average starting to look reasonably valued, it is time for beginner investors, of which I am one, to become more mature in their investing practice, leave the lovely little micro-caps with not so little price-tags, and look for companies for which value investors shop.
Disclosure: I have no positions in any stocks mentioned, and no plans to initiate any positions within the next 72 hours. I wrote this article myself, and it expresses my own opinions. I am not receiving compensation for it. I have no business relationship with any company whose stock is mentioned in this article.