Welcome back!
I hope everyone had a fine holiday weekend. Friday was uneventful for us and we went into the weekend still 55% bearish, expecting the usual pre-market shenanigans into Monday's open. We did a full cover on our bearish DIA puts at 9:55 am and did very well on that play, so we felt good about flipping back to slightly bearish into the close, which seemed a bit pumped-up to us anyway. As you can see from Corey's chart (below), it was the weak Nasdaq performance that kept us cautious, as it just doesn't seem likely that we're going to get a strong reversal off that dip.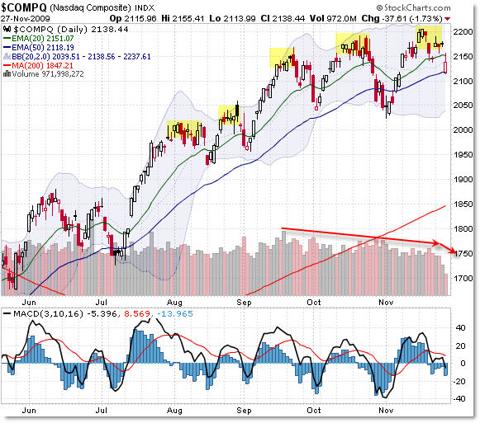 This is going to be a heavy data week, with only Chicago PMI this morning but the intensity level quickly notches up as we start December (already!) with Construction Spending, ISM, Pending Home Sales and Auto Sales tomorrow. Wednesday we get the Challenger Job Cuts Report, ADP's Employment Report, Oil Inventories and the always fun Fed Beige Book. Thursday we'll see the usual Jobless Claims, Revised Productivity for Q3, the Employment Cost Index and ISM Services, and we finish on Friday with Nonfarm Payrolls and Factory Orders.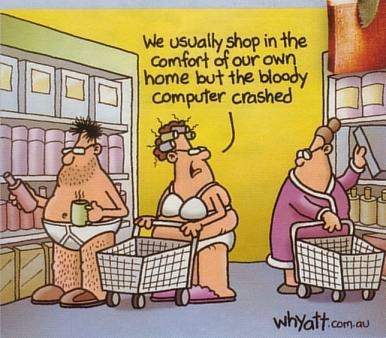 Also during the week we'll get everyone's opinion on the retail sales numbers but the NRF Report yesterday seemed to nail it showing that more people (195M) went shopping than last year (172M) but they spent an average of just $343, down from $373 (8%) last year. "Shoppers proved this weekend that they were willing to open their wallets for a bargain," NRF says, noting the surge in numbers was likely due to cash-strapped shoppers visiting stores early to get the best deals. You will also hear today that Comscore shows 11% more online shopping than last year with $595M spent on Black Friday - while this $60 Million bump may sound very impressive - try to keep in mind that 195M people spending $343 in the stores on Friday is $66.9Bn or 66 THOUSAND Million. On-line shopping is not going to save Christmas if the live purchases aren't there….
Despite the demand for shopping dollars, the dollar stopped going up and has been jammed back down to $1.505 to the Euro and $1.65 to the Pound and went as low as 86 Yen again this morning. That didn't stop the Nikkei from jumping back up 3%, to 9,435 as word spread through Asia that the UAE once again stands ready to bail out Dubai. China popped up 600 points at the open and held a 3.25% gain for the day led by financial stocks, which were much relieved. "Across Asia, regional markets have rebounded strongly this Monday as the United Arab Emirates' central bank pledged support for the country's local and foreign banks, in turn easing fears of contagion," said Ben Potter, a research analyst at IG Markets in Melbourne, in a note to clients.
Also very supportive for commodity prices this weekend was Chinese Premier Wen Jiabao rejecting as "unfair" complaints from senior European Union officials about Beijing's currency policies. Mr. Wen told reporters early Monday that countries pressuring China to lift its currency exchange rate are also restricting China's attempt to purchase their products, particularly technology goods. "This is unfair," Mr. Wen said. "Their measures are restricting China's development."
The yuan has emerged as the focus of wider frustrations roiling Europe's ties with China, from trade trends to climate-change policies. There are political concerns that the euro's strength against the yuan is undermining economic recovery in the euro area, where unemployment remains stubbornly high, and that Beijing's exchange-rate policies mean Europe isn't benefiting fully from China's growth. The yuan is tightly linked to the dollar, not the euro. As the dollar has declined against the euro, the yuan has fallen with it, making Chinese goods cheaper in Europe and European goods more expensive in China. "The Chinese are telling us exactly what they told President Obama," Mr. Barroso said after a dinner with Premier Wen. The U.S. president failed to extract any public concessions on the yuan on his recent visit to China.
European exporters are not happy that their pleas fell on the same deaf ears as Obama's, and markets there are trading down about half a point. This is not, of course, preventing the US futures from going green, which is just another reason retail investors are pulling money out of the US market at a record pace - it's turning into the kind of joke that used to keep us out of 3rd World markets (before they became "hot" investment vehicles). GS pushed up the EU Auto Sector with a "Buy" rating on Volkswagen and that's helping somewhat.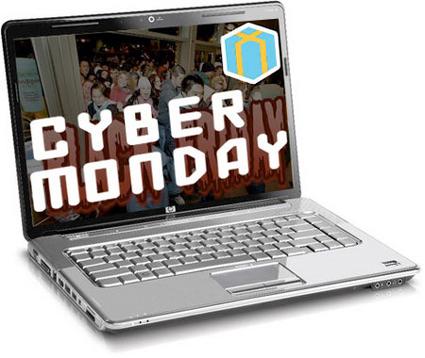 In the US markets, it's all about the Retail Sales this week and you need to beware the MSM cheer-leading about "better than last year" sales as we keep in mind that last year was the worst holiday season in 40 years so it's not like we're setting a high bar here. Myron E. Ullman III, chief executive of J.C. Penney Co. (NYSE:JCP), says trying to predict the holidays based on what happens over Black Friday weekend "is disconnected in terms of logic." Last year, Black Friday wound up being Penney's "best day in terms of sales versus plan, but it was a terrible year," Mr. Ullman says.
So it will be an interesting "Cyber Monday," filled with all sorts of other BS predictions and measurements. Other than that, we can just reread last Monday's post, where I said they were "Stuffing the Futures for Thanksgiving," an observation that led us to go happily short for the rest of the week. We finished this Friday right about where that Friday had finished so there's no change to our watch levels - even the Nikkei and the Hang Seng are back in virtually the same spot EXCEPT now the DAX has failed to hold 5,750 and the FTSE is below 5,250 and that remains our critical watch level for the global markets.
Our key levels remain: Dow 10,250, S&P 1,100, Nasdaq 2,187, NYSE 7,200 and Russell 600 - If we don't get 3 of 5 of our indexes over, then there's not going to be anything to get bullish about.