Last week saw shares of Chesapeake Energy (NYSE:CHK) rise as rumors spread that one of the large integrated oil companies was looking at buying the company for around $40/share. Initially the rumors named ExxonMobil (NYSE:XOM), but later in the week two European names, BP (NYSE:BP) and Royal Dutch Shell (NYSE:RDS.A) (NYSE:RDS.B) emerged as suitors. Our focus today is on highlighting the probability for a deal among these names for readers.
Also of concern for readers is the price of oil, as WTI Crude continues its slide and has fallen below $100/barrel today. The spread between WTI and Brent is back to $10/barrel and this is something investors should pay attention to. For those wanting to play oil, rather than oil names taking a look at the U.S. Oil Fund (NYSEARCA:USO) may be worth your time in order to construct a trade.
Chart of the Day:
If we cannot find support in the $98-100/barrel range then the market might have to go searching for support at either $95/barrel or $90-92/barrel. So long as prices remain north of $85/barrel our shale plays should continue to do just fine.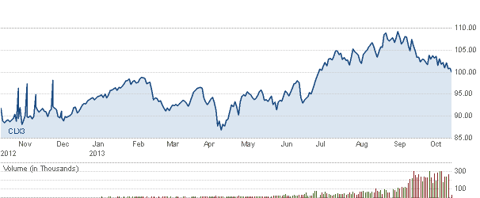 Click to enlarge
(Click to enlarge)
Source: CNBC
Commodity prices this morning are as follows:
Gold: $1317.10/ounce, up by $2.50/ounce
Silver: $22.27/ounce, up by $0.357/ounce
Oil: $99.90/barrel, down by $0.91/barrel
RBOB Gas: $2.6751/gallon, up by $0.0019/gallon
Natural Gas: $3.727/MMbtu, down by $0.037/MMbtu
Copper: $3.302/pound, up by $0.003/pound
Platinum: $1437.30/ounce, down by $0.50/ounce
Chesapeake Surrounded By Buyout Rumors ...
Buyout rumors continue to swirl in the oil and natural gas E&P space, but this past week Chesapeake Energy seemed to be the center of these rumors. Potential suitors included BP and Royal Dutch Shell with earlier reports suggesting that even ExxonMobil could be a buyer. We have said numerous times over the years that Chesapeake would make for a great acquisition target for a number of the majors, but no deal has materialized.
Based on our decade plus experience of investing in commodity stocks and nearly a decade of being an industry consultant, Chesapeake resembles the perfect situation for a takeover by a major player for a number of reasons. First, we are in a bull market in North American shale and all players have seen their shares rise to near all-time highs but on a historical basis Chesapeake is cheap. We are considering the fact that those highs were hit when natural gas prices were near highs and that Chesapeake has accumulated a portfolio of liquid rich plays across the country. The company is still penalized by their reliance on the dry natural gas properties found in the last decade rather than the liquids properties they will be developing over the next two decades. When one looks at it that way, the value is obvious.
Looking at a chart of the past five trading sessions shows a 6 million share bloc getting traded, and that is quite interesting. Could the recent rumors have been started by someone who was looking to sell into the strength?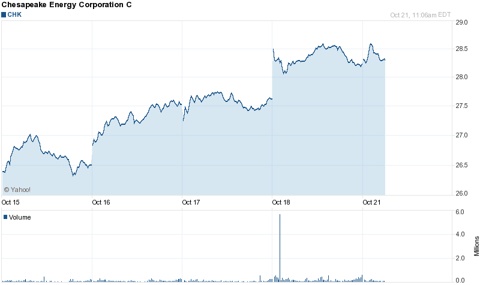 Click to enlarge
(Click to enlarge)
Source: Yahoo Finance
The majors do not pay top dollar and buy at all-time highs, but rather find value on a scale where it makes sense for them to do a deal. Chesapeake fits this bill, but the names rumored to be interested in buying the company do not all make sense and in some cases even have U.S. scratching our heads.
ExxonMobil is a name we could very well envision buying Chesapeake. The company would add to the unconventional assets already purchased by ExxonMobil and add new plays to diversify the company geographically as well as via their domestic production. The drilling inventory would also appear to benefit the margins in the unconventional assets Exxon has and provide enough locations to be meaningful and help replace production.
Which is why BP also makes sense to an extent. The acquisition would be large enough to move the needle, but also big enough to diversify the company away from the high risk/high reward of deepwater drilling that the company has shifted to in recent years. The deal might also ease investor fears about another big spill taking place and therefore reduce the risk premium in the shares. BP makes sense, but it is not a slam dunk or no brainer, especially as it has its own problems with regulators and the such it is currently dealing with.
Which then brings U.S. to Royal Dutch Shell, the company which in just the last few weeks announced its intentions to sell its shale plays in North America as it was unhappy with the returns on those assets. That would be fine, except the company was in some decent shale plays and had some decent wells we had noticed over the years. To make an offer to buy Chesapeake for their shale acreage would be a complete change in thinking and could actually hurt the management team's credibility with investors. We could see Royal Dutch Shell being a joint venture partner with someone in shale plays, where they were basically just a partner contributing capital, but buying shale assets this soon after their big exit announcement has U.S. doubtful that they would be interested in taking on this much shale exposure.
At the end of the day the most likely name from those rumored to make a bid is ExxonMobil and even that is a long shot. Few things make sense right now as far as a bid other than the size of the potential acquirers and the fact that Chesapeake offers the value it does at these prices. If Exxon is not the buyer, we would suspect that it would be another one of the large U.S. names seeking to add to their domestic onshore portfolio.
Disclosure: I have no positions in any stocks mentioned, and no plans to initiate any positions within the next 72 hours. I wrote this article myself, and it expresses my own opinions. I am not receiving compensation for it (other than from Seeking Alpha). I have no business relationship with any company whose stock is mentioned in this article.