Roche's (OTCQX:RHHBY) Rituxan, which is expected to generate $7.6 billion in global sales in 2013, will lose patent protection in Europe at the end of this year.
With so much money at stake, several multinationals are racing to launch generic competitors to the global blockbuster. Pfizer (NYSE:PFE), Novartis (NYSE:NVS), Merck (NYSE:MRK), Teva (NYSE:TEVA) and Boehringer Ingelheim are just a few of the companies that initiated programs to launch a biosimilar Rituxan.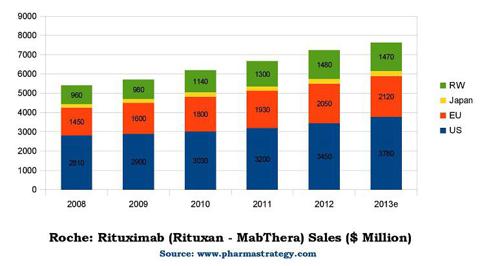 Rituxan (rituximab), MabThera in Europe, is a monoclonal antibody against B-lymphocytes CD20 surface protein used to treat lymphomas, leukemias, transplant rejection and rheumatoid arthritis.
Novartis' Sandoz generics division is on track with its development of GP2013 rituximab biosimilar, which is currently completing phase 3 trials in advanced stage follicular lymphoma and phase 2 clinical in patients with rheumatoid arthritis, the two most important indications of the drug.
Boehringer Ingelheim has also reached phase 3 clinical in patients with rheumatoid arthritis with its BI 695500 biosimilar rituximab, and pharma giant Pfizer has reached phase 2 clinical in patients with rheumatoid arthritis and phase 1 clinical in patients with CD20 positive Non-Hodgkin Lymphoma with its PF-05280586 biosimilar rituximab.
However, some of Roche's competitors have faced issues with their clinical trial programs. Teva, which is developing TL011 biosimilar rituximab, halted its phase 3 program last year and Hospira (HSP), which entered into a joint venture with South Korean Celltrion to develop CT-P10 biosimilar rituximab, halted its European phase 3 trial recently.
Merck, which is developing a rituximab biosimilar, MK-8808, in phase 1 clinical, and SAIT101 in partnership with Samsung's (OTC:SSNLF) Bioepis division, also seems to have both projects delayed, with MK-8808 currently on hold and Samsung reporting program delays.
A Difficult Biosimilar
Rituxan seems to be a difficult biosimilar to copy. Since its indication spans both the immunology and oncology domains, companies wishing to offer a biosimilar competitor may need to test their products in both rheumatoid arthritis and non-Hodgkin's lymphoma patients.
Rituxan might have also undergone some manufacturing changes recently. Prior to 2010, both Rituxan and MabThera contained 50% of a glycan structure called bG2.
After 2010, bG2 structure was observed in only 30% of the drug. If the biosimilar had been developed using the original product as a yard stick prior to the change in the manufacturing process, the biosimilar could potentially be different from the new form of the original product in both clinical efficacy and in structure.
Financial Impact
| Company | Ticker | P/E | P/S | Mkt Cap |
| --- | --- | --- | --- | --- |
| Merck | MRK | 19.7 | 2.9 | $125 Billion |
| Novartis | NVS | 19.7 | 3.5 | $184 Billion |
| Pfizer | PFE | 20.7 | 3.4 | $202 Billion |
| Roche | RHHBY.OB | 18.6 | 4.6 | $232 Billion |
| Teva | TEVA | 83 | 1.9 | $34 Billion |
Roche, which is already up 30% for the year, maintains that a biosimilar Rituxan will not be possible before Q12015. Even if Novartis manages to launch a biosimilar rituximab in 2014, the launch will only take place in Europe where MabThera sales are slightly over $2 billion.
Rituxan's US patent is not due for expiry till 2018, so both Roche and Biogen Idec (NASDAQ:BIIB), its US co-marketing partner, are safe for the time being.
Roche is already working on its next CD20 surface protein antibody therapeutic, Obinutuzumab, that could replace Rituxan in the future. In July this year, the FDA accepted the company's Biologics License Application (BLA) for obinutuzumab and granted it priority review in the treatment of chronic lymphocytic leukemia (CLL).
The priority review was based on data from the pivotal Phase 3 trial which found that obinutuzumab, combined with chlorambucil chemotherapy, demonstrated a statistically significant 86% reduction in the risk of disease worsening or death when compared to chlorambucil alone in previously untreated patients with CLL.
Roche is the current global oncology leader and is expected to remain in that position for the foreseeable future. Rituxan currently accounts for 19% of Roche's pharma sales and the product has already grown 6% during the first nine months of 2013 when compared to the same period last year.
We tend to side with Roche that a biosimilar Rituxan might not enter the European market until 2015, and even if Novartis manages to launch a competitor in 2014, the effect on Roche's global Rituxan sales would be minimal.
Disclosure: I have no positions in any stocks mentioned, and no plans to initiate any positions within the next 72 hours. I wrote this article myself, and it expresses my own opinions. I am not receiving compensation for it (other than from Seeking Alpha). I have no business relationship with any company whose stock is mentioned in this article.