I had to laugh Friday morning as shares of Google (NASDAQ:GOOG) raced higher. The stock closed Thursday at $888.79 and traded around $960 in Thursday evening after-hours trading. But during Friday's trade, the stock just kept going higher, taking out $980, $1,000, even breaking $1,015 during the day before closing around $1,011. Google's market cap increased by about $41 billion on Friday, putting the company only about $125 billion behind Apple (NASDAQ:AAPL). That is, despite Google having about a third of the sales of Apple, and an even lower ratio of profits. Google seems to be held to a different standard in this marketplace, when compared to Apple and many others. Today, I'll examine the reasons why, and see what investors really should do with this stock.
Results lower than estimates, but price is higher:
The following image is a screenshot taken from Yahoo! Finance on July 18th, the day that Google reported Q2 results. I've put a red box around the Q3 estimates at that time to make a key point.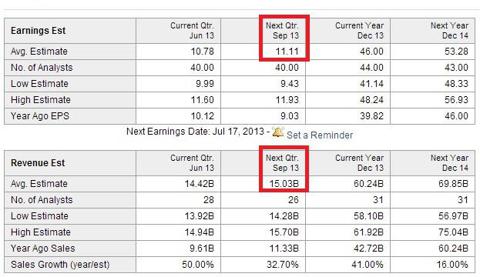 So on that day, Google shares closed at $910.68. But let's recap what Google has reported since then:
Google reports Q2 GAAP revenues of $14.11 billion and non-GAAP earnings per share of $9.56.
Google reports Q3 GAAP revenues of $14.89 billion and non-GAAP earnings per share of $10.74.
So if you'll look back up at the estimates, you realize that Google missed tremendously on all four numbers, but yet, the stock is $100 higher since then! Now, I know that you'll tell me that Google beat Q3 analyst estimates of $14.79 billion for GAAP revenues and $10.34 for non-GAAP earnings per share. Yes, Google did beat Q3 estimates, but why did it beat? The company only beat because estimates were taken down tremendously thanks to the huge Q2 miss! Earnings per share estimates were taken down by 77 cents, or about 7%. Additionally, I'll show why later on that this "Q3 beat" wasn't as impressive as it may seem, especially on the earnings front. Don't forget, Google is not very transparent, in the sense that it doesn't provide guidance. Analysts basically have to go one quarter to another. Apple at least provides guidance, and in recent quarters, very realistic guidance.
Additionally, Google's 2013 and 2014 full year estimates have been taken down since that Q2 report, when the stock was $100 lower. Back then, analysts were looking for $60.24 billion and $46.00 in 2013 and $69.85 billion and $53.28 in 2014, respectively. Current estimates call for $59.62 billion and $44.14 in 2013 and $69.32 billion and $52.09 in 2014, respectively. So again, estimates have been cut, but the stock price is much higher. That means a higher multiple, which was already high to begin with. More on that later, but the key here is that Google's stock goes up even when results are not great. If this was Apple, it would be punished severely.
GAAP vs. Non-GAAP:
I've already used a number of GAAP and non-GAAP numbers, and they can get very confusing at times. So let me briefly give some definitions of the various numbers Google reports.
GAAP revenues and earnings - The numbers you will see on financial statements and quarterly filings.
Non-GAAP revenues - This number is derived by taking Google's GAAP revenues, and subtracting out traffic acquisition costs "TACs". Formerly, analysts based their estimates on non-GAAP revenues, now it seems they are using GAAP.
Non-GAAP earnings per share - Non-GAAP operating income and non-GAAP operating margin exclude stock-based compensation ("SBC") expense, as well as restructuring and related charges. Non-GAAP net income and non-GAAP EPS exclude the expenses noted above, net of the related tax benefits, as well as net income or loss from discontinued operations.
I hope you're not confused, because sometimes, it takes several reads through a Google earnings report to figure out what number you should be actually looking at. When I put Google's numbers into Excel, I usually have to check them three or four times, just to make sure I'm using the right number. It's a confusing system, and is one reason why Google appears much better than it is.
Case in point is the fact that analysts use non-GAAP numbers for profits, and the fact that Google provides these numbers to begin with. Why does this happen? Well, it makes the company look a lot more profitable than it actually is. I compiled the following table showing the last two years worth of earnings reports, and the GAAP versus non-GAAP numbers for net income and earnings per share. These numbers are taken from Google's earnings page, as presented.

*Difference calculated as percentage non-GAAP numbers are over their GAAP counterparts.
On average, Google's non-GAAP net income and EPS are about 20% higher than the GAAP amount. In last year's Q3, it was 38% higher! That's a huge difference. Now, I can understand the part about discontinued operations. But find me another large cap tech name, not including early-stage names such as Facebook (NASDAQ:FB) or LinkedIn (NYSE:LNKD) that does this non-GAAP/GAAP thing to this extent with stock-based compensation. Apple certainly doesn't do this, and if it did, you would see another few billion in profits, which are already a few times that of Google. Intel (NASDAQ:INTC) doesn't do anything non-GAAP. Cisco Systems (NASDAQ:CSCO) provides non-GAAP numbers, but it doesn't have a 20% difference, not by a long shot. Google just does things differently, analysts do too, and it makes the company look a lot better than it really is.
Additionally, this GAAP/non-GAAP issue became very comical earlier this year, and I pointed this crazy issue out in April. Websites like Yahoo! Finance began posting revenue estimates as GAAP, but it left the year ago numbers as non-GAAP! This is a major no-no, because it made Google look tremendously better than it was. In fact, Yahoo! showed Google as expected to show 72.5% revenue growth in Q1 this year. Yes, more than 70% revenue growth because the year ago number did not add back in the "TACs". What did Google end up with? Well, GAAP revenue growth was a little more than 31.2% for the quarter, and a third of that growth was thanks to the Motorola Mobility acquisition. Again, let's make Google appear much better than it is. I wish I was making this stuff up but I'm not.
So what's the main point here? Well, the use of non-GAAP numbers has allowed Google to show about $4 billion plus of extra profits (non-GAAP) over the past two years. In terms of earnings per share, we're talking about $1.50 or so on average each quarter!
Q3 results weren't that great:
One of the greatest things I heard on CNBC Friday morning is that this was the first time in two years that Google has beat on both the top and bottom line. Since that time, shares have rallied from about $592 to over $1,000. Yes, Google has beaten on both the top and bottom line once. One out of eight. In baseball, that puts you in the minor leagues. Since Google doesn't give guidance, the stock can only trade on results, and obviously, those results haven't been that great. Google is up 71% since the day after the last top and bottom line beat. Since that time, GAAP revenues are up 53.2% and GAAP net income is up 8.9%.
But back to this year's Q3 period. Revenues beat, but as I showed above, it was merely a function of expectations coming down. It is the bottom line, earnings per share number, that really is interesting. Google had GAAP earnings of $8.86 from continuing operations in the quarter, up 34.45% from the $6.59 figure in the prior year period. That seems nice, but pre-tax income from continuing operations was only up 23.63%. What's with such a large disparity? Well, it had to do with Google's tax rate. In the prior year period, Google had a tax rate of 23.07%. In this year's period, it was 14.79%. By my calculation, that lower tax rate helped GAAP net income by about $287 million, or about $0.85 per share. On the conference call, Google stated the following about its tax rate:
Our effective tax rate was 15% in Q3. Our tax rate this quarter was impacted by the continued mix shift of earnings between our domestic and international subsidiaries.
There was no other mention of the word "tax" in the transcript, so none of the analysts asked about it either. Now, trying to figure out the non-GAAP equivalent of this tax break is quite complex, and trying to decipher Google's GAAP to non-GAAP reconciliation is very complex. But Google beat non-GAAP estimates by 40 cents, and that's after a 77 cent decline in earnings estimates. You have to wonder what the non-GAAP number would have been if Google's tax rate had not been so low. Again, another reason why Google is put on a different level.
No capital return plan:
What is one thing Google doesn't offer shareholders that pretty much every other large cap tech name that's been public for a while does? That's right, some sort of capital return plan. Some names have dividends, some have buybacks, and some have both. Google has none of the above. In fact, Google shareholders are being diluted by the quarter because the company is not buying back shares. How is the balance sheet looking? Quite well, in fact. The following table shows some key balance sheet ratios at the end of Q3 over the past couple of years.

*Liabilities to assets ratio.
It was during the time when Apple's cash pile was in that $50 billion to $75 billion range when the discussion of a dividend and/or buyback started. When Apple broke above that $75 billion level, the calls really started. Even though Apple has nearly doubled its cash pile since then, it is still paying out a nice $12.20 in annual dividends currently as well as having the largest buyback in corporate history. One must wonder if Google investors will start to want a chunk of the cash as Google's growth slows down. When Apple's growth slowed tremendously, it appeased investors by starting a huge capital return plan. Strangely enough, those who demanded the cash then criticized Apple for not being innovative enough and spending on R&D. Again, that goes back to my overall point that Google is held to a different standard. It seems that there will come a day where Google will start to return capital to shareholders. Will Google's stock drop when that happens, a signal that high growth is no longer possible? Only time will tell. One thing is certain. Google shareholders have been diluted by about 5.6 million shares over the past year. While that 1.7% or so doesn't seem much, Google would have to spend more than $5.6 billion on a buyback just to get the share count back to last year's Q3 end, and that doesn't include continued dilution.
Valuation is ridiculously high:
I wouldn't be making such a big deal about Google if it traded in-line with other names, but the premium Google trades at is completely ridiculous. Let's look at some comparisons between Google and some of the other names I've already mentioned, and I'll throw in Microsoft (NASDAQ:MSFT) as well. The following table shows fiscal 2014 comparisons for each name, based on its given fiscal year.

*Non-GAAP numbers for EPS and P/E.
Okay, so Google is showing a little more growth. It's not as mature a company as some of these other names. But Google is not the extremely high growth company many think it is. Google's core growth (excluding Motorola Mobility) was less than 20% in Q3, and growth is expected to continue lower as Google starts to face the law of large numbers. With Google analysts predicting just 16.3% revenue growth next year, that could mean Google's core growth could dip below 15% if Motorola shows a fair amount of growth.
So yes, Google is expected to show more growth. However, Google doesn't pay a dividend and isn't buying back stock like the other four names on this list. Google shareholders are being further diluted by the quarter. So most investors would trade the dividend/buyback for Google's growth, meaning these names should be on par with each other. Well, if that was the case, these names would all have similar valuations, but they don't. Just in case the numbers in the table don't jump off the screen at you, I'll throw them into chart form.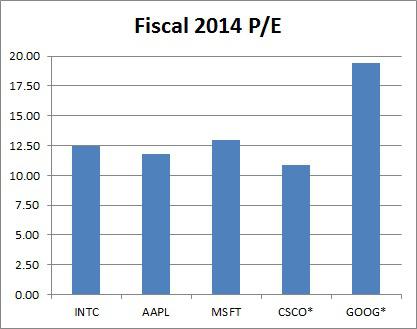 Now that chart by itself shows you the huge premium Google trades at, but that doesn't even tell the whole story. The P/E numbers for Cisco and Google above are based on non-GAAP estimates! Cisco, which doesn't have a tremendous disparity between GAAP/non-GAAP, would have its valuation in line with the other three established names. But as I showed above, Google's non-GAAP earnings are generally about 20% higher than GAAP. So if you take the P/E on Google's non-GAAP expected earnings, 19.42 at Friday's close, and add a bit for a GAAP conversion, you're probably around 23.3, or more. That valuation would be roughly double what Apple's is!
Just on the numbers above, Google would look like a great short candidate, and I do believe it is. However, I would be a little hesitant to short it right away. We've already seen a couple of analysts raise their price targets, and I think you'll see a few more. While the valuation above seems ridiculous to many, the highest price target on the street calls for another $210 of upside. In fact, the average price target as of Sunday was $1,068, implying another 5% upside from here. I do think Google could go another few percent higher from here, at which point it might be a good short lined up for a pullback.
Why is Google treated this way?
I'm not sure you can pinpoint any one particular reason why most people seem to put Google on a different level. One thought I have is that Google is always seen as this innovative company. We just had a movie a few months ago about interns at Google. How many other companies have we seen featured like that? Everyone made such a big deal about the innovation behind Google Glass, but how much financial potential is behind it?. Apple just released a new set of iPhones, which will make them several billion dollars by the end of the year. But people just see "another iPhone", while Google is considered a transformational name that will change lives forever.
There also just doesn't seem to be a group of Google haters, unlike we always see with Apple. There are plenty of people who just don't like Apple, some for no particular reason. These people will take every shot they can at Apple. Apple will miss earnings per share estimates by a couple of pennies, and the stock will drop $50. Google will miss earnings per share by more than a dollar, and the stock will maybe drop $20. The percentage moves are even more stark because Apple trades at a lower dollar point.
Final thoughts:
Google shares rocketed to a new all-time high on Friday, despite a report that was not that great. The company had a huge tax break, and only beat estimates because those estimates were cut so much after last quarter's ugly report, which the stock was not punished for. Google's growth is slowing, shareholders are being diluted by the quarter, and there is not a capital return plan in place. All of this for a stock that trades at a valuation almost double that of its peers. Art Cashin from UBS thinks the internet names are in a bubble, and while not specifically mentioning Google, you probably can include it. Google is held to a different standard, and that's really not fair to the rest of this space. Google looks like a great short candidate again after its recent rally, but wait for the second leg of the pop before doing so.
Disclosure: I have no positions in any stocks mentioned, and no plans to initiate any positions within the next 72 hours. I wrote this article myself, and it expresses my own opinions. I am not receiving compensation for it (other than from Seeking Alpha). I have no business relationship with any company whose stock is mentioned in this article.
Additional disclosure: Investors are always reminded that before making any investment, you should do your own proper due diligence on any name directly or indirectly mentioned in this article. Investors should also consider seeking advice from a broker or financial adviser before making any investment decisions. Any material in this article should be considered general information, and not relied on as a formal investment recommendation.