By many measures Energy Transfer Equity (NYSE:ETE) and Kinder Morgan Inc. (NYSE:KMI) are very similar. For starters, they are both General Partners of very large, complex enterprises, which in my view are generally more favorable than their MLP subsidiaries collectively. As GPs, they control the IDRs and units of multiple entities simultaneously, with midstream assets that include thousands of miles of pipelines and hundreds of storage terminals, a critical part of energy infrastructure. Both ETE and KMI have been solid performers for yield-hungry investors, with yields over 4% and growing.
The purpose of this article is to summarize my research which compares and contrasts these two attractive entities, which includes, analysis of business structure, geographic footprint, revenue sources, cash flow, dividends, leverage and debt ratios, as well as growth prospects. Upon completing this MLP GP showdown series, investors will hopefully have a more in depth understanding of both KMI and ETE.
Business Structure Basics:
KMI: KMI directly and indirectly owns approximately 13% of Kinder Morgan Energy Partners (NYSE:KMP), including 100% of GP, while also owning 41% limited partner interest and 2% general partner interest in El Paso Pipeline Partners, L.P. (NYSE:EPB):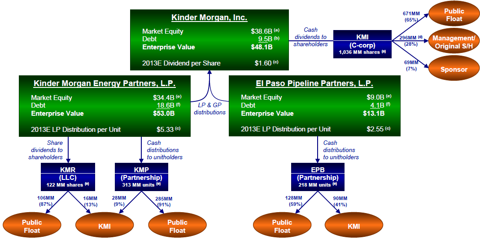 ETE: ETE owns 100% of the incentive distribution rights and 1.5% GP interest of Energy Transfer Partners (NYSE:ETP) and roughly 22% of ETP's total common units; and owns the general partner and 100% of the IDRs of Regency Energy Partners (NYSE:RGP) and approximately 26.3 M RGP units. ETP owns 100% of Sunoco Logistics IDRs, has a 2% GP interest and owns 32% of SXL's units.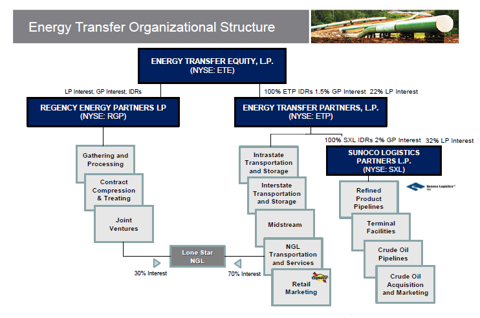 Geographical Footprint:
KMI: KMI owns an interest in or operates roughly 82,000 miles of pipelines and 180 terminals. See KMI's asset map.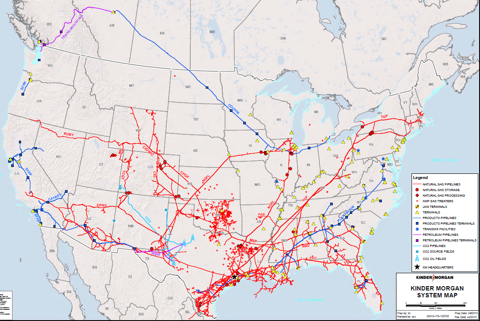 ETE: ETE owns an interest more than 56,000 miles of pipelines, less than 100 storage and processing facilities, and 4,900 retail locations.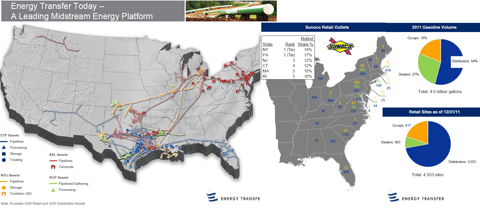 To put these networks into perspective, we need to understand their proximity to shale plays to consider whether more volumes or expansions could be achieved as shale production is enhanced.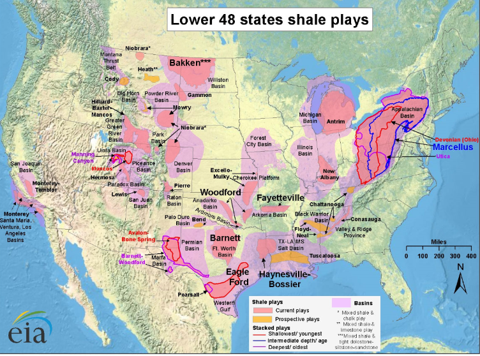 I couldn't help notice ETE's lack of exposure to popular Midwest deposits like the Niobrara and the Bakken. However, it is interesting to see their heavy exposure to Texas, which contains the Eagle Ford deposit and ports which feed the Gulf, as well as the recently acquired Sunoco pipelines, which are in the Utica and Marcellus areas. In contrast, KMI has a broader network which covers nearly every shale deposit by the looks of this map.
I view KMI as more geographically diversified and much larger in terms of storage and pipeline volume capacity, as it has almost double the storage and 26% more miles of pipe. KMI has some exposure to coal and CO2, which is partially offset by ETE's unique Sunoco retail business, which consists of nearly 5,000 retail dealer and distributor locations on the East Coast.
Revenue Sources:
KMI: 56% of cash flows came from natural gas pipelines, and another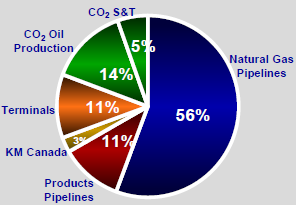 11% from other pipes. This means in total, some 67% of cash flows were from pipeline fees. This is what makes KMI such a reliable dividend payer, as pipelines mostly contributed to 2013's projected fee-based cash flows, which is estimated to total 80%. KMI's CO2 production and very strong terminals division complement the predictable toll road-like, fee-based pipeline business.
ETE: Naturally, ETE is also exposed to fee-based pipeline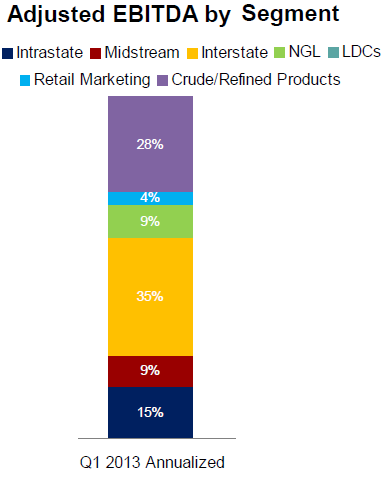 investments, primarily natural gas and oil. Today, 70% of miles of pipe and just 55% of throughput capacity is for natural gas, whereas 93% of pipe and 86% of throughput was for natural gas before the Sunoco buyout. Post acquisition, some 7,940 miles of oil, NGL, and refined products pipe was gained. Unfortunately, Energy Transfer does not divulge much information in terms of commodity exposure, but it does for ETP. Therefore, we can only estimate ETE's situation based on ETP's breakdown, which is reasonable since ETP is the backbone of ETE.
It appears nearly 50% of ETP's EBITDA comes from pipelines, and nearly 30% comes from retail marketing and crude/refined products. This contrasts from KMI's heavy 56% reliance on natural gas pipelines, which could be mostly attributed to KMI's stake in the gas-focused EPB system. To support my claim that ETE is much less exposed to natural gas, peer at the chart from ETE's Q2 2013 10-Q, showing revenue: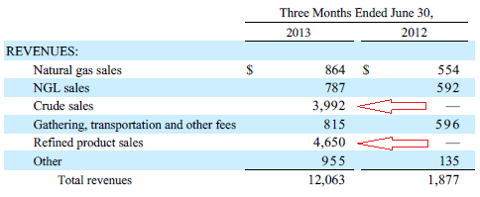 It appears natural gas sales and gathering only accounted for 14% of revenues, while crude sales and refined products sales accounted for more than half of total revenues. Since this new revenue is attributable to Sunoco's retail business, we know much of it is probably not fee-based.
Therefore, KMI has the most exposure to natural gas transmission, while ETE is more weighted towards oil and refined product sales, primarily due to its Sunoco business. Also, we can conclude KMI is a more fee-based business versus ETE, which can be a strength or weakness depending on your perspective. Such is the case for KMI's heavy reliance on natural gas demand.
Showdown Part 1 Summary:
In part 1 of this GP showdown, we concluded both KMI and ETE are relatively diverse despite their midstream classifications versus other smaller networks, however each was notably different in terms of revenue sources. ETE is much more exposed to oil and refined products sales due to Sunoco, while KMI is more of a fee-based natural gas pipeline operator with a complimentary CO2 business. We also discovered KMI is a much larger, geographically diverse network, with almost double the storage and 26% more miles of pipe. Geographically speaking KMI has exposure to nearly every shale play in the US, while ETE lacks coverage in the Midwest regions, yet has a unique retail business covering much of the East Coast.
There is no clear winner thus far, as we've only examined the basic outline of each entity. However, if you desire a larger network with more of a fee-based revenue source with heavy natural gas exposure, KMI may be in your favor. Likewise, if you desire a smaller entity with less exposure to natural gas yet more to sales of refined products and oil, ETE may be a better choice for you.
Clearly, more work needs to be done discussing expansions and GP incentive delays, which both KMI and ETE practice to fund acquisition and drop downs. In addition, dividends, dividend coverage ratios, debt loads and interest rate exposure are also critical areas necessary to compare. Stay tuned for part 2 of this MLP GP showdown as we will dive into these more critical evaluations.
Disclosure: I am long KMI. I wrote this article myself, and it expresses my own opinions. I am not receiving compensation for it (other than from Seeking Alpha). I have no business relationship with any company whose stock is mentioned in this article.
Additional disclosure: I have owned ETP and KMP in the past year