HCP Incorporated (NYSE:HCP) has taken a beating since May along with other rate-sensitive REITs. A more conservative business model and fewer acquisitions should mean higher rates will be a relatively smaller problem over the near term. Significant demographic tailwinds and a history of strong cash returns, combined with the ability to use the shares as a hedge for financial risk, makes HCP a good addition to retirement and income portfolios.
Hedging healthcare costs with healthcare stocks
More than 10,000 people will reach the age of 65 in the United States every day. There is a good chance you might be one of them. I talked about hedging the financial risks of retirement with positions in healthcare stocks when I added Teva Pharmaceuticals (NYSE:TEVA) to my Retirement and Income Portfolio. Adding a healthcare REIT follows in the same line of reasoning. Healthcare costs are projected to increase by 6.2% a year over the next decade, while the economy may continue to struggle for growth of 2% a year. While investment in healthcare stocks will not completely hedge the risk to rising medical costs, it will help correlate income with liabilities and reduce your overall risk.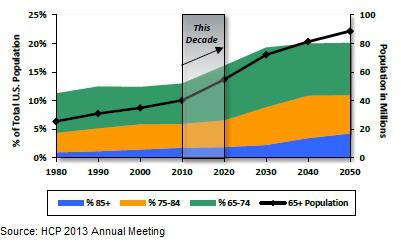 Illustrated in the graphic from the company's annual meeting this year, the U.S. demographic revolution has just begun to pick up steam. The change in the population to 2030 is simply amazing and I do not think investors have fully accounted for it in their portfolios.
As of fiscal 2012, HCP held $21.3 billion in property investments, $246 million in development assets and 156 acres of land for future development. Investors often mistake the company for just a provider of senior housing but it actually has a diverse set of assets. Senior housing makes up 36% of net operating income, followed by skilled and post-acute facilities (31%), life sciences (15%), medical offices (13%) and hospitals (5%).
HCP blends these five asset classes with five investment strategies; real estate, joint venture, development, debt investment and RIDEA-TRS, for a unique business model that allows flexibility around the changing environment. The strategy also diversifies income against a drop in any one asset class or investment type.
The company prefers triple-net leases with its tenants, meaning that the tenant pays all or most of the operating costs. Triple-net leases account for about 80% of revenue. While this decreases the potential rent, it significantly reduces general and administrative costs for the company and provides a much leaner structure. In keeping with its more conservative approach, the company has not yet embraced the RIDEA structure as fully as other operators. Under the RIDEA structure, companies pay for more operating costs and may be able to increase margins by participating in profits but also expose themselves to cash flow risks.
A history of performance and cash returns
The company has grown funds available for distribution by an annualized 8.4% over the last three years but has reduced the payout ratio to 90% from 98% over the period. HCP has increased its dividend an average of 4% over the last three years with a 5% increase this year. I think dividend increases will need to continue higher over the next few years to maintain an already low payout ratio.
The shares have provided an annual compound return of 17% since the IPO in 1985 with 28 years of consecutive dividend growth. Shares have dropped 7% over the last year and almost 23% since May on rising interest rates and fear of oversupply in the senior housing market.
HCP surprised the markets this month by announcing the termination of James Flaherty as CEO. Lauralee Martin, formerly the chief executive of the Americas division at Jones Lang LaSalle (NYSE:JLL), has replaced Flaherty as the new chief. The board has been relatively quiet about the change saying only that the directors had lost confidence in Flaherty's leadership. Flaherty has been CEO since 2003 so it is a little odd that they would just now lose confidence in his management.
I think there are two ways of looking at this. It's possible that Flaherty was simply made a scapegoat to account for the stocks lousy performance this year. The more likely scenario is that Flaherty wanted business-as-usual while the board wanted to move things in a different direction which they will presumably get under their newly elected CEO. The question investors need to ask is what will this new direction be and will it benefit the shares.
Construction in senior housing has increased dramatically over the last few years and prices have jumped as investors look to the demographic boom. This has led to some fears of slower income growth at focused REITs and a bubbly acquisition environment. The company acquired 133 communities in a joint venture with Blackstone Real Estate Partners and Emeritus for $1.7 billion in 2012.
The company may lag peers in acquisitions over the next couple of years, allowing for the joint venture to be folded into the business. A more conservative approach to purchases will also allow demand to catch up to the boom in supply, which should help bring up capitalization rates. The lag in acquisitions could affect sentiment in the shares and investors need to be ready for the market to make unfavorable comparisons. Over the long term, I think the conservatism will help the company relative to the industry. REITs are notorious for increasing acquisition activity at the height of prices so it is nice to see a company with some restraint.
With expected growth in FFO of 8.5% for 2014, the company needs to increase the dividend by 10% just to maintain its relatively low payout ratio. Even at this payout, there should be plenty left over for capital spending or even a special dividend.

I use a dividend discount model to value income stocks. In the model below, I assume an average dividend growth of 8% in the next five years. This should allow the payout ratio to increase slightly to the average over the last few years. Second stage dividend growth is assumed to slow to 6.5% with a terminal rate of 4%, though these rates could be much higher on demographic tailwinds.
On a funds from operations multiple, there may be even more upside on the shares over the next year. Applying a 16.5 multiple, in line with peers, on 2014 estimated FFO leads to a target price of $52.80 per share.
Rising rates have been a headwind on the shares since May. REITs must continuously issue debt to meet growth needs so higher borrowing costs can present problems. While rates will almost certainly continue to rise over the next year or two, I think the company's conservative strategy should minimize debt needs and will be less affected than peers. The company's significant history of growth and cash returns should continue well into the future and investors cannot neglect the sector on fears of higher rates alone.
Adding to Retirement and Income Portfolio
I am using the sell-off in HCP Inc. to add it to my model Retirement and Income Portfolio. While an increase in rates may present a headwind over the next couple of years, the longer-term picture for the company is firmly positive. A conservative strategy makes the company less risky and more appropriate than peers for investors looking for security of principal and income.
The addition follows Realty Income Corporation (NYSE:O) on its diversified properties and low debt. I like REITs for long-term income and stability. They fell sharply in 2008 on general real estate fears but have been less prone to cyclical problems over past recessions.
The combination of Realty Income Corporation and HCP in a portfolio provides a little more diversification with retail, distribution and healthcare properties. Realty Income Corporation has just $4.1 billion in debt against a market cap of $13 billion so leverage is more conservative than peers in the space. The stock's 5.3% yield is well covered with more than $116 million in adjusted funds from operations over the last quarter.
I will be adding a position each week to a maximum of 10 stocks and then will update the portfolio each quarter. While these should not be the only stocks in your portfolio, I think they will provide a strong cash and price return over the long term and are worth a look.
Disclosure: I am long O, TEVA, HCP. I wrote this article myself, and it expresses my own opinions. I am not receiving compensation for it (other than from Seeking Alpha). I have no business relationship with any company whose stock is mentioned in this article.