A look into the trading activity of two investments significantly owned by Blum Capital Partners suggests that high-profile exits continue to be made in the education industry. Blum Capital Partners was founded in 1975 as an investment firm by Richard C Blum. The following takes a look at ITT Educational Services Inc. (NYSE:ESI) and Career Education Corp. (NASDAQ:CECO), two education companies struggling to retain insider support.
ITT Educational Services Inc.

ITT Educational Services provides undergraduate and graduate degree programs through its ITT Technical Institutes and Daniel Webster College. The company provides accredited career oriented education programs in a variety of fields ranging from information technology, criminal justice, health sciences, and more. The company serves nearly 59,000 students at its more than 140 campuses over 39 states and online.
For the quarter ending June 2013, ITT Educational Services continued to report upbeat metrics despite its ongoing declines. The company noted that new student enrollments increased 7.5% for the quarter compared to 2012. However, the overall enrollment declined 11.7% to 58,617 students year over year. The company saw a decrease of 21.2% in business as revenue dropped from $329.8 million to $259.9 million in 2013. Net income fell an alarming 54.7% as the company only brought in $20.9 million compared to $46 million in 2012.
Blum Capital Partners LP serves as a 10% owner in ITT Educational Services Inc. Most recently, the company has been selling off ESI in relatively large transactions as seen in the graph below. On October 16, Blum Capital sold 195,024 shares at $32.63 for a value of $6,364,081. This comes in stark contradiction to its purchases in 2010. On October 15, 2010, Blum Capital purchased 225,800 shares at $54.87 for a value of $12,388,534. After several years, this reversal appears to be indicative of changing sentiments.

Career Education Corp (CECO)
Career Education Corporation was founded in 1994 and has quickly risen to become one of the world's leading providers of educational services. The company maintains over 90 campuses throughout the United States, France, Italy, and the Principality of Monaco. The company offers doctoral, master's, bachelor's and associate degrees to a variety of career-oriented disciplines. Approximately 40% of the company's students attend web-based virtual campuses. The company supports more than 9,500 employees and 57,000 students.
Over the quarter ending June 2013, Career Education continued to face a declining business. Total revenue was $294.8 million for the second quarter of 2013, representing a 19.4% decline from 2012. However, an operating loss of $63.5 million actually represented an improvement to the loss of $105.3 million in Q2 2012. This slight gain was further represented by an improvement to the negative operating margin of 21.5% versus the negative operating margin of 28.8% from the prior year.
Blum Capital Partners LP also qualifies as a 10% owner in Career Education Corp. The company has steadily been divesting its interest over several months beginning in May 2012. On September 17, Blum Capital sold 163,867 shares at $2.69 representing a value of $440,398. This too runs contrary to the company's sentiment in late 2009. On December 9, 2009, Blum Capital purchased 181,100 shares of Career Education Corp at $25.73 for a value of $4,659,763. The latest transactions can be seen in the graph below.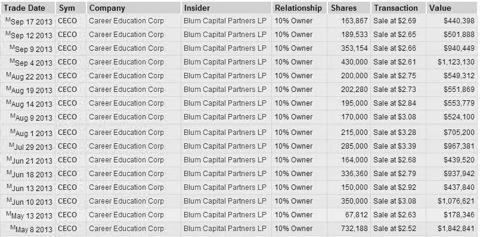 Final Thoughts
Despite modest recoveries, education companies continue to face long-term decline trends as seen in the falling revenues and incomes of ESI and CECO. For insider, Blum Capital, the latest sales continue to point to negative sentiment surrounding the industry as a whole. This is further emphasized by the private equity firm's decision to reverse its positions and take losses after less than four years. Investors should take caution in this industry if large insiders like Blum Capital are looking to exit their positions.
Disclosure: I have no positions in any stocks mentioned, and no plans to initiate any positions within the next 72 hours. I wrote this article myself, and it expresses my own opinions. I am not receiving compensation for it (other than from Seeking Alpha). I have no business relationship with any company whose stock is mentioned in this article.