A number of energy companies were recently mentioned as potential targets for activists who see a chance to speed up efforts to boost shares, buy undervalued reserves, and win shareholder support for management and governance-based changes.
For example, activist investors could establish a position in Devon Energy (NYSE:DVN) and look to raise its payouts to shareholders. Why? Simply because the company holds $4.23 billion in cash on its balance sheet, an amount that considerably exceeds the $3.98 billion in cash that was held by ConocoPhillips (NYSE:COP) during its most recent quarter.
As a direct result of Devon Energy being mentioned as a potential target for activist investors, I wanted to highlight a number of catalysts behind my decision to remain bullish on shares over the next 12-24 months.
An Overview of Devon Energy
According to the company's website, "Devon Energy Corporation is a leading independent oil and natural gas exploration and production company. Devon owns natural gas pipelines and treatment facilities in many of its producing areas, making the company one of North America's larger processors of natural gas liquids. Its portfolio of oil and gas properties provides stable, environmentally responsible production and a platform for future growth".
Catalyst #1 - Recent Performance and Trend Status
On Friday shares of DVN, which currently possess a market cap of $24.51 billion, a beta of 1.01, a forward P/E ratio of 11.57, and a current dividend yield of 1.39% ($0.88), settled at a price of $63.21/share.
Based on their closing price of $63.21/share, shares of DVN are trading 6.11% above their 20-day simple moving average, 8.03% above their 50-day simple moving average, and 12.46% above their 200-day simple moving average. These numbers indicate a short-term, mid-term, and long-term uptrend for the stock which generally translates into a moderate buying mode for near-term traders and long-term investors.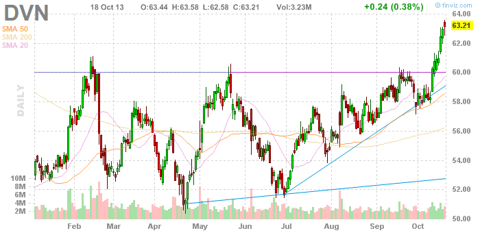 Catalyst #2 - Recent Dividend Behavior
Since December 13, 2010, the company has increased its quarterly distribution three times over the last three years and could continue to do so considering the pile of cash the company is currently sitting on. The company's forward yield of 1.39% ($0.88) coupled with its ability to maintain its current dividend distribution on a quarterly basis, make this particular energy stock a highly considerable option, especially for those who may be in the market for a conservative stream of quarterly income.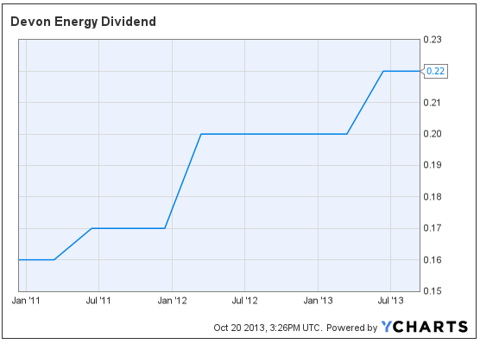 Catalyst #3 - Significant Production Growth
Achilles Research recently noted a number of catalysts that have contributed quite nicely to Devon's overall production growth rate. For example, "Increasing production will be a key driver for Devon's business value: Its Q2 2013 results have shown that the Permian Basin is driving its oil production (+36%)".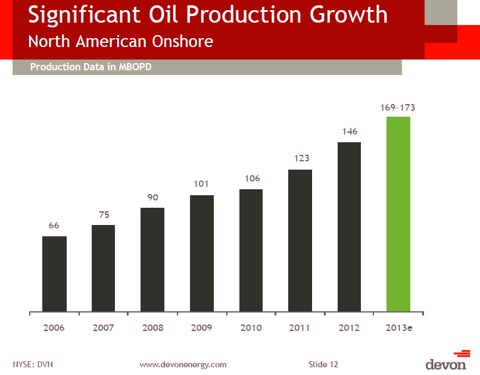 Achilles Research went on to note that, "the company also recently revealed its new shale gas prospect Woodford with substantial reserves. The Delaware Basin could also continue to deliver additional value by increased drilling intensity and higher light-oil production. Devon's Barnett and Cana shale plays are also quality assets that suggest a spike in natural gas production over the coming years".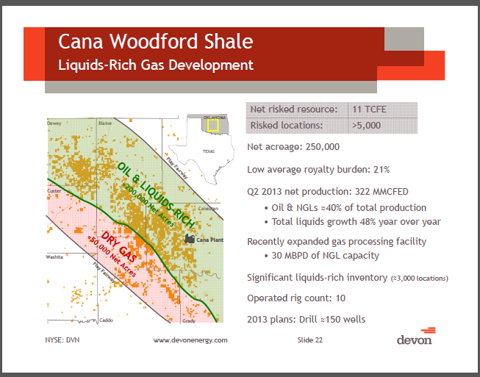 If Devon can continue to demonstrate an increase in oil production (primarily driven by its Permian Basin assets) through both Q3 and Q4 2013, and subsequently increase in natural gas production over the same period, I see no reason why the long-term investor should hold back from establishing a position at current levels.
Risk Factors to Consider
According to Devon Energy's most recent 10-K (February 2013) there are a number of risk factors all investors should consider. For example, these factors include but are not limited to OPEC production levels, regional pricing differentials, unexpected drilling conditions, adverse weather conditions, and unexpected lack of access to pipelines or other transportation levels.
Conclusion
For those of you who may be considering a position in Devon Energy, I'd keep a watchful eye on a number of catalysts over the next 12-24 months as they could each contribute to the company's long-term growth. These catalysts include but are not limited to the company's ability to maintain and further enhance both its oil and natural gas production levels, as well as its ability to sustain and maintain a healthy dividend over the next 24-48 months.
Disclosure: I have no positions in any stocks mentioned, but may initiate a long position in DVN over the next 72 hours. I wrote this article myself, and it expresses my own opinions. I am not receiving compensation for it (other than from Seeking Alpha). I have no business relationship with any company whose stock is mentioned in this article.