More details are being made available about studies of Celgene's (NASDAQ:CELG) blockbuster drug Revlimid. According to Bloomberg, the results of several studies, to be released at the American Society of Hermatology meeting later this week, should lead to more widespread use of the cancer drug and could as much as triple its sales.
"Celgene Corp. can more than triple sales for its best-selling cancer pill Revlimid on new data that may convince doctors to choose the drug as a first option over Johnson & Johnson's intravenous medicine, Velcade.

Revlimid generated $1.3 billion in sales last year as a back-up therapy for patients with the blood cancer multiple myeloma who don't respond to other options. Findings from research to be reported next week will show how well the pill works as a first-choice treatment, in long-term use and against other tumors. A preliminary report on one study, released in July, suggested Revlimid helped patients live longer." — Bloomberg.com 11/30/2009
Celgene has leaked details about the study over the past few months and the market has digested them mostly with little affect on the stock price. The stock had a very nice day back in July, rising nearly 20% after announcing a successful result to the trial. However, since that day the stock has actually fallen slightly over the next four-plus months, even as the information continues to look extremely positive.
Consider the fact that, as of right now, Revlimid accounts for the majority of the company's sales ($1.3 billion share of the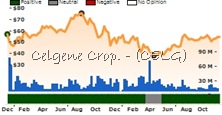 company's $2.24 billion overall). If sales of Revlimid were to triple and all other sales remained the same, CELG's company-wide sales would at least double.(Click chart to enlarge)
Revlimid has been shown to be effective in extending some cancer patients lives and works well in combination with other treatments. Also, because it is in pill form rather than intravenous it is more convenient to the patient, further increasing its appeal. In the past, Revlimid has been a secondary option used after Johnson & Johnson's (NYSE:JNJ) Velcade or others had proven ineffective. These new results should help bolster Revlimid's potential as a first option for cancer patients.
According to our methodology, the stock is priced attractively at current levels of fundamentals and receives our Undervalued rating. For instance, historically the market has been willing to pay between 10.7x and 20.1x revenue per share for CELG stock, but the current level is only 9.9x. The price-to-cash earnings looks similarly undervalued compared to the market's historical valuation of the company. Of course, this would only improve if the fundamentals appreciate like they could if Revlimid lives up to these expectations.
With so much optimism surrounding Revlimid and its potential, it is surprising that the stock remains Undervalued and it may not stay so attractively priced for long.