Sempra Energy (NYSE:SRE) and American Electric Power (NYSE:AEP) are on the cutting edge of the latest move in the electric power generation and distribution business - microgrids. These two firms will not be the last and most all electric companies worthy of investment consideration should start getting on board with this technology. In addition to these two utilities, Lockheed Martin (NYSE:LMT), General Electric (NYSE:GE) and Siemens (SI) offer solutions for microgrid development.
What is a microgrid? It is a separate power generation and distribution system that is locally operated. Microgrids can be autonomous to the macrogrid infrastructure during times when the macrogrid is non-operational. Author David Ferris offers a good graphic of a microgrid system on the Sierra Club website: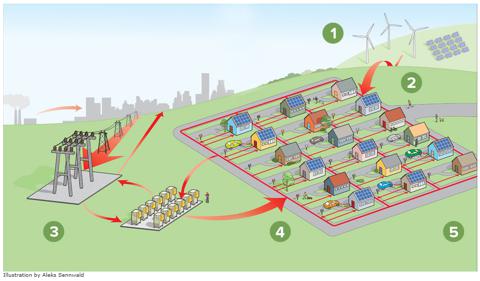 According to articles offered recently in Forbes and Bloomberg, microgrids will be the wave of the future for integration of site-specific wind and solar generation along with back-up power generation. The concept is almost a throw-back to the beginning of the massive macrogrid systems of today when grid interconnectivity was not feasible. However, the big difference is most new microgrid projects will still be connected to the macrogrid for both reliability and to sell excess power that is generated.
The US Military is currently giving serious consideration to microgrid systems in several of their installations. For example, the Navy has announced a program to connect three of their microgrid systems in San Diego. The installation of microgrid systems at military installations is considered a more secure approach for power supply. In addition, it is getting lots of attention from some of the heavy weights in the grid supply and technology sector. From an article offered on greentechmedia.com:
Military microgrid developers include SAIC, Lockheed Martin, Raytheon (NYSE:RTN), Boeing (NYSE:BA), and General Electric, which is already in a big microgrid project with the U.S. Marine Corps. DOD and the Department of Energy are also working on standardizing the technologies that go into microgrids, via the Smart Power Infrastructure Demonstration for Energy Reliability and Security (SPIDERS) projects underway at Fort Carson, Colorado, and at Pearl Harbor-Hickam Air Force Base and Camp Smith in Hawaii.

Building economically feasible, grid-interactive microgrids is the next step in this process. We're seeing projects around the world testing the ability of locally controlled energy systems to balance the grid at large, with grid giants like GE, ABB, Siemens, Alstom, Schneider Electric, Toshiba and Hitachi, startups like privately-held Blue Pillar, Viridity Energy, Powerit Systems, and Enbala, and technology firms such as Spirae, Integral Analytics and Power Analytics all taking different tacks on the challenge.
As an example of industry involvement in microgrids, GE's Digital Energy unit in Canada has developed this pdf presentation of its product offering. GE offers its Microgrid IQ Control System that ties in on-site power generation systems with both the back-up capacity and the macrogrid.
Listed below are specific microgrid projects being considered by the Department of Defense, according to data compiled by greentechmedia.com. These projects range in scope from research into the integration of existing systems to economic analysis of potential installations.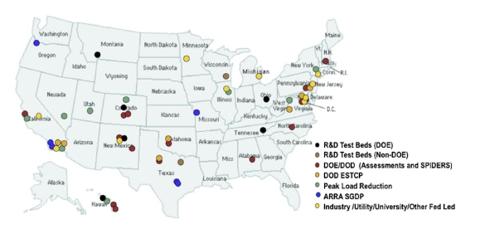 Navigant Research, a market data firm, recently projected that the market for microgrids could grow in revenue from $10 billion this year to $40 billion by 2020. According to Navigant, there are 230 US and 450 worldwide "planned, proposed, under construction or fully operational" microgrid projects currently.
Utility companies are starting to take notice of this trend. From the Bloomberg article:
Tony Early, chairman and CEO of San Francisco-based PG&E Corp., makes the same argument that he makes about the surge of solar users on PG&E's grid.

"To make microgrids work, you also have to upgrade the existing grid," he said in an interview. "It was designed to push power one way, not to take power back in, and not to have variable flows of power." Builders of microgrids "need to pay for that through some sort of charge."

Some utilities are hedging their bets. With the help of $10 million in U.S. Energy Department and state grants, San Diego Gas and Electric, a subsidiary of SRE, has set up a microgrid in the remote desert town of Borrego Springs, about 90 miles northeast of San Diego. When a severe rainstorm knocked out utility power to the town last month, the microgrid's collection of rooftop solar panels, micro-turbines and batteries was able to keep electricity flowing to nearly half the town's customers, including buildings sheltering the elderly and ill from the desert heat.

Nick Akins, the CEO of American Electric, said some of his customers, including the U.S. military, have expressed interest in setting up microgrids. American Electric is amenable. "I think you have to embrace what's going on," he said in an interview. "It's a different way of doing business but it is still part of the energy infrastructure business."

The company, based in Columbus, Ohio, has existed for 106 years, he said. "We've got to think about what we have to do to stick around another 106 years."
More information on the Borrego Springs project can be found in the pdf presentation on the energy.gov website.
The state of Connecticut has announced funding for its first microgrid that will connect the Submarine Naval Base at Groton, St. Francis Hospital in New Haven, and Wesleyan University in Middletown along with schools in Storrs and Windham used as emergency public shelters. From their press release:
Nine microgrid projects across the state of Connecticut have been awarded $18 million as part of the state's innovative strategy to keep critical buildings up and running during electric grid outages.

The projects will be the foundation for the nation's first state-wide microgrid.
While some industry executives are calling microgrids a "mortal threat" to their business, those utilities that embrace the technology and the opportunity to connect to the power generation provided by microgrids will be setting the stage for the future. From a micro-grid-news.com interview with Mr. Andrew Bennett, Senior Vice President of Infrastructure at French utility supply manufacturer Schneider Electric (OTCPK:SBGSF):
Investor-owned utilities see microgrids as a possible threat, though there is incredible opportunity here. Many of these utilities need to have a deregulated section of their management in order to take advantage of the microgrid trend - if a section of their user base wants a microgrid and renewable resources, what better entity is there than the utility itself to provide the expertise and network for it? This could equate to more revenue than they would have received from a rate case.
According to an article posted on renewgridmag.com:
I spoke with my colleague Eliot Assimakopoulos, microgrid commercial leader for GE Digital Energy, about the benefits and challenges to utilities posed by microgrids.

"In the past, distributed generation projects tended to present a threat to the incumbent utility," Assimakopoulos said. "When microgrids and their potential value to the utility are clear, that resistance decreases. That value includes meeting peak load constraints and load shifting to defer capital investment. A microgrid must bring value to the utility to get a positive response."

The use of technologies such as microgrids to defer capital investment in infrastructure typically is referred to as "deferral opportunities," which could provide utilities with ancillary benefits with monetary value such as frequency regulation.

In fact, if certain factors line up, a microgrid can help a utility optimize its available resources, while maximizing the use of renewable energy, limiting greenhouse gas emissions and still meeting load requirements. This approach is being explored in Maine and California. In contrast, in Connecticut, a number of non-utility, potential microgrid sponsors are looking at microgrids to bolster system reliability and resiliency in the wake of devastating storms
More information about microgrids can be found at smartgridnews.com here and here.
While still in its infancy, electric utility investors should be aware of this growing industry trend and evaluate how their firms are positioning themselves for this change. AES and SRE have already stated their goals of embracing this technology - has yours?
Author's Note: Please review important disclaimer in author's profile.
Disclosure: I am long AEP. I wrote this article myself, and it expresses my own opinions. I am not receiving compensation for it (other than from Seeking Alpha). I have no business relationship with any company whose stock is mentioned in this article.