On Friday, October 18, Hedge fund manager John Paulson noted that Kodiak Oil & Gas (NYSE:KOG) could be seen as a potential takeover target, and as a direct result of his comments shares closed the day almost 5% higher. In the wake of Mr. Paulson's belief that the company is a potential takeover target, I wanted to highlight a number of key catalysts behind my decision to remain bullish on shares of this particular oil and gas play.
Catalyst #1 - Recent Performance and Trend Status
On Friday shares of KOG, which currently possess a market cap of $3.58 billion, a P/E ratio of 36.49, a forward P/E ratio of 13.64, a PEG ratio of 0.72 and a profit margin of 17.30%, settled at a price of $13.50/share.
Based on their closing price of $13.50/share, shares of KOG are trading 10.71% above their 20-day simple moving average, 22.46% above their 50-day simple moving average, and 43.23% above their 200-day simple moving average. These numbers indicate a short term, mid term and long-term uptrend for the stock, which generally translates into a moderate buying mode for both near-term traders and long-term investors.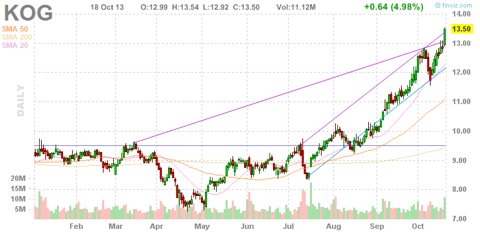 Catalyst #2 - A Conservative Financial Strategy
Kodiak Oil & Gas strives to maintain a conservative balance sheet that preserves financial flexibility and includes a very active commodity-based hedging program. When it comes to the company's financial flexibility Kodiak intends on reducing its long-term debt/EBITDA towards a ratio that is under 2.0.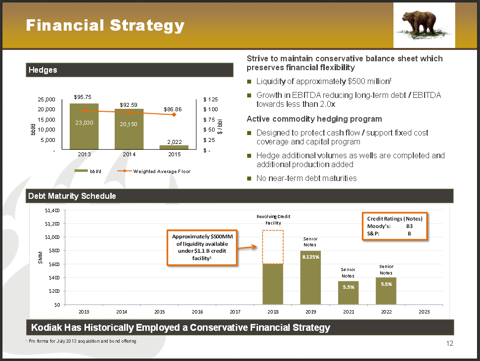 (Source: Company Presentation)
If the company can continue to demonstrate significant EBITDA growth as was the case in Q2 '13 when it demonstrated EBITDA growth of 94%, I see no reason why the company would fail to meet its intended goal. When it comes to the company's hedging program it should be noted that there are no near-term debt maturities (the earliest is 2018) and the program is designed to protect cash flows while supporting its fixed cost coverage and capital programs.
Catalyst #3 - Solid Acreage and Proven Reserves in the Williston Basin
As of June 30, 2013, Kodiak Oil & Gas held a position of 196,000 net acres that were located throughout the Williston Basin of North Dakota. This acreage is broken down into three sub-sectors with the first consisting of 112,000 net acres (Polar, Koala, Ursid, and Smokey), the second consisting of 50,000 net acres (Wildrose and Grizzly) and the third consisting of 34,000 net acres (Dunn County).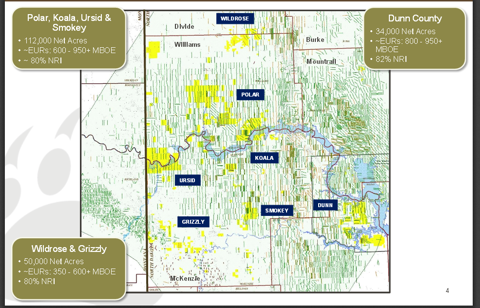 (Source: Company Presentation)
In my opinion, Kodiak's acreage has certainly demonstrated some very nice returns as its Proved Developed Producing Reserves have yielded 123.9 MMbbls of oil and 120.7 Bcf of natural gas as of June 30. If the company can continue to demonstrate even stronger production (an increase of roughly 10%-15%) when compared to the first six months of 2013, I see no reason why investors should balk at the opportunity of establishing a position at current price levels.
Risk Factors to Consider
According to Kodiak's most recent 10-K (February 2013) there are a number of risk factors all investors should consider. These factors include but are not limited to the company's vulnerability to risks associated with operating in one major geographic area, the company's substantial indebtedness, which may increase in the future, and lastly the indentures governing the company's Senior Notes which contain operating and financial restrictions that may impact not only Kodiak's business but any future financing-related activities.
Conclusion
For those of you who may be considering a position in Kodiak Oil & Gas, I'd keep a watchful eye on a number of catalysts over the next 12-24 months as they could each contribute to the company's long-term growth. These catalysts include but are not limited to the company's ability to maintain and further enhance its oil and natural gas production levels within its Williston acreage, as well as its ability to maintain considerable EBITDA growth over the next 24-48 months.
Disclosure: I have no positions in any stocks mentioned, but may initiate a long position in KOG over the next 72 hours. I wrote this article myself, and it expresses my own opinions. I am not receiving compensation for it (other than from Seeking Alpha). I have no business relationship with any company whose stock is mentioned in this article.