Over the summer and into the fall, growth stocks have seen their share prices rise sharply as a violent shift from pessimism to optimism encouraged risk taking. Arguably, many of these growth companies had been unfairly punished as the economic crisis created opportunity for some, and was simply not as bad as expected for others. However, the unbridled buying of the last few months has pushed quite a number of growth stocks into excessively over-valued territory and many are vulnerable to sharp drops.
Netsuite Inc. (NYSE:N) could be one of the next victims of the flight to quality. The stock has recently fallen 22% from its recovery high, and that could simply be the start. While Netsuite came public at a price of $26 in December of 2007, the company has failed to show any meaningful profitability and investors are losing patience as profit projections continue to be extended to later dates.
Management recently bragged that Netsuite logged its fourth consecutive profitable quarter, pointing to the company's $0.01 earnings for the third quarter. The earnings were on an "adjusted" basis while true GAAP earnings showed a loss of 13 cents per share for the quarter. Adjusted earnings are certainly important for investors to consider, since many intangible items are included in the GAAP numbers. However, even the adjusted earnings show a company that is clinging to marginal profitability instead of growing rapidly.
Earnings are a bit easier to manipulate than revenues. While management can defer expenses and play around with the adjustments a bit, it is difficult to hide a lack of revenue growth. So while the press release stated that the company experienced the highest number of Netsute One World (its flagship product) wins, the actual revenue came in at $41.7 million which is only 3% higher than the same level in 2008. The decline in revenue growth has become a trend as 2008 saw the majority of quarters with 40% plus revenue growth, but the last four quarters have shown 30%, 22%, 10% and 3% growth respectively.
Our customer wins and new SuiteCloud partnerships indicate customers are running from legacy applications like SAP and Microsoft (NASDAQ:MSFT) Great Plains to NetSuite's cloud computing offerings. ~Zach Nelson, CEO
Another concerning statistic is a decline in the deferred revenue. Companies like Netsuite usually sell annual subscriptions and often collect payment for a full year's worth of service. The company cannot book the full payment as revenue, because the service will actually be delivered in future quarters. So the payment usually goes into the "deferred revenue" category and is realized as revenue in future quarters when the company performs the service. If the level of deferred revenue declines, this can be ominous for revenue growth in future quarters.
The cloud computing service is certainly a growth industry, and has helped many companies save resources during a time when it is important to keep expenses low. However, competition is heating up in this industry and the majority of publicly traded companies are trading at extraordinary multiples. It's easy to see how investors could quickly begin selling shares at the first hint of trouble in the industry.
Most analysts are expecting Netsuite to earn $0.06 in 2009 and $0.14 in 2010. This is a strong growth rate, but simply represents the huge percentage change from "near zero" to any positive earnings growth. It is unlikely that the company will experience any significant earnings growth with revenue trends in such dismal shape.
The stock is currently trading north of $13.50, so even if the 2010 estimates are correct, the price/earnings multiple is roughly 98. Unless the company continues to see its earnings double or more for several years, investors are likely paying too much for the hope of future growth.
To its credit, Netsuite does appear to offer a very attractive product, the company is being run with no debt, and technology advances continue to make it more relevant with new features such as an app for the iPhone. However, as an investor, I am not willing to pay the current price for this growth story, and would be much more interested in shorting the stock and looking to cover somewhere south of $10.00. Concern is beginning to creep back into the market, and we are seeing speculative issues get hit the hardest. For now, Netsuite appears to be a poor place to invest your hard earned capital.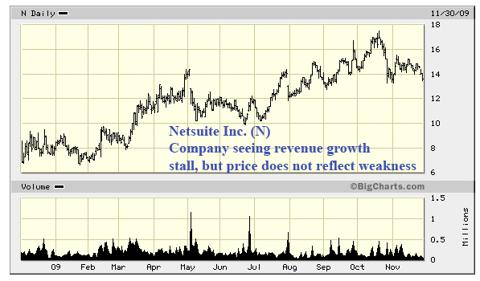 Disclosure: Author does not have a position in N.