Since September 10th, the day Inovio (NYSEMKT:INO) announced their partnership with Roche (OTCQX:RHHBY), the stock price has declined roughly 20%. This descent has come to the surprise of many shareholders who had been banking on a partnership to swell the company's valuation. So what is the reason, if any at all, that Inovio hovers around the $2.00 range? Can this skeptical sentiment be rationalized? I do not believe this latest downward shift in price is justified and will explain why by estimating the present value of the milestones and associate this figure with Compugen's (NASDAQ:CGEN) collaboration with Bayer.
Estimated Value of Roche Partnership
Under the terms of the agreement, Roche rewarded Inovio an upfront payment of $10M with the potential to receive up to $412.5M for meeting certain milestones with INO-5150 (targeting prostate cancer) and INO-1800 (targeting Hep B). Valuing the milestones is difficult because no guidance has been given on the particular figures or their timing. Therefore, execution risk is present as nearly 98% of potential revenue is uncertain. Like any development stage company, valuation is based on potential outlook so I will attempt to plot and discount the payments to come to a conclusive present value.
CEO Joseph Kim revealed that the first milestone will be the initiation of Phase I studies for each of the candidates. I am assuming that Phase III completion will earn a bigger payout than Phase II, which will earn a bigger payout than Phase I. Hitting the initial milestones (Phase I) should not pose great difficulty, however there is greater uncertainty with the later stages.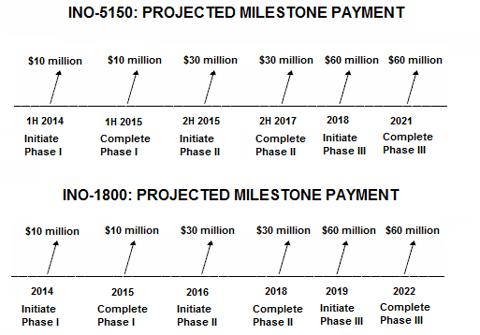 For simplicity, I assumed each preclinical candidate would be subject to a total of $200M in milestones ($400M split evenly). To account for the high level of uncertainty of later milestones, a discount rate of 30% was used. A straightforward discount of each respective payment (below) leads to a present value of $130 million (including upfront $10M). Keep in mind; the following calculations are sensitive to the assumptions made, so even a small adjustment will alter the final value. However, I will use another case to demonstrate that the $130M figure is fairly accurate, perhaps even conservative.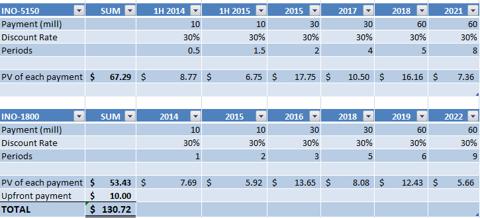 Compugen & Bayer Collaboration
On August 5th, Compugen released news that it had reached an agreement with Bayer (OTCPK:BAYRY) for the development of two of CGEN's preclinical immune regulators, CGEN-15001T and CGEN-15022. Bayer devoted $10M upfront and the potential for CGEN to receive over $500M in milestone payments. Compugen is also eligible to obtain mid-high single digit royalties on sales of any resulting products. Following this announcement, CGEN shares closed 45% higher on the day and rallied 83% in the next three weeks, adding a total of about $170 million to the market cap. Presently, CGEN trades over 100% (or $200M+) higher than it did before the collaboration, although this could also be attributed to other developments that have become public during this time.
The Inovio/Roche deal discloses comparable terms with that of Compugen/Bayer. Both are partnerships for preclinical immunotherapies, share the same upfront payment of $10M and include potential milestones and royalties in similar ranges. However, one company is down 20% since the announcement of a partnership while the other is up over 100%. Hence, it can be assumed that the present value of Inovio's collaboration with Roche should be in the range of $130M-$170M. This would value Inovio at a moderate capitalization of at least $500M, presenting potential upside of 25+%.
Rising Short Interest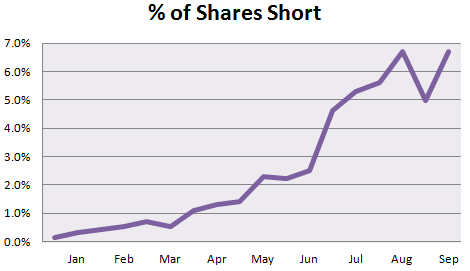 As seen above, the short interest of Inovio has been steadily increasing since the beginning of the year, thus indicating greater number of investors deeming the company overvalued. During this same time, INO shares have spiked by nearly 320%, punishing those who are betting against the stock. The decrease in the short interest experienced in late August and early September was driven by covering short sellers who feared a looming partnership. Following the Roche deal, short interest jumped back up to roughly 7% of outstanding shares. This escalated short selling activity explains why Inovio has seen a lower price through late September and October.
Inovio does not represent a worthwhile risk/reward ratio for short sellers as potential upside far outweighs the limited downside. Given that development stage biotechs are volatile to begin with, short traders are playing with fire. As calculations above demonstrated, the deal with Roche may have not been fully accounted for. INO-5150 Phase I initiation, the first regulatory milestone with Roche, could potentially be accomplished by the end of the year. This could easily trigger a rally in the price that would leave shorts running for cover. Moreover, Inovio's broad pipeline of candidates ripe for partnerships present the possibility of closing additional deals. These are just a few of the risks shorts face when betting against Inovio.
Arguments against Inovio are diminishing
Inovio has been one of the most aggressive pursuers of non-dilutive funding to subsidize operations. In the last 5 years, the company has received almost $60M in funding from universities, governments, foundations and corporate partners. These include, but are not limited to, the US military, National Cancer Society, UPenn and, most recently, Roche. Such a broad base of external support validates the company and their immunotherapy technology, which bodes well for the future as discussion for additional sponsorship is ongoing.
Inovio's financial position is sound seeing that the company has zero debt and over $40M in cash, enough to fund operations until 3Q 2015. This first potential milestone payment from Roche could be received as early as the end of 2013, which would further strengthen Inovio's balance sheet. Essentially, this eliminates any financing risk for the foreseeable future.
VGX-3100: Lead Candidate Program
The expected VGX-3100 efficacy data in mid-2014 is of the utmost importance to Inovio's success moving forward. The cervical dysplasia vaccine is the most advanced therapeutic treatment and is internally funded, meaning there is enormous potential for another large pharma partner. VGX-3100 could be the prospective program that becomes INO's first commercialized product, providing the company with a consistent revenue stream. To make evident the type of value positive Phase II data creates, look no further than Incyte (NASDAQ:INCY) and Vertex Pharma (NASDAQ:VRTX). Respectively, each company's shares surged 33% and 62% on Phase II data that added over $8 billion worth of value combined. Assuming Inovio announces positive Phase II data in 2014, which it has developed a tendency to do thus far in 2013; the company will be met with an imminent partnership and as a result headed to new highs.
Conclusion
The increased presence of short sellers in the last month has put a lid on Inovio's price, which in my opinion, has yet to fully factor in the impact of Roche collaboration. These investors, however, are treading in dangerous territory due to the company's firm financial position and range of possible catalysts that could hint at progressing operations. As Inovio advances along with its platform technology, it is only a matter of time before this mispriced opportunity is corrected.
Disclosure: I have no positions in any stocks mentioned, but may initiate a long position in INO over the next 72 hours. I wrote this article myself, and it expresses my own opinions. I am not receiving compensation for it (other than from Seeking Alpha). I have no business relationship with any company whose stock is mentioned in this article.