After the bell on Monday, streaming giant Netflix (NASDAQ:NFLX) reported its fiscal third quarter results. The company reported revenues generally in-line to above expectations, and a profit that beat analyst estimates. More impressively, the company issued strong fourth quarter guidance and shares spiked as a result.
Q3 Results:
Each quarter, I put together a table showing Netflix's quarterly guidance versus its actual results. The table below shows how Netflix did in its Q3 period.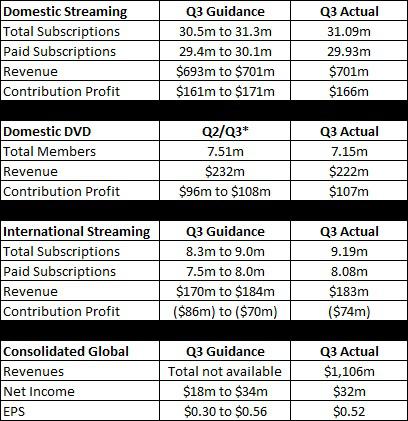 *Netflix no longer provides detailed guidance for the DVD segment. The company only provides contribution profit guidance, so that range is above. For the total members and revenue sections, I am using the Q2 actual results for comparison.
Analysts were looking for $1.10 billion in revenues and $0.49 in earnings per share, so Netflix came in slightly ahead of both numbers. Here are the important positives I saw in the results:
Domestic and international sub adds were strong.
The company was able to still beat estimates despite what they said was $27 million of additional amortization expenses on original content.
Despite a 106 basis point drop in overall gross margins from Q2 levels, due to their new international market, operating margins were only down 18 basis points and net profit margins were up 12 basis points.
A couple of things that could have been better:
More international revenues with great sub adds.
Domestic streaming cost of goods sold edged down 15 basis points from Q2 levels.
Q4 Guidance:
The following table shows Netflix's guidance up against its Q3 results.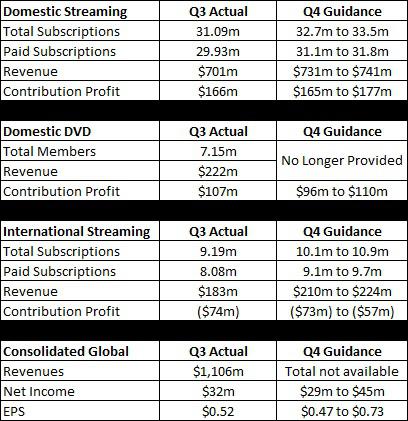 Because Netflix doesn't provide full DVD guidance anymore, you have to estimate. I would put DVD Q4 revenues around $210 million. Using that figure, Netflix's Q4 guidance would be in the range of $1.15 billion to $1.175 billion. Analysts were looking for $1.14 billion. Additionally, the earnings range was ahead of the $0.46 analysts were looking for.
Why Amazon (NASDAQ:AMZN) should be worried:
I think Amazon should be worried that Netflix was able to bring in a solid amount of subscribers and still beat on the bottom line. Amazon's Prime unit doesn't seem to be adding a ton of content currently. Netflix has had a strong 2013, bringing in a solid level of subscribers. I think Amazon realizes that Netflix is a key number one here, and Amazon will either need to partially give up in this race or add a lot of costly new content to complete.
Final thoughts:
Netflix shares spiked in after-hours to around $390 thanks to a very solid Q3 report and strong Q4 guidance. Netflix is certainly bringing in subscribers, and profitability is getting there. Remember, this company can improve margins as its marketing spend is scaled down, and profitability is being hurt by international expansion. Netflix could immediately improve profitability tremendously by raising prices or stopping international growth, but then the company would be criticized for slowing sub and revenue growth. The key question will be is if this report is strong enough to keep Carl Icahn in the game, or will he take profits now that the stock is close to $400.
Disclosure: I have no positions in any stocks mentioned, and no plans to initiate any positions within the next 72 hours. I wrote this article myself, and it expresses my own opinions. I am not receiving compensation for it (other than from Seeking Alpha). I have no business relationship with any company whose stock is mentioned in this article.
Additional disclosure: Investors are always reminded that before making any investment, you should do your own proper due diligence on any name directly or indirectly mentioned in this article. Investors should also consider seeking advice from a broker or financial adviser before making any investment decisions. Any material in this article should be considered general information, and not relied on as a formal investment recommendation.