Netflix (NASDAQ:NFLX) presented Q3 2013 numbers yesterday and presented a member base surpassing 40 million and subscriber growth both domestically and internationally. Those numbers were decent to say the least: Net domestic additions in the third quarter stood at 1.29 million (a plus of 105% compared to Q2 2013 and a plus of 11% compared to Q3 2012). Net additions internationally stood at 1.44 million compared to 0.61 million in Q2 2013 (plus 136%) and at 0.69 million in Q3 2012 (up 109%).
Unfortunately, subscriber growth rates and net additions to Netflix's member pool aren't sufficient to make the bull's case. After announcement of Netflix's Q3 numbers, shares popped 6.33% and are likely to open much higher today after busy buying in the afterhours market. Netflix already has returned 286% since the beginning of this year.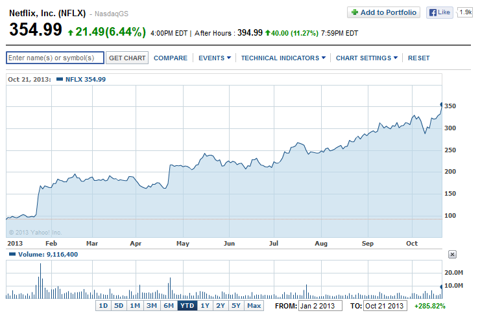 Click to enlarge
Bubble state
Netflix clearly operates in bubble territory. Earnings and free cash flow multiples are in the triple digits and Netflix's growth prospects do not justify such a significant (and unrealistic) valuation. Bullish investors tend to focus solely on the expansion of the member pool and net additions instead of having a close look at the underlying fundamentals. Netflix's shares are in a speculative bubble that keeps inflating based on new buyers willing to pay an even higher price than the previous one. Many of those investors will likely justify their Netflix purchase with "growth prospects."
Netflix has earned $1.06 per share in the first nine month of 2013 and gives a fourth quarter EPS guidance of $0.60 bringing the 2013 EPS total to around $1.66. This translates to a P/E ratio of 214. Analysts expect Netflix to earn an average of $3.46 per share in 2014 (an increase of around 108% y-o-y) yielding a forward P/E ratio of 103 which is still unrealistic and indicates the bubble state Netflix's shares are in.
Free cash flow
Netflix's Q3 results showed once more that profitability lags far behind the share price surge. With a near 300% increase in share values YTD, it isn't surprising that Netflix's valuation has run away from its fundamentals. A good idea (yes, also for a growth company like Netflix) is to look at the underlying free cash flow that is ultimately available to the owners of the company.
Free cash flow projection
Netflix's cash flows from its 2013 10-K are depicted below. Operating cash flows took a hit in 2012 and were impacted by higher cost of revenues and higher technology and development expenses. I expect, though, that Netflix can achieve a meaningful turnaround in operating cash flows (Q3 results already showed the way). Netflix has serious amounts of cash in - and outflows from investments in short-term securities: In the model below, I will solely focus on Netflix's core capex comprising of acquisition expenses for its content library and purchases of property and equipment. Free cash flows in 2011 and 2013 are massively influenced by debt issuances.
For 2014, I estimate that operating cash flows increase to $120.8 million with nearly stable investing cash outflows for library content and PE outlays. As a result, I estimate Netflix's 2014 free cash flow to equity to come in at $200.8 million or $3.29 per share. Netflix's shares are currently (10/22/2013 before market opening) trading at 108 times free cash flow to equity or at a less than 1% free cash flow yield. A clear sign that the underlying profitability of Netflix is out of touch with its valuation. Also, the extremely high P/FCFE ratio derived below is in line with the massive earnings valuation witnessed in the market. A share price pop after market open today, of course, would make those ratios even higher and the overvaluation even more apparent.
It should be noted that Netflix's FCFE in the model below is being driven by net borrowings just like in the past. If this FCFE driver falls away, the P/FCFE ratio becomes prohibitively large.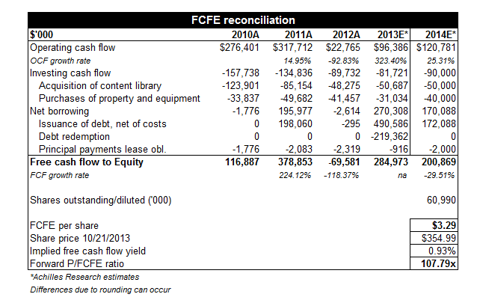 Click to enlarge
The extreme multiple Netflix trades at suggests that the company also has extreme correction potential. Assuming relatively strong FCFE growth rates of 10% and 7.5% for 2015 and 2016, a long-term growth rate of 5% and capital costs of 10%, Netflix's intrinsic value stands at $70.21. While this may seem controversial at first sight, the implied P/FCFE ratio would stand at 21.3 (intrinsic value of $70.21 and a 2014 FCFE per share estimate of $3.29). The resulting multiple is still very high and also incorporates a significant FCFE growth premium bullish investors insist upon.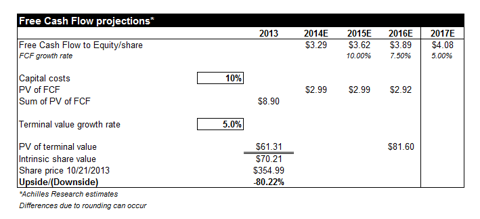 Click to enlargeConclusion
Netflix's share price appreciation seems to have accelerated in light of yesterday's Q3 results. However, the underlying fundamentals, free cash flow and earnings, indicate that Netflix's market valuation is detached from its fundamentals. The free cash flow to equity approach presented above yields a fair value of around $70 per share although value estimates are sensitive to net borrowing assumptions.
The characteristics of a bubble are mindless buying activity, disregard for contrary opinions that threaten the bulls case and, usually, a rather uninformed retail investor who buys solely because the shares are going up already. I believe Netflix investors exhibit confirmation bias and display herding behavior at its best. The unsustainable multiples observed in the market coupled with increased momentum in the shares after Netflix's results yesterday show that an investment in NFLX shares is high risk. The risk/reward ratio for long investors has become utterly unattractive and a short position might be the better deal. Risk to any short position, of course, include that Netflix outperforms its EPS guidance as well as consensus EPS and that momentum continues to benefit the long side. I believe the odds of a serious correction are much higher than the odds of continued valuation growth despite low underlying free cash flow profitability.
Disclosure: I am short NFLX. I wrote this article myself, and it expresses my own opinions. I am not receiving compensation for it (other than from Seeking Alpha). I have no business relationship with any company whose stock is mentioned in this article.