Yesterday, China's Economic Information Daily published remarks by a senior Chinese official indicating that Dubai's debt crisis could be a good opportunity for China to purchase gold and oil assets. Ji Xiaonan (Chairman of the Supervisory Committee overseeing large state-owned enterprises) was quoted as saying that the Dubai debt crisis "could give China an opportunity to put some of its foreign exchange reserves into gold or oil."
China is relatively well insulated from the Dubai crisis, as there are no reports of Chinese banks with debt exposure to Dubai. And while there are a few Chinese real estate and construction firms with limited exposure to projects in the Emirates, nothing seems to be grave. Yet Dubai's issues portend the perception of a looming dollar crisis in the West.
The graph below highlights China's net international investment position (in 2008).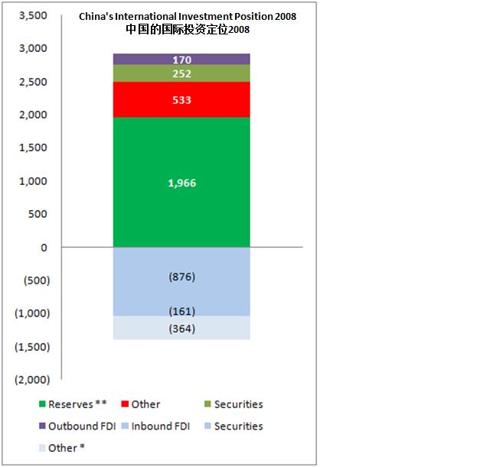 What used to be less than US$ 2 trillion in Fx reserves (above) is now US$2.27 trillion. Much of this is parked in U.S. treasuries. Over the past year, Chinese officials have been pressing to move more of the country's reserves into hard assets and commodities such as gold and oil.
Yesterday, we picked up the China Youth Daily newspaper in which Ji Xiaonan claimed that "China should increase the amount of gold it holds in reserves to reduce potential losses from a depreciating dollar. We recommend China increase its gold reserves to 6,000 metric tons within three-to-five years and possibly to 10,000 tons in eight to 10 years."

For those readers that are unfamiliar with the gold market, it bears mentioning that China is the world's largest gold producer. And according to the China Gold Association, the country may soon break records in supply and demand for gold. In 2007, China overtook South Africa to become the world's largest producer. And this past July, the World Gold Council said China could surpass India as the world's largest consumer as well.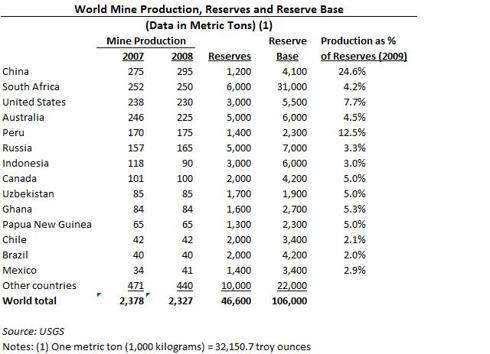 Although China recently raised its national gold holdings, it has done so by buying domestically mined gold. China has not shown any interest (yet) in buying from international gold markets. Perhaps as a result of this, shares of Chinese gold mining companies have rocketed this year. Shanghai and Hong Kong-listed shares of companies like Zijin, Shandong Gold and others are up 3x-4x this year alone. But the main factor at play is fear of a U.S. dollar devaluation.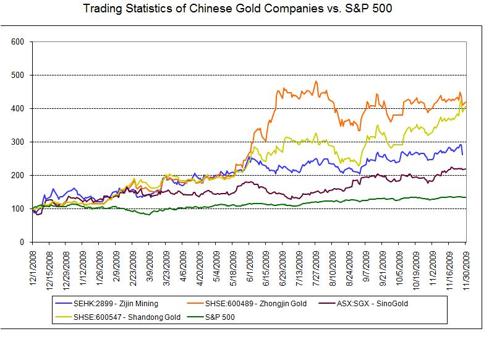 Source: Capital IQ

What are the major take-aways?
People in China are seriously starting to take notice of the fragility of the U.S. dollar and are loading up on commodities.
Chinese retail investors are also starting to take notice. As an example, there are "gold retail stores" popping up throughout major cities where individuals can buy mini gold bullion. There's even a China Gold Store located in Beijing Airport's new Terminal 3.
Another example is that while it was illegal to buy gold two years ago, Chinese citizens can now go to the bank and purchase "paper gold" certificates. Paper gold is basically the Chinese equivalent of an ETF and is supposedly backed by bullion held at the banks.
Chinese gold mining stocks are red hot and up 2-4x since last year.
China has US$2 trillion and is going to start deploying it in overseas mining assets.
For investors, what is the play? Among others, we think there are good opportunities in Toronto listed mining companies, especially those with assets in Latin America (Peru, Chile, Mexico, etc). Why Latin America? Because since last November when the Chinese Central Government put out a Latin America Policy Paper, Chinese firms are tacitly encouraged to go to Latin America. Countries like Peru, Chile and Mexico have stable governments, ample supplies of gold, and favorable mining laws. And a good number of firms with assets in these countries trade in Toronto. We see many of them getting acquired by Chinese mining companies.
Disclosure: The author does not own any stocks mentioned in the report