Historically, playing the drug makers in December has proven to be a safe bet. December ranks first, above August and September, as the best performing month for the iShares Nasdaq Biotechnology (NASDAQ:
IBB
) ETF with average gains of about 8%.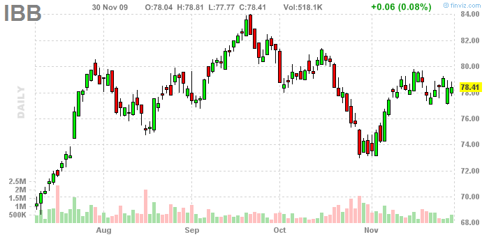 Click to enlarge
Outlined below is a game plan that might help investors beat the benchmark.
12/2 Endo Pharmaceuticals (NASDAQ:ENDP)
On Wednesday, December 2, the FDA could hand down a decision for ENDP's Nebido®, a treatment indicated for hypogonadism or low testosterone in men.
Unlike competitive products, which require more frequent injections and doctor visits, Nebido is a long-acting form of testosterone that only requires injection four to five times annually. With approximately 13.8 million American men that are estimated to have low testosterone - sufficient for hormone treatment, Nebido possesses excellent market potential.
It should be noted that Nebido was developed by Bayer Schering (OTC:BYERF) and is already approved in 86 countries, of which 50 are located in Europe, Asia Pacific and Latin America. ENDP retains the rights to market the drug in the US.
Back on September 2, ENDP indicated that regulators needed some more time to finalize the risk evaluation and mitigation strategy (REMS). Hence the three-month delay. On Wednesday, I expect Nebido will finally be approved by the FDA for use in the US. Upon the drug's approval, ENDP shareholders could see a nice bump in their shares.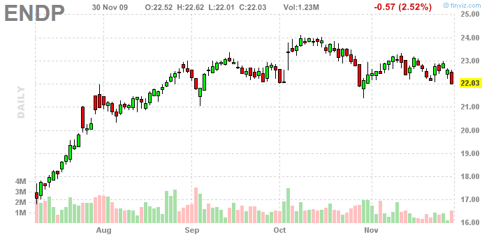 Click to enlarge
12/5 - 12/8 Spectrum Pharmaceuticals (NASDAQ:SPPI)
The American Society of Hematologists or ASH Annual Meeting will begin on Saturday, December 5 and conclude on Tuesday, December 8. This year, an impressive 14 presentations, 2 oral and 12 poster, will feature Spectrum Pharmaceuticals radio-immunotherapeutic, Zevalin®.
On September 4, 2009, Zevalin was approved by the FDA for use as a first-line consolidation treatment in patients with non-Hodgkin's lymphoma (NHL).
Following all 14 presentations (detailed in the table below), shares of SPPI could begin to head north again.
For more information on Zevalin, interested investors should reference these two articles from October 25 and November 22.
Overall Survival (OS) Benefit of Rituximab Based Immunochemotherapy Followed by Post-Induction Treatment in Mantle Cell Lymphoma (MCL) a Retrospective Analysis of 279 Patients Treated by Polish Lymphoma Research Group (PLRG) Centers

Feasibility and Toxicity After Induction Treatment with Rituximab-HCVAD and Methotrexate/Citarabine, Followed by Consolidation with y-90 Ibritumomab Tiuxetan (Phase 2 GELTAMO-LCM 04-02 study)

Outcomes of Early Relapse Following Non-Myeloablative Allogenic Transplant for Lymphoma

Yttrium 90 Plus High Dose BEAM Conditioning with Autologous Stem Cell Transplantation (ASCT); Effects of Prior Rituximab and Outcome of Poor Risk Non-Hodgkin Lymphoma (NHL)

A Phase II Trial of Rituximab-CHOP Chemotherapy Followed by Yttrium 90 (90Y) Ibritumomab Tiuxetan (90Y-IT) for Previously Untreated Elderly Diffuse Large B-Cell Lymphoma (BLBCL) Patients

A Phase 2 Trial of R-FM (Rituximab, Fludarabine and Mitoxantrone) Chemotherapy Followed by Yttrium 90 (90Y) Ibritumomab Tiuxetan (90Y-IT) for Untreated Follicular Lymphoma (NYSE:FL) Patients

Phase 2 Trial of 90Y-Ibritumomab Tiuxetan Treatment as Consolidation After 6th R-CHOP Chemotherapy in Patients with Limited-Stage, Bulky Diffuse Large B-Cell Lymphoma

Consolidation with Radioimmunotherapy May Prolong Survival in First Remission of Mantle Cell Lymphoma Patients Ineligible for Stem Cell Transplantation, an Analysis of the International RIT-Network

Y90 Plus High Dose BEAM with Autologous Stem Cell Transplantation for Chemorefractory Non-Hodgkin Lymphoma

No Harmful Impact of 90Yttrium-Ibritumomab Tiuxetan Combined with BEAM on Bone Marrow Microenvironment

90y-Ibritumomab Tiuxetan (ZEVALIN(NYSE:R)) May Enhance Anti-Lymphoma Effect of Reduced-Intensity Fludarabine and Melphalan Regimen in Patients with Relapsed, Refractory B-Cell Non-Hodgkin Lymphoma (NHL) Undergoing Allogenic Hematopoietic Cell Transplant (Allo-HCT)

90y-Ibritumomab Tiuxetan on Purine Analogues Severely Affect Peripheral Blood Stem Cell Mobilization: An Analysis on 248 Patients

Lymphoma: Therapy with Biologic Agents, excluding

Pre-Clinical Models: Treatment of B-cell Lymphomas with Anti-CD20 Antibodies

90y-Ibritumomab Tiuxetan (ZEVALIN(R))-Beam/C with Autologous Stem Cell Support as Frontline Therapy for Advanced Mantle Cell Lymphoma - Preliminary Results from the Third Nordic MCL Phase II Study (MCL3)

Clinical Care - Transplantation Regimen Toxicities and Engraftment: Ways to Improve Outcome of all SCT for Malignant and Genetic Diseases

Stem Cell Transplantation with 90yttrium Ibritumomab Tiuxetan (90YIT) in Non-Hodgkin's Lymphoma (NHL): Observations from PET Pre-Treatment Imaging and Responses in Allografted Follicular Histologies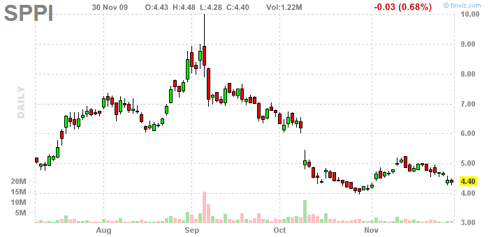 Click to enlarge
12/12 Immunogen (NASDAQ:IMGN)
On December 12, Immunogen (IMGN) along with its partner Roche (OTCQX:RHHBY) will announce Phase 2 data for DM1 in combination with Herceptin® (trastuzumab) for the third-line treatment of metastatic breast cancer. It is worth noting that Herceptin is also marketed by RHHBY.PK.
With favorable results, IMGN's partner RHHBY.PK says it intends to file for an early or accelerated approval for DM1 due to the unmet medical need, which exists for these particular patients. Such an outcome should also generate significant interest in shares of IMGN.
If DM1 is shown to be a winner here, some investors, with whom I tend to agree, are predicting that IMGN might also be a takeover target by RHHBY.PK.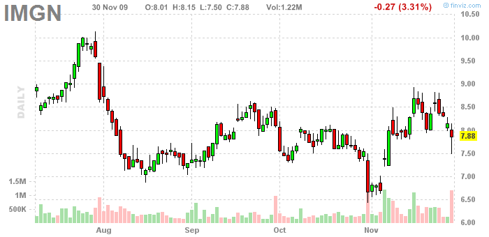 Click to enlarge
Caveat Emptor
To mitigate risk of loss, investors should appropriately hedge all long positions. Purchasing put options can be an effective way to hedge long stock and call option positions.
Disclosure: Long SPPI.