Apple (NASDAQ:AAPL) is about to present Q4 2013 results next week with investors eager to get details about quarterly iPhone and iPad sales. Truth be told, normally I would stay away from Apple because expectations placed on the company are high already. Apple has had a fantastic run in financial performance and as the company continues to grow operating cash flow and earnings at double-digits, it becomes increasingly harder to exceed lofty expectations. What convinced me to purchase Apple is its extremely high free cash flow profitability and low implied growth premium. Contributing to my purchase decision was the fact that Apple's share price badly corrected in 2012/2013 although the company has done really well in the tablet market during that time. I do not think the decline in Apple's share price in 2012/2013 was warranted (Apple shares have declined 26% since their High on September 19, 2013) which is why I purchased my first Apple stake at $470 a few month ago. I have now added to another position at $510 and I am convinced that even at the $500-level Apple is still deeply undervalued based on its strong free cash flow generation (I am both long shares and warrants but I am tilting the portfolio towards longer-dated call options).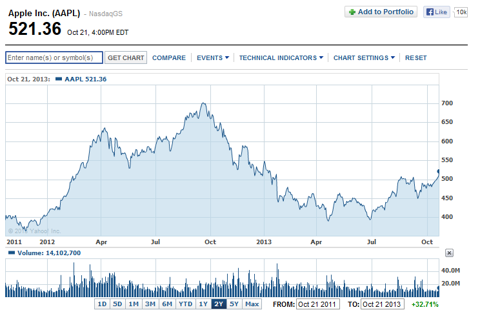 Free cash flow
Ultimately it comes down to this: How much money can shareholders take out of Apple (or any other company for that matter)? Free cash flow is a much better definition or approximation of intrinsic value than earnings. Nonetheless, Apple is still fetching a very low forward earnings multiple of 12 which is quite astounding given the immense implied growth expectations.
Apple's operating cash flow growth is truly impressive. It is to be expected that growth rates going forward will decline simply as a matter of Apple's size (its market cap now stands at $473 billion). I expect Apple to achieve $61.7 billion in operating cash flow this year implying that Apple's Q4 OCF comes in at $17.94 billion. Apple's core investing cash outflow remain non-volatile throughout the last three years. Also noteworthy is Apple's low historic reliance on debt. Until recently, Apple's balance sheet was characterized by the absence of long-term debt and a huge net cash position. In 2013 Apple took on $17 billion in debt to appease shareholders and to finance dividends and share repurchases. Apple has paid $18 billion for the repurchase of common stock and $7.8 billion in dividends so far in 2013. Apple's giant cash position would have made it unnecessary to take out debt: Apple holds $42.6 billion in cash and short-term investments on its balance sheet (equivalent to around $46 per share). Including long-term marketable securities worth $147 billion, the total value of cash and securities would stand at $159 per share. Said differently: Apple's market capitalization is comprised of 30% in cash and short-/long-term marketable securities.
Taking on long-term debt raises questions about Apple's future capital structure strategy. Wild assumptions about Apple's future leverage ratios wouldn't pass the solidity test which is why I assume that current changes to Apple's leverage are purely cosmetic and unnecessary. To also be on the conservative side, I assume its long-term debt changes are reversed, thereby understating the free cash flow to equity. Correcting for Apple's long-term debt issuance, the company could achieve a free cash flow to equity of $44.3 billion in 2014 which equates to $47.90 a share. Investors purchasing Apple today would do so at an estimated 9% free cash flow yield, which is staggering given the implied growth rates for future tablet revenues and sales of the iPhone family. The resulting forward P/FCFE ratio stands at 10.88.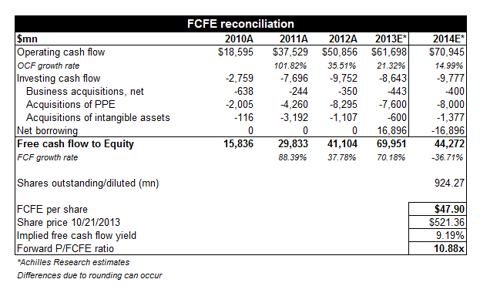 In the discounted free cash flow model below, I assume capital costs of 10% and a conservative, long-term sustainable growth rate in FCFE of 5%. The resulting valuation yields an intrinsic value for Apple's common stock of $983.82 giving the stock nearly 88.70% upside potential. Put differently, I believe Apple shares have 40% upside above their September 2012 high of $702.10.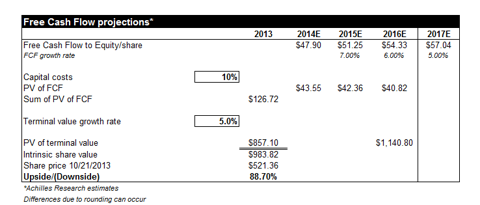 Conclusion
Given Apple's high cash and marketable securities value per share and its extremely high initial free cash flow yield for a (so far) outperforming tech company, Apple is a Strong Buy. While other growth companies like Tesla (NASDAQ:TSLA) and Netflix (NASDAQ:NFLX) make poor investment candidates (here and here) from a cash flow point of view, free cash flow profitability is exactly were Apple scores big-time. Also, high cash values per share limit downside risk. Corrections from time to time naturally happen as profit takers secure their gains but offer buying opportunities for contrarian investors who might both be value or growth oriented. The operating cash flow growth of Apple is just as impressive as its yield although investors should expect slowing rates dictated by the concept of decreasing marginal returns. High cash/securities values per share, strong OCF growth, low free cash flow and earnings multiples and an eye-catching undervaluation make Apple common stock a Strong Long-term Buy.
Disclosure: I am long AAPL. I wrote this article myself, and it expresses my own opinions. I am not receiving compensation for it (other than from Seeking Alpha). I have no business relationship with any company whose stock is mentioned in this article.