In our recent less-than-positive article regarding Enbridge, we were asked what our thoughts on TransCanada Corporation (NYSE:TRP) were as an alternative pipeline investment. This article is in response.
Financial data for this article has been gathered from MSN money and Marketwatch and is generally discussed in terms of annual results.
TransCanada currently pays an annual 4.00% or $0.46 quarterly with regular dividend raises going back to 2004. Over the past five years, the stock has returned an annualized 7.2% from share appreciation or 11.4% including the dividend without reinvestment.
The first thing that attracts us to TRP over Enbridge (NYSE:ENB) is the higher gross profit margins. Over the past five years, TransCanada had gross margins that increased from 48% in 2008 to almost 72% in 2010 and 2011. A small decrease of 3.5% was seen to 69% in 2012. Compare these margins to those of Enbridge with ~ 20% gross margins.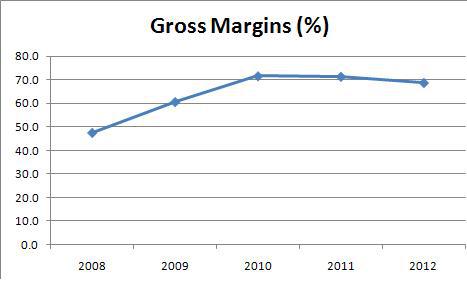 When the SGA expenses of TRP are considered, as of 2012 the company was spending only 18% of gross on these expenses, down from the 25% in 2010. This is on average half of the 40% to 50% that ENB spends. The depreciation, amortization and depletion expenses of TRP is very similar compared to those of ENB; over the past five years TRP has spent between 22% and 30% of gross with a general declining trend compared to the approximately static 22% that ENB has been spending. The interest expenses of TRP have also ranged between 32% and 25% of gross profit over the past five years, again lower compared to the 35% to 65% seen for ENB.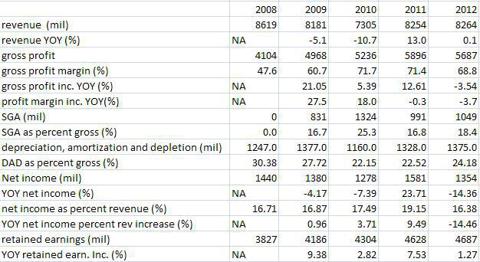 In the Enbridge article, one of the strongest factors precluding investment was the net profit margin of only 2.83%. Compare this with TRP's net margins of a relatively constant 16% - 19% over the past five years. 2012 did show a 14% decrease of net income year-over-year for TRP with a concurrent 15% drop in EPS. With this, the P/E has reached 24, higher than the 20 seen in the previous two years. Despite this, while in the last two years ENB has shown a decrease in retained earnings of 17% and 12%, TRP has grown retained earnings every year since 2008, although in 2012 this was only by 1.3%.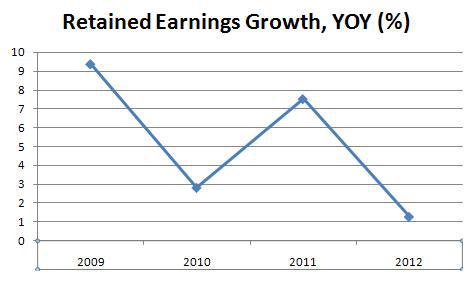 Now when the debt of TRP is compared to that of ENB, the number of years for TRP to pay off all long-term debt using net earnings has ranged from 12 to 15 years with no distinct trend. Compare this to ENB which in 2012 would require over 28 years to pay off all LT debt. Over the past five years, the buyback-adjusted debt to shareholder equity ratio has ranged between 0.33 and 0.40 for TRP compared to the 0.44 to 0.67 seen for ENB. In 2012, TRP and ENB both had large capital expenditures, for TRP this was 177% of net income and for ENB it was 196%.

The treasury stock-adjusted shareholder return on equity has decreased from 11% in 2008 to only 8.6% in 2012; however, this is still higher than ENB which showed a decrease of 20% to 6.8% over the same time frame. The return on assets in 2012 for TRP was 2.8% compared to the 1.5% for ENB.
In Warren Buffett and the Interpretation of Financial Statements an overview of how Buffett treats the rate of return of a company with a durable competitive advantage as equivalent to bonds is presented. Due to the high barriers to entry of a pipeline as a result of the massive assets required (for ENB, 48 billion of assets in 2012), we will consider pipelines by their nature to have a measure of durable competitive advantage. If TRP is considered an equity bond, its coupon rate would be 5.9% in 2012, down from the 10% in 2008. For ENB it would be 3% in 2012 after declining from 12% in 2008.
So as a result of higher margins, less damaging LT debt and growth of retained earnings, at the moment TRP appears to be a better stock to hold than ENB. However with the P/E getting ahead of itself, we would not recommend entering any new positions. Of course, investors must do their own due diligence before entering any position with their own investment goals in mind.
Disclosure: I have no positions in any stocks mentioned, and no plans to initiate any positions within the next 72 hours. I wrote this article myself, and it expresses my own opinions. I am not receiving compensation for it (other than from Seeking Alpha). I have no business relationship with any company whose stock is mentioned in this article.