Intel (NASDAQ:INTC) CEO Paul S. Otellini highlighted the company's "mobile edge" within his 2012 letter to shareholders. Otellini touched upon Intel's manufacturing prowess and partnership with Microsoft Windows, as part of this mobile edge. The optimistic letter, of course, failed to address Intel's latest rivalry against ARM (NASDAQ:ARMH) within the mobile space. For once, Intel is the up-and-comer within a chip niche dominated by the likes of ARM, Qualcomm (NASDAQ:QCOM), and even, Apple (NASDAQ:AAPL). The ARM business model prioritizing licensing and royalty payments has largely blocked Intel from emerging as a real mobile chip player. Intel is dead money, because the company has no real answer for the dominance of ARM architecture.
Intel as Challenger
The ARM Company Overview indicates that ARM designs have been installed within more than 95% of all smartphones. Qualcomm and Apple are the most powerful partners within the ARM ecosystem. Both Qualcomm and Apple design chips off of ARM blueprints, before subcontracting out manufacturing processes to semiconductor companies such as Samsung. Popular Qualcomm Snapdragon and Apple A-Series chips are based upon ARM architecture. Apple A-Series chips, of course, power various Apple iPod, iPhone, and iPad machines. Meanwhile, the Snapdragon is the go-to engine for driving both the premium Samsung Galaxy running Android, and challenger BlackBerry Z10 and Nokia Lumia Windows handsets.
ARM chip architecture is notable for both facilitating cooler temperatures and the preservation of relatively long-lasting battery strength. Alternatively, Intel is a name associated with raw processing power. These distinctions in branding and philosophies have helped ARM take over the mobile space, while Intel remains largely relegated to a dying personal computer industry. On August 29, 2013, Virtual Matrix ran a controlled test pitting the Google Nexus 4 and its Qualcomm Snapdragon chip against the Lenovo K900 powered by Intel Atom. Virtual Matrix set up both phones to run the Google Maps application. The Lenovo K900 remained fully functional for 170 minutes, before shutting down and dying. In comparison, the ARM-based Snapdragon device ran for nearly six and one-half hours, before a weak battery indicator began to flash. On October 2, 2013, Lenovo abruptly declared that it would dump the Intel Atom, in favor of the Qualcomm Snapdragon for powering its premium K-Series handsets.
In response, Intel bulls may highlight the Bay Trail systems-on-a-chip (SoC) line as a game changer within this ongoing arms race. Intel aggressively promotes Bay Trail as the product of its 22nm tri-gate process technology. Intel also markets Bay Trail as ideal for use within what the company refers to "2 in 1" devices. A 2 in 1 hybrid machine closes the technical gaps between tablets and laptop computers. Ironically, the Bay Trail launch event exposes the Catch-22 of the Intel strategy, in regards to its competition against ARM. Intel owns its own foundries. Mass volume is therefore a necessity to maintain plants at full capacity and counteract expensive fixed costs. Critics, however, have already ripped Windows 8 and the associated line of hybrid tablet launches as "pathetic" and "disastrous." Weak demand for Windows 8 and 8.1 products will undercut Intel mobile prospects for growth.
The Mobile Market
Intel Bay Trail will power 10 separate tablets heading into the 2013 Holiday Season. Bay Trail Android tablets will begin at $150 and Bay Trail Windows 8.1 tablets will start at $299. At higher price points, Intel Haswell chips run Microsoft Surface 2 tablets. The Microsoft Surface 2 retails for between $449 and $1,799. The premium Microsoft Surface Pro 2 offers 8GB RAM and 512GB of built-in storage and memory. The Surface Pro 2 weighs in at 2 pounds and Microsoft bills it as "the tablet that can replace your laptop." The Intel mobile lineup also includes bargain bin Acer Liquid C1 and Safaricom Yolo handsets sold only in Thailand and Kenya.
On October 4, 2013, research firm comScore released its report of August 2013 U.S. smartphone subscriber market share. The information actually presented averages of data taken from the quarter that spanned between June 2013 and August 2013. A quick review of this latest comScore report would highlight the dominance of the Google Android - Apple iOS duopoly, which of course, has emerged largely at the expense of mobile sales at Microsoft and Intel. Be advised that Qualcomm Snapdragon and Apple A-Series chips based upon ARM architecture power the premium Samsung Galaxy, BlackBerry Z10, Nokia Lumia, and Apple iPhone handsets. Taken together, Android and iOS systems operated 92.3% of all U.S. smart phone subscriptions through the June 2013 to August 2013 quarter.
Recent data out of IDC further confirmed the one-sided nature of this ARM versus Intel rivalry within the tablet market. Microsoft Windows tablets tallied 2 million calendar Q2 2013 unit shipments. For the sake of comparison, Android and iOS tablets accounted for a respective 28.2 million and 14.6 million in unit shipments during the same time frame. Microsoft actually took one $900 million inventory charge upon the Surface RT, for its fourth quarterly period of fiscal 2013 ended June 30. In time, Microsoft and competing original equipment manufacturers may cancel orders for Intel Haswell and Bay Trail chips, upon weak demand for Windows tablets. The beat goes on at ARM, while Intel is being left behind.
The Bottom Line
On October 18, 2013, Intel stock closed out the trading session at $23.88 per share, which calculates out further to $120 billion worth of market capitalization. Through the first nine months of this year, Intel has taken in $7 billion in net income, upon $38.8 billion in revenue. Intel may close out its 2013 fiscal year, which largely coincides with the 2013 calendar year, with $10 billion in net income on the books. This performance would value Intel at 12 times current earnings. This valuation, however, is too expensive of a price to pay for a declining business.
Over the past several years, Intel has aggressively poured cash into research and development spending, to the point where this line item eats up roughly 20% of annual revenue. Meanwhile, top-line annual revenue at Intel has remained flat near $55 billion between 2011 and 2013. To date, Intel has been unable to leverage the several billions of dollars thrown into R&D to gain any real traction within the mobile market. Other Intel Architecture revenues have actually declined by 11% through the first three quarters of 2013, upon a year-over-year basis. Other Intel Architecture only accounted for $3 billion out of $38.9 billion in total net sales at the company, during the first nine months of this year. As usual, the PC Client Group generated more than 60% of sales at Intel through the same time frame. Be advised that the Other Intel Architecture segment includes smartphone, tablet, and netbook chip sales.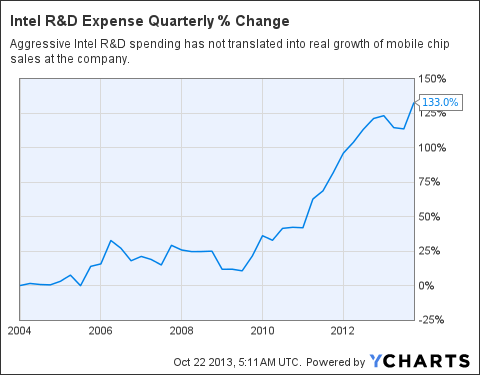 INTC R&D Expense Quarterly data by YCharts
The stock market, of course, is a pricing mechanism that discounts future growth. As such, the Intel business model is, again, dead money. Intel is a vertically integrated semiconductor company that owns its own fabs and conducts its own research. Ironically, Intel is a victim of its own Moore's Law, which is now a literal iceberg blocking this Titanic vessel from competing against smaller, niche operations, such as ARM. Conservative savers, who invest for the long-term, should sell off Intel stock.
Disclosure: I have no positions in any stocks mentioned, and no plans to initiate any positions within the next 72 hours. I wrote this article myself, and it expresses my own opinions. I am not receiving compensation for it (other than from Seeking Alpha). I have no business relationship with any company whose stock is mentioned in this article.