By: Brendan Gilmartin
Caterpillar (NYSE:CAT) is scheduled to report 3Q 2013 earnings before the opening bell on Wednesday, October 23. The results are typically released at 7:30 a.m. EST with a conference call slated for 11:00 a.m. Caterpillar shares have been selling off in recent months amid concerns over the outlook for the global economy, particularly in China. Keep an eye on the index futures at the time of the release given the potential magnitude of these results.

Outliers & Strategy
Caterpillar typically reports a figure for Earnings Per Share that compares with consensus estimates. The Street is looking for Caterpillar to deliver EPS of $1.67 (range is $1.33 to $1.89) on revenue of $14.32 bln, down 12.9% from the year-ago period (Source: Yahoo! Finance).
Look for Caterpillar to possibly provide an updated forecast for 2013:
Earnings Per Share Guidance (FY2013). The current consensus is $6.20, below the company's prior guidance of "about" $6.50.
Revenues Guidance (FY2013): Caterpillar also said last quarter it has revised its outlook for 2013 sales and revenues to a range of $56 to $58 bln, the low end of the previous outlook of $57 to $61 bln. The estimate is $56.46 bln.
Sympathy Plays: Cummins Inc. (NYSE:CMI), Komatsu (OTCPK:KMTUY), Deere & Co. (NYSE:DE), Terex Corp.(NYSE:TEX) & Joy Global (NYSE:JOY).
The options market is pricing in a 3% move off earnings, while the average change in reaction to earnings is 4%.
SELERITY TAKE: Caterpillar shares are up about 7% over the past couple weeks, with the Street seemingly less concerned about lower sales in Asia and softer demand for mining equipment. But these factors are well-known and the third quarter tends to be a weak seasonal period. With that said, the market is more apt to focus on the outlook for the balance of 2013. Caterpillar has effectively lowered its FY outlook in each of the prior quarters. So long as the company maintains the most recent guidance of $6.50 per share on revenue of $56 bln to $58 bln, downside could be limited, given Street estimates are already below company guidance. A positive adjustment to the outlook would be what is needed to push the shares decisively through $88 resistance.
Recent News
10/09: Caterpillar to maintain the quarterly cash dividend of $0.60 per share of common stock. This action, combined with $2 billion in stock repurchases this year supports Caterpillar's motivation to return cash to shareholders. The yield is 2.74%.
09/20: Caterpillar reported retail sales of machinery fell 10% worldwide in August, following declines of 9.0% in July and 8.0% in June. Overall sales in the Asia/Pacific region were off 30%. The shares subsequently dropped 3.42% for the day.
09/10: According to a report on Yahoo! Finance, Baird downgraded Caterpillar from Outperform to Neutral, based on weakness in construction and softer demand in mining equipment, resulting in slower growth for 2014.
Technical Review
Caterpillar shares have rebounded in conjunction with the broader market gains ahead of its closely-watched 3Q earnings release. The shares are now at a key resistance level near $88 - a level going back to May of this year. Should earnings significantly surprise to the upside, look for above $90.00 (May high) resistance, followed by $95. Conversely, support is at the 200-Day SMA near $86, with downside risk to $84.00 if earnings come in meaningfully below estimates. (Chart courtesy of StockCharts.com)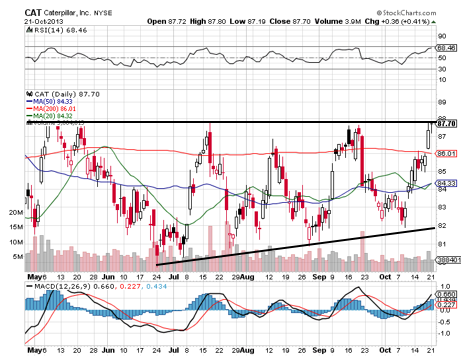 Summary
Caterpillar shares are rallying ahead of the 3Q earnings release, tracking the broader market advance, despite the weaker economic backdrop in China and declining metals prices, crimping demand for mining equipment. But with soft sell-side sentiment and the shares trading at just 13.8x trailing earnings, well below the five year average (19.1x) and a mere 1.0x sales, Caterpillar may have further room for upside.
DISCLAIMER: By using this report, you acknowledge that Selerity, Inc. is in no way liable for losses or gains arising out of commentary, analysis, and or data in this report. Your investment decisions and recommendations are made entirely at your discretion. Selerity does not own securities in companies that they write about, is not an investment adviser, and the content contained herein is not an endorsement to buy or sell any securities. No content published as part of this report constitutes a recommendation that any particular investment, security, portfolio of securities, transaction or investment strategy is suitable for any specific person.
Disclosure: I have no positions in any stocks mentioned, and no plans to initiate any positions within the next 72 hours. I wrote this article myself, and it expresses my own opinions. I am not receiving compensation for it (other than from Seeking Alpha). I have no business relationship with any company whose stock is mentioned in this article.