By David Russell
Jackson Hewitt Tax Service (JTX) has been left out of the market's rally since mid-August, and now the bulls are looking for the stock to catch up.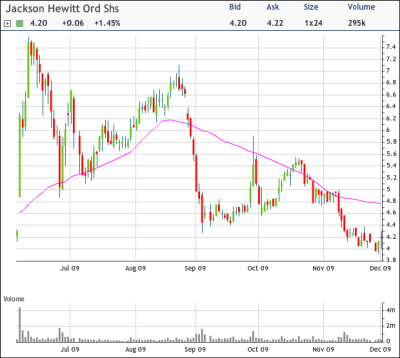 optionMONSTER's Heat Seeker tracking program detected aggressive buying of the April 5 calls, with most of the trades pricing for $0.55. Volume in the strike surged to 6,977 contracts, more than three times existing open interest.

JTX rose 1.45 percent to $4.20 in morning trading but is down 16 percent in the last three months. The shares spiked higher immediately after the options traded, suggesting that the dealer who sold the calls purchased the shares to hedge the short exposure.

The tax-preparation company has been scraping along a support level from mid-May as it faces increased competition and after reshuffling senior management. JTX needs to rally 33 percent by expiration for the calls to turn a profit.

The next potential catalyst that could move the shares is the release of fiscal second-quarter results before the bell on Dec. 9. About 9 percent of the stock's float was sold short as of Nov. 13, which could trigger a short-squeeze rally if the stock moves higher.

Today's call buying pushed overall options volume in the name to 38 times greater than average. Calls outnumbered puts by more than 800 to 1.
(Chart courtesy of tradeMONSTER)