Those in the Northeast are quite familiar with the phrase, "America Runs on Dunkin'," but it was only recently that I learned just how misleading this declaration is. In fact, while people from New York and Boston run on Dunkin', the rest of the country may have no idea what Dunkin' Donuts (NASDAQ:DNKN) is. They'll find out in time.
A few weeks ago I was looking for a new stock to invest in when I read an article from the Wall Street Journal claiming that Dunkin' Donuts was overpriced in terms of price-to-earnings and that investors should consider Tim Hortons (THI) as an alternative. Personally, I do not think this is the best advice and would currently choose Dunkin' over Tim Hortons or Starbucks (NASDAQ:SBUX). Leaving Tim Hortons out of the conversation, while both Starbucks and Dunkin' have room to run, Dunkin' may have more legs. They are each quick serve restaurants that offer the same product, but could not be more ideologically different. Dunkin' Donuts will prove, in time, to be much more appealing to the average American, driving earnings growth to continued all-time highs.
Domestic Growth and Franchising Model
First off, I am most bullish on Dunkin' Donuts because of its current plan for expansion. The company started in Massachusetts and spread through the Northeast/Atlantic regions. Being from New Jersey, I cannot remember anything other than Dunkin'. In ten miles, I could probably get to five Dunkin's. In sum, I didn't really know any other way. Little did I know that as of last year there were less than 150 Dunkin's west of Chicago. This seemed unfathomable, and while I've been to the other side of the country I guess the lack of Dunkin' was not as apparent as it should have been.
Here's the good news, Dunkin' is coming in hot with dozens of stores to be opened in Texas and California. Why this took so long is anyone's guess. Dunkin's current goal is to take the nearly 7,000 locations and more than double it to 15,000, while simultaneously expanding internationally. Obviously this is an aggressive benchmark and will certainly have major effects on the bottom-line.
The cost of opening a franchise ranges from $10,000 to around $90,000 depending on whether the building is standalone, whether it will include a Baskin-Robbins, etc. Dunkin' appears to be following the McDonald's (NYSE:MCD) franchising model whereby most of the risks are bore by the franchisee and the franchisor is mostly worried about location and brand value. This should be contrasted against Chipotle (NYSE:CMG) for example, which does not franchise and therefore takes on additional expenses in location scouting and store launching. Each of these models works to the specific strengths of the companies, Dunkin' and McDonald's being the more stores the merrier and Chipotle being some sort of exotic eating experience.
Why Dunkin' and Starbucks are Not Necessarily in Competition
Now, as Dunkin' Donuts initiates its westward expansion, I imagine that it will be dealing with competition mainly from Starbucks. I don't really know what kind of coffee is had in the middle of the country or who sells it, but I do know that Starbucks has around 6,500 stores in the U.S. and they are much more dispersed than Dunkin', especially in the Pacific Northwest for obvious reasons. Regardless, I would like to wage the argument that the two are fundamentally different in their approach to basically everything.
Dunkin' operates with tremendous efficiency. Most of the time one's coffee is prepared before they are even finished ordering. Food is served as quickly as possible and people are in and out of the store. Typically speaking, you will not see as many people sitting inside the restaurant. It is not hip or trendy to work on a screenplay at a Dunkin' Donuts.
Alternatively, Starbucks is more of a destination than a pass-by. The coffee is more expensive, baristas see their product as an art rather than a drink, and sitting around is café chic. This is not to say that one way is better than the other, rather it is to say that they are different.
Dunkin's Growth in Share Price
More importantly is how this will impact earnings which in turn drives stock prices. I think the Dunkin' Donuts model is going to be much more effective in the middle of America. Coffee that is cheap, fast and tastes good seems more appealing to the working middle class. Dunkin' Donuts cups are not carried around as a fashion accessory, nor should they.
Having concluded that Dunkin' Donuts is better suited for serving the needs of the many, the matter of stock prices must still be addressed. Both Dunkin' and Starbucks have been on tremendous growth spurts in terms of price. Specifically, in the last year Dunkin' has gone from $30 to $48 per share.
Both companies trade at about 40 times earnings. This fact is interesting, because Dunkin' should be trading much higher, since its American growth prospects are greater. However, Starbucks is also focusing on international expansion and it will need to be determined how well it fares before the P/E would shrink.
Another interesting fact is that Starbucks sees four times the average daily volume that Dunkin' Donuts sees, and this is probably because it is traded on more funds. Despite the funds, it will be interesting to see if Dunkin's volume rises after its earnings call on Thursday and going forward as it expands west. I would like to think that the stock might trade a little heavier once more people know what it is. And for the record, the higher volume should lead to a little more stability in the price, less sudden swings and more reinforcement that the price is where it should be.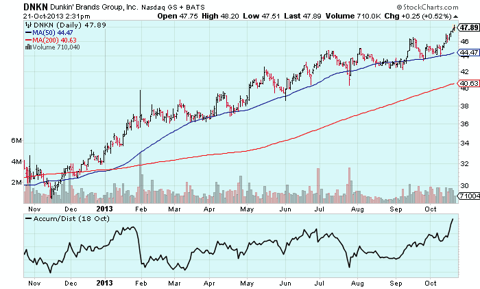 Click to enlarge
Above is a 1-year chart of Dunkin'. As you can see, there have been no hiccups that have lasted longer than 2 weeks. The growth is not too accelerated, evidenced by the fact that the price comes back to touch the 50 day simple moving average, but has not been anywhere near the 200 day since last December. Anyone with an objective of growth over more than two quarters would fare well to have Dunkin' in their portfolio, while also collecting a small dividend in the process. And if you expand the term of your hold to a few years, once the western expansion has taken hold, the returns could be much more lucrative.
Disclosure: I am long DNKN. I wrote this article myself, and it expresses my own opinions. I am not receiving compensation for it (other than from Seeking Alpha). I have no business relationship with any company whose stock is mentioned in this article.