Bearish signs prevail
If bigger is better, China wins in many aspects: it has the world's largest wind program, nuclear program, and the largest hydro program. The electric vehicle market is becoming globally important; if China won't have a developed one, the world won't have one, as it is the biggest at the moment there. It has the world's largest bank with assets under management (ICBC), and on the flip side the most leveraged companies in Asia.
However when it comes to asset management and the financial industry, it is still in nascent reform stages with restricted foreign investment schemes such as QFII, RQFII. The current slowdown, liquidity squeeze and shibor jump all make one question the growth and prospects of the country, which has been a driving force of global growth in recent years. Fitch believes there is an unprecedented credit bubble growing. But could China's growth slow?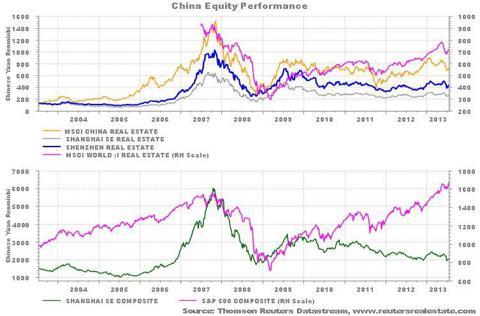 To understand asset management and funds in the country, the stock market is a good starting point. Real estate is where the wealthy have been stacking away their money; the demand and price increase has been enormous in recent years. As the chart suggests, real estate funds are stagnant, and the Chinese market slumped while the U.S. took off. China has the most expensive house prices in terms of IMF house-price-to-wage ratio. Because of the sluggishness in the stock market, more and more China/HK funds are eyeing the U.S. and abroad (recent acquisition of JPMorgan's building by Fosun). This would suggest foggy prospects for a developing fund industry.
In the first half of the year, there has been a 12.5% fall in AUM in Chinese mutual funds. Hong Kong ran up seven straight weeks of capital outflows from equity-focused funds by the end of the summer, with up to $2 billion pulled out of the region as the stock market retreated to below levels seen during the 2008 global financial crisis. Overall, as many Chinese got rich due to the rapid growth in recent years, foreign investors who were restricted to the stock market simply could not cash out, so they moved their funds out. Chinese stocks returned around 1% in the last 20 years. Due to market immaturity and systematic caveats that impede foreign investors from fully participating, the Chinese equity markets remain an elusive mirage.
Looking at the current financial landscape, there are more problems that strengthen the bears' argument, from systematic issues to corruption:
Private sector credit-to-GDP is now 17% higher than its 30-year trend. Alarming stats for a possible credit bubble.
Extremely volatile short term interest rates (shibor) and close to 30% debt service ratio in the economy.
Currency (yuan) is strengthening, making exports less competitive; employment growth is stagnant, food prices are increasing, adding social pressure. The RMB rate and the unemployment rate also seem to parallel each other; appreciating currency, growing unemployment.
Chinese and Asians in general are big savers, which can cast shadows on the consumer-driven miracle forecasts of the future.
The country still lacks a deposit insurance program, much needed to bolster future domestic consumption and deposit rates.
Stock market mishaps such as the recent trading error by Everbright Securities, a major mainland broker, further undermine trust and industry readiness for the Chinese financial sector.
Boyu Capital, a PE firm in China, is a prime example of a country astray; grandson of Jiang Zemin holds partner title in the firm at age 28. The company is big around making the connections work. In addition, the recent JP Morgan debacle about hiring kids of elite cadres supports the rampant corruption around big deal making.
U.S. dollar funds raised for China private equity firms fell 76% in 2012 to $4.1 billion, according to the Asia Venture Capital Journal. So far this year, just $1.7 billion has been raised through seven funds.
With greater wealth comes proper asset management
In China, private banking is still in its early stages. Asset management itself is truly nascent, as the big four banks in some way all have interests in the main domestic asset management companies (Great Wall, Huarong, Cinda, Orient) and foreign banks and firms are widely regulated. In fact, just the asset management industry is regulated by four different institutions (CBRC, CSRC, CIRC, NDRC), not allowing much breathing room and experimentation that would be needed for the growth and development of the sector.
On the other hand, as China is plateauing in GDP growth, it is reaching the so called Lewis point - running out of surplus peasants, according to Paul Krugman. The wealth that has been amassed will slowly start to be invested/managed domestically, allowing more asset management companies to prosper. Make no mistake, China's leadership knows that the opening and reforming of the financial system will provide a more stable foundation for the industry to further develop. In a country with similar savings patterns as Japan (but inevitably on a much larger scale) the asset management, funds industry, pensions, and collective investment schemes will strengthen, inviting a more robust international investor base.
All in all, China's financial sector is reforming as I touched upon it in my previous article. Premier Li Keqiang foresees more structural adjustments, reforms and economic transformation to a domestic consumption led growth. The main harbinger for the fund industry to grow in China is the domestic demand and such recent events as:
An important area in allowing foreign investor entry is in primary care providing. As more elderly in China retire, there is a growing need for foreign insurance providers and health care services companies. This should add additional capital to asset and wealth management companies on the Mainland.
Shanghai just signed a new free-trade zone agreement; Li Keqiang talks about an "upgraded Chinese economy"; the RMB is appreciating; and the CCP is deliberately creating a renminbi bloc, playing with full convertibility in Qianhai next to Hong Kong soon.
Boosting and easing foreign investment in free-trade zones. More and more cities are vying to get approval from the State to set up free-trade zones, where investment innovations and experiments can be tried. (Guangdong in its Nansha area, Tianjin under Beijing, Xiamen in Fujian province, etc.) This development is especially important for the financial services industry as with free-trade zones the Chinese financial industry is set to internationalize and develop.
The Chinese Asset Management Association of Hong Kong was established in the middle of July, shortly after the China Securities Regulatory Commission, the mainland's top securities watchdog, announced it would expand the renminbi qualified foreign institutional investor (RQFII) scheme. This means that as the RMB internationalizes, the Chinese asset management industry is ready to advance as well.
IFR reports that China Cinda Asset Management has filed an application with the Hong Kong stock exchange for a proposed $2 billion (£1.28 billion) IPO scheduled for early next year.
Where to invest: the big banks are here to stay
The Chinese banking industry is still in a unique position globally and will benefit from structural reforms. The country's four main banks, tied to the political elite, provide the lifeblood to the economy, and all the other smaller financing vehicles, banks, insurance companies are tied to them in some way. On the chart below, we can see that the four big banks' stocks (rebased) have held steady in the last few years and are relatively underpriced.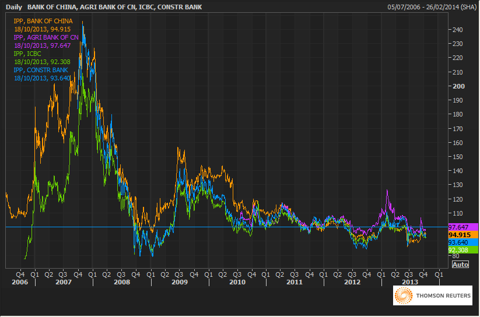 While in China the financial sector pulled down the markets, the S&P500's summer rise was due in large to the financial sector, which has surpassed earnings expectations. This certainly lifted investors' moods as, for example, the Vanguard Financials ETF (NYSEARCA:VFH) is up over 28% YTD.
In the long term, the current low prices for Chinese bank stocks (and the market overall) could provide a similar good buying opportunity. Many say there is a bank bubble due to pop - bad loans, real estate bubble, shadow banking - and the troubled sector is an area to pull out funds from. However, on a long-term investment horizon these ETFs still provide one with long positions. Foreign funds have been capitalizing on the growth in the last few years ($4.5 billion Matthews Asia Dividend Fund, $1.6 billion Fidelity China Region Fund, $1.1 billion Templeton China World Fund, etc.). All these ETFs have rebounded from their summer lows.
Global X China Financials ETF (NYSEARCA:CHIX): Not as liquid as FXC below, but its targeted exposure to the financials sector can help traders get good exposure to the industry. The fund seeks to provide investment results that correspond generally to the price and yield performance of the S-BOX China Financials Index.
iShares FTSE China 25 Index Fund (NASDAQ:FCHI) : One of the biggest China ETFs on the market, size and liquidity perspective wise. FXI has half of its total assets allocated to the financial services sector. 85% growth in the last 5 years.
MCSI China indices: a strong roadmap for the country's development, flagship investment products offered by the company. MSCI International China Banking Sector price return index is a good proxy of the sector, with 22% growth since June lows.
One thing is certain: with reforms the big banks of China will come out on top, as they are here to stay. The financial industry in China is growing, retail banking (reports from McKinsey, Deloitte show) and new accounts are mushrooming; the industry will be more part of global portfolios in years to come. According to the McKinsey study, China will be the second largest retail banking market by 2015 and will account for $280 billion revenue in 2020, closing the gap between the mature U.S. banking world. Furthermore, in China's next generation banking the, HNWI and affluent segment will make up more than 50% of the profits. As the sector matures, the country's growing number of millionaires will use domestic banking resources more, instead of off-shoring it like they do now.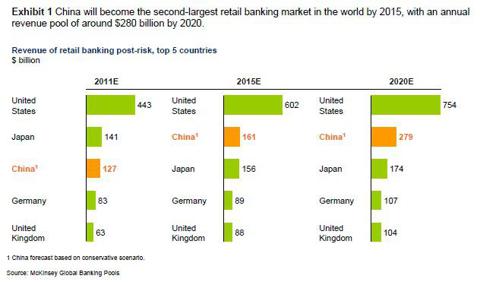 Shanghai 2020's International Financial Center (IFC), free-trade zones, and the Party's consumer-led approach all point to a determined leadership to put China on the global financial landscape, with strategic internal strength. With the FTZ and IFC in Shanghai, the Party can experiment with floating and trading the renminbi and give foreign banks more leeway; they may slowly incorporate global standards into their own markets where such payment systems as Unionpay still keep Visa and Mastercard outside the gates.
Slower growth in the asset management space is not an issue; the massive amount of FX reserves, aging population, pensions and piled up wealth in the country has to be managed domestically in the future. The argument for slowing growth is not viable, as consumption data in many cases is under-reported in China. Not all private consumption is known, as buying is reported inefficiently (Chinese are well known to have cars on company balance which doesn't show up in GDP figures as much). A country with such a booming population is set to keep expanding and consuming.
Overall, the recent hiccups in the sector are the start of prolonged restructuring, but the efforts to reform are on the leaders' minds. This will manifest itself in a positive overall impact on the development of the Chinese financial industry and domestic fund management.
Disclosure: I have no positions in any stocks mentioned, and no plans to initiate any positions within the next 72 hours. I wrote this article myself, and it expresses my own opinions. I am not receiving compensation for it (other than from Seeking Alpha). I have no business relationship with any company whose stock is mentioned in this article.