Eight days ago I recommended buying U.S. oil refinery stocks such as Marathon Petroleum (NYSE:MPC) and Valero Energy (NYSE:VLO) and Master Limited Partnerships such as Alon USA Partners (ALDW), not to be confused with the holding company Alon USA Energy (ALJ), and CVR Refining (NYSE:CVRR).
The story is intact. When crude oil prices fall, the oil "crack" or refining spreads tend to widen as consumption and exports dampen the fall in product prices, unless of course, economic growth and demand has fallen off a cliff.
I don't think that is the case. Oil stock numbers reflect a pure case of excess supply - which is a refiner's dream.
We did see a weaker than expected jobs number this morning, which predated jitters over the U.S. government shutdown, and the Richmond Federal Reserve Bank October manufacturing index came in tepid. But low interest rates and a new, even more accomodative FOMC Chairperson being nominated to start work in 2014 should calm investor nerves. DJIA (NYSEARCA:DIA) was up 65 at 11:45.
Distillates such as diesel and jet fuel remain strongly bid due to general industrial and farming activity although gasoline has fallen off with the end of driving season.
November WTI is down 0.9% this morning as the delayed EIA numbers released yesterday confirmed last Wednesday's API strong 5.9 million barrel oil stock build for the October 11 week, with draw downs in refined products. The October 18 week numbers are out tonight for the API and Wednesday for the EIA, and if you want to be cautious, you could wait for them. But the rally in refinery stocks is ongoing.
NY Harbor Heating Oil futures are down only a smidgen this morning but RBOB (gasoline) is down 0.8%.
The Midland West Texas Sour discount from West Texas Intermediate light sweet for December was $6.33/barrel according to CME futures yesterday, meaning Permian Basin sour oil refiners such as Alon are making money again, at least until Gulf of Mexico area refineries come back online and transport excess Midland crude to the Houston hub.
Note Alon's EPU (earnings per unit) and hence CAD (cash available for distribution) is expected to be only 4 cents for Q3 and a loss of 1 cent for Q4.
Therefore I would be cautious around the Alon EPU and distribution release date and sell before the November 8 release date.
Similarly, CVR Refining is up to $26 versus $24 and change when recommended. Analysts expect 50 cents for Q3 and 41 cents for Q4.
CVRR had a fluidized bed catalytic converter outage at the Coffeyville, Kansas refinery for six weeks during Q3, and the company had estimated production in Q3 would be a lot less than the nameplate 200,000 bbl/day for the two refineries. The estimate on August 26 was 145,000-155,000 for Q3 but it could have turned out lower, given they found additional problems during the FCC fix.
I would be cautious around the CVRR Q3 EPU date on November 1 and sell the units beforehand.
CVI Energy, the holding company that owns 71% of CVRR and 53% of CVR Partners (UAN), is illiquid and is trading slightly over the value of its subsidiaries. The stock yields 7.3% at $41.29 this morning and can be volatile.
The three CVR companies and MLP's brought their EPS release dates forward by four days at the behest of controlling shareholder Carl Icahn's Icahn Enterprises, L.P. (NYSE:IEP) group.
I think this was merely a matter of timing all the releases to coincide as IEP owns a big chunk of CVI (82%) and its results are material to IEP.
Marathon has curtailed parts of the massive 522,000 bbl/day Garyville, LA and Valero parts of the much smaller Three Rivers, TX refinery for maintenance and upgrades, respectively. Garyville is adding diesel-making capacity. Three Rivers is geared almost completely toward Eagle Ford oil from shale after a $100 million upgrade. Valero's Port Arthur refinery was also down for a minor upset and Delek USA Holdings' (NYSE:DK) Tyler refinery in East Texas was down for maintenance.
These turnarounds in Texas and Louisiana have stalled demand for local crude oil temporarily and caused differentials to widen, benefiting refineries that are running flat out. The trends could reverse but the turnarounds look to be at least six weeks long in most cases.
From an operating earnings standpoint, the October curtailments will affect Q4 and would represent relatively small shortfalls to the overall oil refining capacities of Marathon and Valero.
These stocks are for more conservative investors and are rallying nicely. MPC is up this morning $1.29 to $72.22 and VLO is up 77 to $40.52. We recommended those in the $67 and $36 area, respectively. I think they can go higher.
We have been recommending these names since the EPA document proposing a reduction in mandatory biofuels usage was leaked almost two weeks ago. We will probably want to get out of these names before Q3 earnings start rolling in starting with Valero on October 29 followed by Marathon and Phillips 66 (NYSE:PSX) on October 30.
WTI Midland versus WTI Cushing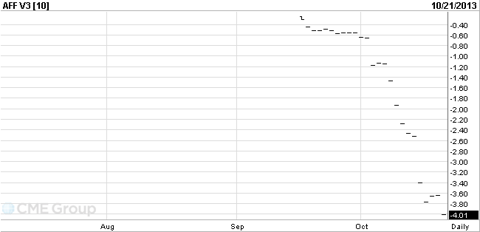 WTS Midland versus WTI Cushing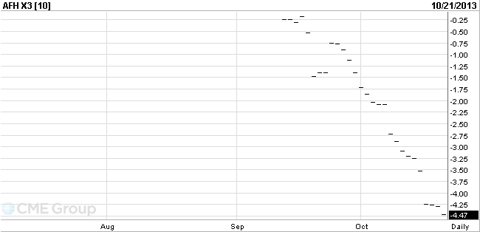 The December WTI/Brent futures show a discount of $10.76/barrel this morning. Combined with the WTS/WTI sour discount, that's a $17 discount from Brent for Alon.
Valero Energy IR says it looks at the Mars benchmark sour, which is an offshore Gulf crude, more than Midland WTS. Mars futures were $2.69 below WTI yesterday. The GOM refiners use LLS 6-3-2-1 as their bench mark crack spread. No futures available.
Canadian Western Canada Select or WCS is what the coker-ready refineries on the Gulf would really like to get more of. It was quoted at $29.39 CAD below WTI yesterday, in Canada. Transportation by pipeline (if you can find space) or via rail to the Mississippi and down river by barge, would have to be paid on top of that.
Until the North-South pipeline snafus sort out and the TransCanada (NYSE:TRP) Gulf Coast project starts up (any day), Canadian heavy is "hard to get."
In addition, the Gulf Coast WTI 3-2-1 crack spread has been steady, with ULSD at $23.72 and Unl 87 at $3.47.
Disclosure: I am long MPC, VLO, CVRR, CVI. I wrote this article myself, and it expresses my own opinions. I am not receiving compensation for it (other than from Seeking Alpha). I have no business relationship with any company whose stock is mentioned in this article.