With some of the world's biggest miners reporting results in the last 24 hours we wanted to read over some of their press releases and reports coming out this morning before writing up our commentary today. We are a little delayed but wanted to build upon some of our ideas we have had lately and create something of a road map this morning.
Most investors will be happy with the comments from Freeport-McMoRan (NYSE:FCX) and BHP Billiton (NYSE:BHP) as it should impact the entire diversified sector, including Vale (NYSE:VALE) and Rio Tinto (NYSE:RIO). It appears that a global turnaround is taking place and that inventories are finally being replenished.
Which could also be good for both the uranium and potash sectors as well. With Russia always looking to tightly control her resources, we could see Cameco (NYSE:CCJ) and Potash Corporation of Saskatchewan (NYSE:POT) rise as Putin looks to push uranium prices higher while also fixing the potash cartel that fell apart earlier this year. These are the two events we are watching for the most heading into the end of the year.
Chart of the Day:
Palladium is now approaching the levels where we initially thought that it would top out at. We are watching it closely because without the Fed tapering and with the news out of Europe and China looking better we might see the bulls push us through the $750/ounce level, although that is where the metal continues to run into resistance. Readers should be watching this for a further breakout or a breakdown on the chart.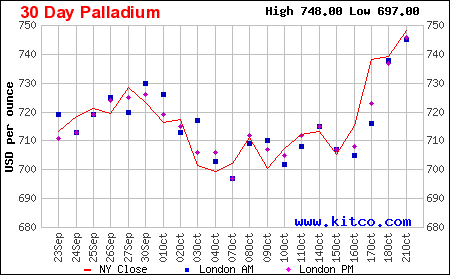 Source: Kitco
Commodity prices this morning are as follows:
Gold: $1329.40/ounce, up by $13.60/ounce
Silver: $22.51/ounce, up by $0.232/ounce
Oil: $99.25/barrel, up by $0.03/barrel
RBOB Gas: $2.6645/gallon, up by $0.0107/gallon
Natural Gas: $3.625/MMbtu, down by $0.043/MMbtu
Copper: $3.336/pound, up by $0.0325/pound
Platinum: $1436.90/ounce, down by $1.70/ounce
Diversified Plays
Readers know that we have been bullish on shares of Freeport-McMoRan since the lows set earlier this year because of the added oil and natural gas exposure they received by buying the two oil and natural gas E&P companies earlier this year. Based on the company's earnings announcement it appears that our assumptions about those acquisitions are happening and really driving results. That was the overwhelming bright spot that drove both top and bottom line results, but there still is concern here. Metals pricing was weak and the company has done little to lower their debt load. Management has a goal to nearly halve its debt and it appears that they will sell some of their Gulf of Mexico assets and seek joint ventures out in order to accomplish this within the three year timetable. It seems that the company is succeeding on step one of our prediction, but now we have to wait for metals pricing to get stronger - which should see copper strengthen before gold. The stock has had a strong run, we would hold off on any buying right now and wait for some sort of a pullback before either initiating a position or adding to current positions.
Freeport-McMoRan has had a tremendous run which has been fueled by their recent acquisitions. We expect the oil & gas business to continue to push the stock higher but expect the company to lower their exposure to this segment via at least one joint venture in the next 6-12 months.
Source: Yahoo Finance
Also reporting strong results was BHP Billiton which rode iron ore to better results. The turn in China's economy, coupled with some of the lowest inventories in almost 5 years has led to prices escalating there as demand picks up. With the increase in iron ore production and demand over the past quarter, the company raised its full year guidance on iron ore production from 207 million tons to 212 million tons. This should also play well for Brazil's Vale and Rio Tinto, which are number one and two in iron ore production respectively, moving forward.
Right now we would play the highly diversified names in commodities and focus on those with more energy exposure than metals, which is why we were early fans of Freeport-McMoRan. BHP is second among the diversified miners and after that we find ourselves wanting to wait until metals see a sustained move higher before venturing further into these mining names.
Uranium
We have seen Cameco bounce off of the lows set a week or so ago and are happy to have pointed that out to readers. The gains have led some to question whether it was a short-term trade or a long-term trade and our answer is that it could be either. One could take the profits now and turn around and invest in something else or let the money ride back above the $20/share level and possibly to $25/share in 2014. We think that the chance of a move such as that is likely due to the cheap Russian uranium leaving the market and Cameco also having fresh supply to help fill the void. Under $19/share and Cameco is a buy in our book, even with the operational risks they have with their underground mining.
Potash
We are at pre-BHP buyout attempt levels and there seems to be value as we look at the situation now. Maybe Russia and Putin will come to the market's rescue.
Source: Yahoo Finance
Speaking of the Russians, we believe that the holding pattern that Potash Corporation of Saskatchewan is in might very well be a great buying opportunity. Russia is notorious for trying to take control of markets and effect pricing controls so the whole blown up cartel drama will have to be resolved soon if they want to maintain any semblance of control over the pricing of their production. The situation stinks for all parties involved and as bad as it is for Russia it is far worse for Belarus. A deal will be struck to reform the cartel and we would not be surprised if it involved Russia selling some other natural resources, natural gas or heating oil maybe, at a discount to make this happen. At the end of the day, Potash looks like an intriguing way to play this as they have a great balance sheet and low cost production. Obviously the smaller players would lead to greater gains, but if a deal is not reached at least Potash will still be around as a going concern.
Disclosure: I have no positions in any stocks mentioned, and no plans to initiate any positions within the next 72 hours. I wrote this article myself, and it expresses my own opinions. I am not receiving compensation for it (other than from Seeking Alpha). I have no business relationship with any company whose stock is mentioned in this article.