After a rough couple of years, the market finally seems to be realizing that solar power is here to stay. With the technology becoming more cost-effective and more efficient, solar sales are once again growing. My main concern is whether or not the companies may have come too far too fast in terms of share price. Specifically, with industry leader First Solar (NASDAQ:FSLR) trading for more than four times its lows of just last year, has the business really improved that much?
First Solar: 2013
The short answer to the question is "no". First Solar's business is not four times better than it was in 2012. At that point, an irrationally high chance of a bankruptcy was being priced into shares, and the market seems to realize now that companies with more cash than debt and growing sales tend to stay in business. Who knew?
Anyways, on the topic of improving fundamentals, 2012 was a record-breaking year for First Solar, with about $3.4 billion in revenues. The company still lost money due to oversupply in the industry and other negative factors, but lower manufacturing costs should begin to improve the company's profit margins, regardless of supply issues. Regardless, even with all of the negativity circulating in the media, First Solar never went backward in terms of revenue. In fact, the company's revenue is projected to grow another 9% this year.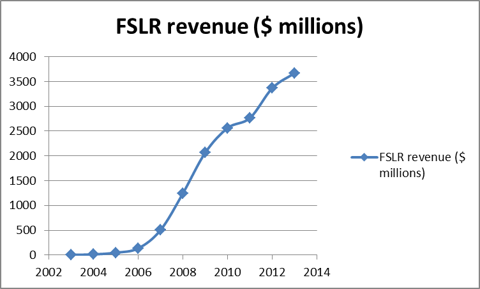 I also alluded to the fact that First Solar has a positive net cash position (more cash than debts). The company currently has $1.29 billion in cash and just $256 million in debt, for net cash of just over $1 billion, which has almost doubled in the past year. The company has had over $500 million in net cash since 2007, except for a few months last year. Anyways, the point is that the large cash stockpile gives the company greater financial flexibility and gives the market increased confidence of its long-term viability.
A traditional P/E valuation is tricky with First Solar. Even with revenues expected to climb, earnings are expected to be somewhat erratic while the pricing and supply dynamics work themselves out in the solar PV market. To highlight the uncertainty here, earnings estimates for 2015 range from a low of $0.52 per share to a high of $5.25. What a huge difference these numbers would make in terms of their effect on the share price!
The future
According to industry experts, world energy demand is expected to quintuple by the year 2050, from about 10TW*hr (Terawatt-hours) currently to about 50TW*hr. If past performance of new technologies is any indication, the cost per watt of solar power will continue to drop significantly.
Unlike other "clean" power sources, solar is scalable enough to make a dent in future demand, and will conceivably be affordable on a massive scale. Other clean sources of power such as wind and geothermal are simply not practical on such a wide scale. Nuclear power is certainly scalable, but is not affordable to much of the world, particularly developing countries.
As far as First Solar is concerned, as the most efficient and well-funded solar company they have the most to gain from widespread implementation of solar power. However, the timeline is questionable. It could take a few years or a few decades for solar power to really become mainstreamed.
What's the right price?
First Solar has a tangible book value of $41.81 per share as of the most recent data available, and I don't think the stock should trade too far above that amount. At the end of 2012, shares traded for around 75% of their tangible book, and currently trade at a premium of 29.2%. Most of the rest of the sector trades right around book value or just over it, so First Solar's TBV is a good target for an entry point, meaning that at around $42 I might become a buyer once again. In the meantime, First Solar is too risky at the current price levels as it continues to discover its place in the market.
Disclosure: I have no positions in any stocks mentioned, and no plans to initiate any positions within the next 72 hours. I wrote this article myself, and it expresses my own opinions. I am not receiving compensation for it (other than from Seeking Alpha). I have no business relationship with any company whose stock is mentioned in this article.