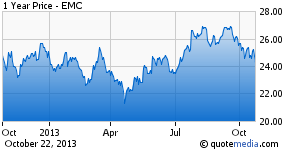 To many investors it makes no sense. EMC (EMC) owns 80% of VMware (NYSE:VMW). VMware's most important recent spin-out is the Pivotal Initiative, which is 62% owned by EMC. [GE (NYSE:GE) paid $105 million to get a 10% stake.]
Yet, whether you look at it from a near-term perspective or a long-term one, VMware has proven the better investment. The reason for that comes down to one word: hardware.
EMC's basic product line consists of Network Attached Storage units. These mostly consist of hard disk drives (increasingly with chip memory as a fast-access adjunct) arranged in clusters to create the "big data" environment clouds thrive on.
EMC has a comfortable lead in this area, with almost half the market according to Gartner Group, and the market is growing, at 21.6% a year according to a recent report from TechNavio.
But that's much slower than the cloud market itself is growing, according to 451 Research, which sees most niches in that space growing at about 40%/year.
You also have to consider the nature of hardware and software. Hardware costs decline along with Moore's Law, and its variants. Software costs don't drop in the same way. Software is still being written primarily by hand, and while the tools like languages to write it have gotten better, with new languages and assembly techniques that constantly abstract complexity, it's still hard work, done by hand, by people who are paid well for their time.
While hardware declines as a factor in IT spending, in other words, software continues to gain. It's been like this for decades, and it's not changing.
So despite the fact that EMC's base business is doing well, it's not doing nearly as well as the company's software adjuncts, and it's unlikely that it ever will.
VMware, by contrast, is a pure software play. You not only get a piece of EMC's virtualization business, on which VMware is based, but also a piece of the Pivotal Initiative, with its Cloud Foundry cloud platform. A platform, unlike basis cloud infrastructure, includes the languages and other tools needed to create applications, and offers a higher value-add than infrastructure since it gets them closer to a solution.
Why, then, does EMC not break itself apart so stockholders can capture the value? It's because the hardware part of the business is both larger than and a more reliable generator of profits than the software business. EMC provides the capital back-up to keep VMware flying.
But we are approaching a tipping point, a point at which it will be clear that VMware is fully independent of EMC, and can stand on its own. If you're staying in EMC, which has gone nowhere over the last year and has gone up "just" 151% through the entire cloud era, you're betting on the company realizing this one day, and giving you the rest of VMware in a profitable way.
I don't see that happening at any time soon, but that's what you're buying with EMC today, hope.
Disclosure: I am long GE. I wrote this article myself, and it expresses my own opinions. I am not receiving compensation for it (other than from Seeking Alpha). I have no business relationship with any company whose stock is mentioned in this article.