Sirius XM Radio (NASDAQ:SIRI) and Netflix (NASDAQ:NFLX) are very similar companies simply using a different medium to stream their product. Both are subscription based services and both operate in oligopolies. Both companies have been furiously expanding domestically over the last decade and are now poised for massive international growth.
Sirius XM Radio and Netflix have been darling stocks over the last 5 years. Netflix stock has increased over 1400% while Sirius XM Radio has appreciated by over 900%. But this could be just the beginning. The companies are forecasting growth to increase substantially over the coming years as they branch out with new services and expand globally. These stocks are potentially set to double.
The Case For Netflix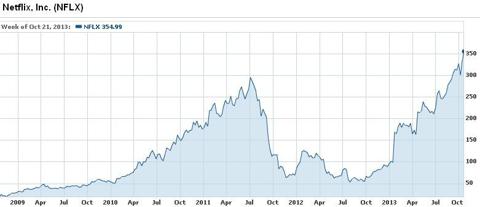 Click to enlarge
Netflix subscriptions are increasing incredibly fast and it currently boasts a total of over 40 million subscribers. That is up from 30 million subscribers just one year ago. The main story is that for the first time ever, there were more net subscriber additions in international markets (1.44 million new subscribers) than in the already robust domestic market (1.29 million new subscribers). Netflix is being propelled forward by international subscriber growth and this is fantastic news. Netflix has been operating in the US for years and is well establish. But on the international front, the charge to enroll new subscribers is just getting started.
Netflix has been offering millions of free trials in Latin America and many of those trials subscribers are choosing to sign up for the service. In the last year the company has also expanded into the Nordic countries and has increased promotion in the UK. The vast European market is still relatively untapped and it is only a matter of time before Netflix expands into that region.
In the current European markets, Netflix can target almost 38 million households. And if we assume the same subscriber penetration rates as the US (30%), it is estimated that Netflix can gain almost 12 million new subscribers. On the Latin American front, even if Netflix were only to gain a subscriber rate of 5%, that would still translate to almost 8 million new subscribers.
And there is still huge potential for expansion into South Korea, Japan, China and India. Although the company has remained relatively silent on expansion to these areas, they would naturally choose to move into these countries when the time is right. South Korea and Japan have some of the highest broadband connectivity rates in the world, so streaming content to those future subscribers would not be an issue. And for China and India, although broadband penetration is low, the actually number of broadband users is still high given the massive populations. All these broadband users are potential new Netflix clients just waiting to sign up.
One thing is clear. Netflix, as a company, will continue expanding both domestically and globally. In five years the company will look radically different and larger than it is today. The five year chart of Netflix stock looks like a roller coaster, but if you owned it in 2009 and were brave enough to stick with it, your money has increased by about 18 times. Even with this huge growth, it would not be surprising to see the stock double once again as Netflix continues it's quest for global expansion.
The Case For Sirius XM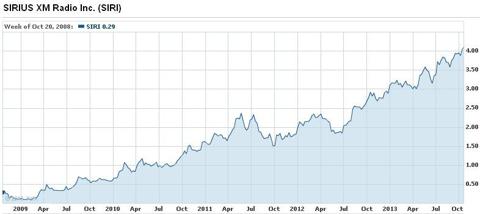 Click to enlarge
US auto sales have experienced something of a renaissance over the last 5 years. Since dipping to a lowly 9.5 million average yearly sales in 2007, sales have surged to over 15 million average units in 2013. It is no co-incidence that the share price of Sirius XM has closely followed this surge. With exclusive standard installation partnerships with all US automobile manufacturers and almost all international manufacturers, Sirius XM has seen massive subscriber growth based largely on subscriptions coming from new car buyers.
Sirius XM states that 60% of all new cars sold in the United States come with a Sirius XM receiver pre-installed, and 45% to 46% of these new car buyers choose to become paid subscribers. When you do the math, you can estimate that out of every 1 million new cars sold in the United States, Sirius XM can expect to sign up about 270 000 new subscribers. These are big numbers, and with automobile sales continuing to increase, the subscriber estimates from Sirius XM have been impressive.
Total domestic subscribers for Sirius XM have increased from 19 million at the end of 2008 to 25.1 million subscribers as of the second quarter of 2013. For the full year 2013, Sirius XM is expecting to add 1.5 million new net subscribers. Going forward, if Sirius XM can maintain subscriber growth of 2 million per year, as analysts are estimating, we can expect total subscribers to reach 40 million by 2020.
But growth might come even faster and sooner than expected. Sirius XM has recently been experimenting with several different tactics to boost subscriber growth. Over the past year Sirius has been running promotions where it reactivates all inactive radios for a limited time in order to entice listeners to re-subscribe. Furthermore, Sirius XM has initiated a program it calls "Service Lane" where used car owners can get a 2 month trial subscription to Sirius XM simply by bringing their vehicles to a participating dealer for service. Noting this program, an analyst from Piper Jaffray recently increased his price estimate for Sirius XM stock to $5. Also, it should be noted that Sirius XM recently made a $530 million acquisition of a company called Agero, which the company intends to use to expand its connected vehicle and roadside service offerings, further broadening it's appeal to future clients and driving increased revenue from current subscribers.
And on a final note, we must not forget to mention that almost all of Sirius XM's current subscribers are based in North America. The company clearly has a lot of room to grow globally and its recent actions have indicated that it plans to do just that. In a recent interview, Sirius XM CEO Jim Meyer mentioned that the company is looking to expand globally via internet streaming options and that the company is looking at Mexico as a key area for growth, although he did not make a formal announcement. In addition, Sirius XM is expected to launch their newest satellite later this week. The FM-6 satellite will strengthen the delivery of their data and audio services throughout North America and could potentially be expanded to deliver content in Mexico upon regulatory approval.
Conclusion
All things told, both Netflix and Sirius XM are rapidly growing companies which have been successful in gaining happy customers in the United States and are now poised for rapid expansion, both domestically and internationally. With creative marketing, strong product offerings, flexible subscription options, proprietary content, and careful execution, these companies are looking to dramatically increase their subscriber counts. Their share prices have performed extremely well over the last 5 years and given continued growth prospects, are likely to continue their rapid appreciation in the years to come.
.
Disclosure: I am long SIRI. I wrote this article myself, and it expresses my own opinions. I am not receiving compensation for it (other than from Seeking Alpha). I have no business relationship with any company whose stock is mentioned in this article.