For kicks and ideas I often work my way through highly publicized stories. And right now, I've noticed a prevailing theme in most offline and online features.
For instance, Barron's says that Pepsico (NYSE:PEP) is a big-time bargain, trading at 15 times next year's earnings. Dividend stock pickers consistently mention American food giant Kraft (KFT). And scores of fund managers are disclosing 2010 intentions to increase their stake in steady-Eddies like Procter & Gamble (NYSE:PG).
It seems to me that scores of advisers believe that 2010 will be a tough year to make money. Whereas 2008 was the Poseidon Misadventure and 2009 was the "return-from-the-abyss" bull ride, 2010 may be a bit of a bore.
Really? I'm not so sure. I think it may be rather volatile due to the end of buy-n-hold-n-hope.
Yet I am inclined to agree that the U.S. economy will grow at a questionable pace. The question will be, "Is this what good times are supposed to look like?"
Still, the economy is not the market, nor is the market the economy. The sad truth is that unemployment may drag on the U.S. economy, but it may have stimulated business. Indeed, we've already seen the gains in productivity and profitability.
"Where's the revenue going to come from?" you fret. Consumers still have to eat, drink, brush their teeth and wipe their backsides. And I do not believe that households will simultaneously opt for tap water. By the same token, I don't think generic alternatives will replace Kraft Mac & Cheese.
Summed up another way, SPDR Consumer Staples (NYSEARCA:XLP) will produce a bit of yield as well as a modicum of capital appreciation. Not only is XLP's uptrend intact today, it should continue to perform in the upcoming year of uncertainty.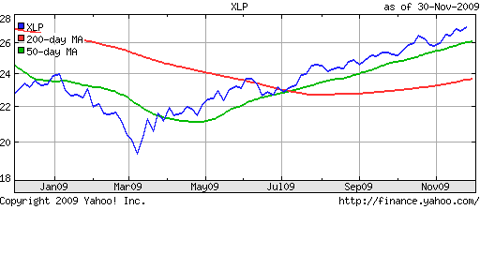 Disclosure Statement: Gary Gordon, MS, CFP is the president of Pacific Park Financial, Inc., a Registered Investment Adviser with the SEC. The company and/or its clients may hold positions in the ETFs, mutual funds and/or index funds mentioned above. The company does not receive compensation from any of the fund providers covered in this feature. Moreover, the commentary does not constitute individualized investment advice. The opinions offered herein are not personalized recommendations to buy, sell or hold securities.