On Monday, 30 November 2009, Diane Irvine, Chief Executive Officer, of Blue Nile (NASDAQ:NILE) spoke with CNBC and with Business News Network in Canada. The above embedded video is from CNBC and, although I am unable to embed the video from BNN.ca, you can click the following link to BNN's interview.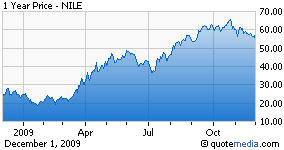 While I recommend viewing both videos, here are some quick points:
Best Thanksgiving Weekend ever;
Company has 4.5% of U.S. engagement ring market;
Competition is the high end brick and mortar jewelers across the country;
Industry consolidating and Blue Nile continues to gain share;
Looking for double digit growth in the fourth quarter;
Great business in Canada, its first international location;
Addressing security concerns, company ships its products fully insured and uses FedEx (NYSE:FDX) Priority Overnight service;
Most transactions through credit card and bank wire; and
Irvine is confident that, by remaining steadfastly focused on operating the business, the company's stock price has a lot of runway in the longer term.
Blue Nile stock closed on Monday at $55.89.
Disclosure: I am long shares in Blue Nile.