With the S&P (NYSEARCA:SPY) hitting new highs every day, the junk bond market is quietly shouting out warning signals that the stock market's days of high returns may be behind us.
Record low treasury yields have been a driving force behind the rally in equities, and have pushed many income investors into lower quality bonds, causing junk bond yields to recently hit an all time record low. The correlation between high yield bonds and equity returns should make a conservative investor cautious, and makes a strong case for taking some risk off the table and reducing your equity exposure.
The market for junk bonds and stocks exhibit many of the same characteristics:
· higher risk related to other asset classes
· historically higher returns
· significant cyclicality in earnings/defaults
· large cyclical price fluctuations
Although bonds have priority over a company's cash flows before equity holders, issuers of high yield debt typically have either greater economic sensitivity, riskier business prospects or a higher debt-load. This higher risk demands higher coupon payments in order to adequately compensate their creditors. Both high yield bonds and stocks benefit from favorable economic conditions (higher earnings and fewer defaults) and both are hurt during recessionary periods. Their similar underlying fundamentals have resulted in a .57 correlation coefficient with the S&P 500 (and somewhat higher for the Russell 2000 at .61) and given them very similar historic returns; in fact high yield bond's returns are more closely related to equities than investment grade bonds.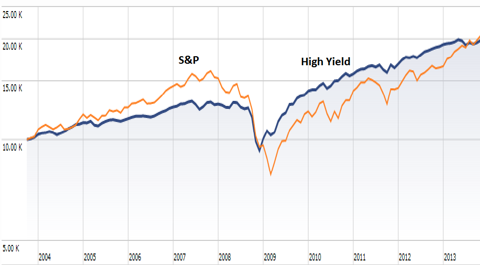 Although previously only a small market, the size of the junk bond market has been growing at a double digit rate for the last few decades and now makes up close to a quarter of the corporate bond market. The newfound size of this category and the similar risk and reward characteristics between junk bonds and stocks makes it possible to draw conclusions about the stock market using information from the high yield market.
The correlation between junk bonds and stock returns has been reasonably well documented (for a good read on the subject check out http://business.illinois.edu/j-gentry/fin_522/exhibits/16.pdf). This is why any financial advisor that really earns their paycheck has been trying to keep their clients from stretching for higher yield in this low rate environment, as this would effectively increase their equity exposure and significantly increase portfolio risk.
It is also worth looking at junk bond yields as a potential predictor of future stock returns, as recessionary periods are marked by significantly higher junk bond yields and higher equity returns, and non-recessionary periods have lower junk yields and lower returns.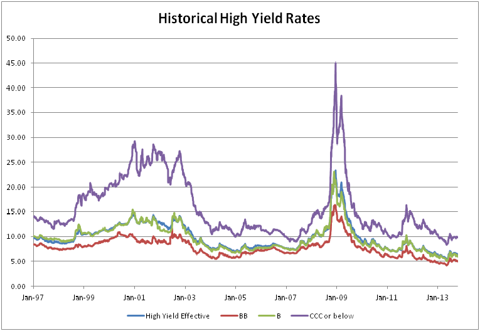 Before the tech bubble began to burst the rates on high yield bonds rose, and remained high until the market bottomed out in early 2003. From this low point the stock market rallied while rates on junk bonds plummeted, causing high yield bonds to rise in lockstep.
The S&P 500 hit its peak very near the previous record low high yield rate, only to spike quickly as the market was freefalling, hitting a record high yield near the market's bottom. Since then the market has surpassed its previous high watermark while junk bond yields have hit new lows.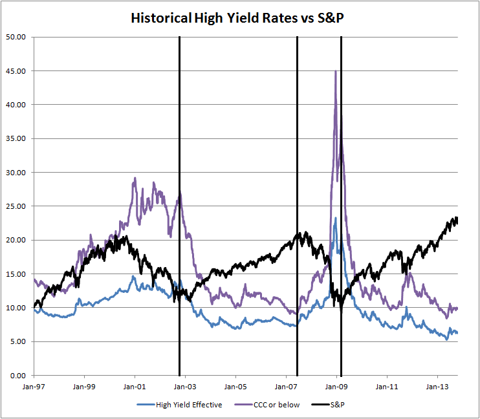 By no means am I trying to say that the bottom is going to fall out of the market, but I think it makes sense to temper expectations going forward. During times when rate on the high yield market was less than 15% the S&P 500 averaged only 2.8% returns including dividends, whereas a rate above 15% saw annualized returns of 31.1%.
This does not appear to be a linear relationship however, as the range of returns during periods of low junk yields varied considerably. Comparing the yields of junk bonds, less their average annual default rates, with the annualized future returns of the S&P 500 showed that the 2 follow a similar pattern, especially that of CCC and below.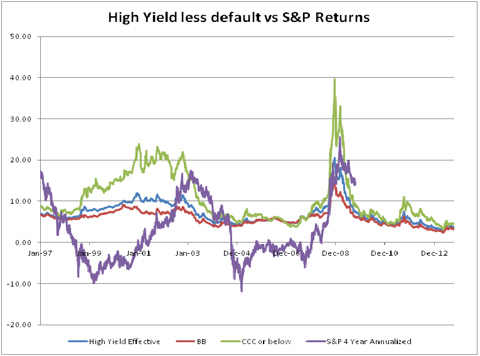 Going forward I forecast below-average, low single digit returns on equities with a high amount of variability and large portion of the market's overall return coming from dividends. I would recommend seeking out lower risk strategies for your portfolio, especially those which incorporate a degree of hedging or other alternative methods of reducing risk and volatility.
Disclosure: I have no positions in any stocks mentioned, and no plans to initiate any positions within the next 72 hours. I wrote this article myself, and it expresses my own opinions. I am not receiving compensation for it (other than from Seeking Alpha). I have no business relationship with any company whose stock is mentioned in this article.