Groupon Inc. (NASDAQ:GRPN), a global leader in local commerce, will report third quarter earning results on Thursday, November 7, 2013, after the market closes. Following the results, a conference call will take place to discuss the financial results of its recent quarter at 5:00 p.m. ET / 2:00 p.m. PT.
After beating analyst expectations for the last three quarters, will Groupon be able to beat expectations once again? Let's take a look at the numbers.
Wall Street Expects:
Revenue: $616 Million
EPS: 0.01
So how has Groupon performed over the last year or so with its earnings reports? Let's take a look at the table below to see Groupon's top line (revenue) numbers.
| | | | | |
| --- | --- | --- | --- | --- |
| Revenue History | November 2012 Q3 | February 2013 Q4 | May 2013 Q1 | August 2013 Q2 |
| Revenue Estimates: | $591.0M | $638.0M | $588.9M | $606.2M |
| Actual Revenue: | $568.6M | $638.3M | $601.4M | $608.7M |
| Difference: | -$22.4M | +$0.3M | +$12.5M | +$2.5M |
| Total/Average: | | | | -$1.77M |
As we can see from the table above, Groupon has consecutively beaten the top line (revenue) for the last three quarters. Does this mean that Groupon is going to beat expectations once again? While they certainly could, there is never a guarantee in the markets.
While we can see that Groupon has posted both positive and negative surprises on the day of earnings, the real question for investors is how has the stock price reacted to the news? In one word. Crazy! The table below tells the story.
The reaction to Groupon's earnings have been wild, crazy and volatile as you can see. This can be an investor or traders dream, or it can turn into a nightmare.
So if Groupon has beaten expectations for the last three quarters, why has the share price popped and dropped? There are a couple of reasons why. Let's take a look at them.
February 2013: While Groupon may have hit all of its estimates, that was quickly overshadowed by a disappointing outlook. Groupon announced that it expected first-quarter revenue to come in between $560M-$610M, far below the consensus of $650M.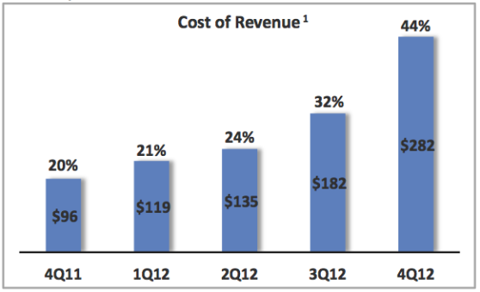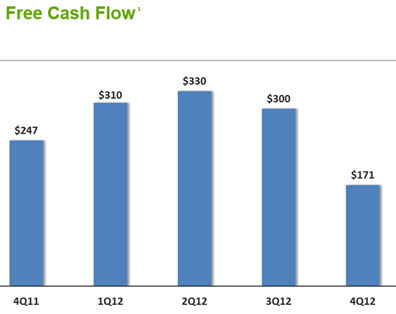 May 2013: Groupon crushed estimates with revenue of $601.4M versus estimates of $588.9M. Customers that purchased a Groupon within the last year grew 13% year-over-year. On top of that, Groupon had record mobile performance as 45% of North American transactions came from mobile.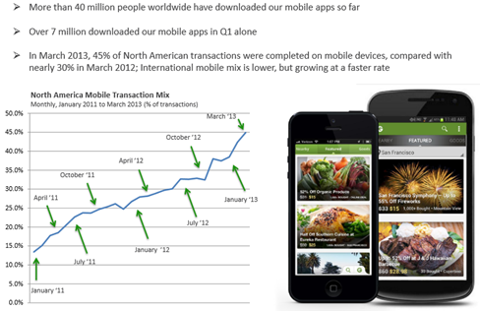 * Image taken from the Washington Post
Conclusion
I like Groupon from a consumer standpoint; however, from an investment standpoint, I'm very cautious at this point in time. Investors should remember that just because you like a company doesn't always translate to be the greatest investment. Don't let emotion get in the way of doing your due diligence.
Looking at Groupon's recent earnings history we can see that shares have popped and dropped substantially on earnings day. Groupon has had a remarkable turnaround no doubt about it. So the question remains, should investors sell or hold their shares through earnings?
That is a very tough question. However, given the recent run that Groupon has been on this year, I would be somewhat hesitant going into earnings. While seeing stocks in your portfolio rise is a great feeling, seeing them fall hurts even more. That's why I would take a more cautious approach with Groupon.
Of Wall Street recommendations, the average opinion on Groupon is a hold, with a price target average of $11.88. Investors are always reminded that before making any investment, you should do your own proper diligence on any stock mentioned in this article. Have a great day and as always, I look forward to hearing your thoughts or questions that you might have.
Disclaimer: Images were from Groupon's earning slides. The information that I used came from CNNMoney, Yahoo!Finance, USA Today, MarketWatch and The Wall Street Journal.
Disclosure: I have no positions in any stocks mentioned, and no plans to initiate any positions within the next 72 hours. I wrote this article myself, and it expresses my own opinions. I am not receiving compensation for it (other than from Seeking Alpha). I have no business relationship with any company whose stock is mentioned in this article.