First Posted by
Jeff Bernstein
on UrbanDigs.com November 29, 2009 at 11.33 AM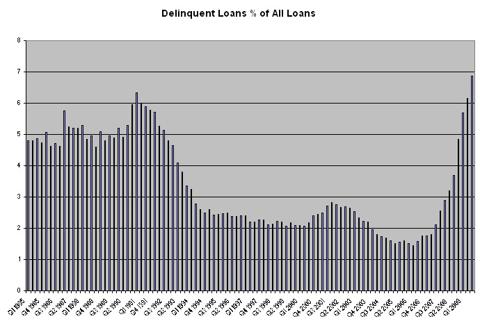 Click to enlarge
Warning: This article contains other shocking images which may disturb those with exposure to U.S. debt or equity instruments.
I just got a chance to wade through the latest Federal Reserve Bank data on asset quality. Apologies, as these figures, which usually come out around the twentieth of the month after a quarter end, were actually out November 16 and are now a few weeks stale. I haven't seen much written on these statistics in recent weeks, however and I personally like to track the bad debt debacle using this quarterly data for reasons I have outlined previously, not the least of which is the fact that these are not "mark-to-market" figures. These numbers represent debt at a large cross section of banks that has gone delinquent, i.e., the borrower has stopped paying, rather than write-offs of debt that is expected to go delinquent or has suffered a significant decline in market value. As the recent rally in credit markets has demonstrated, trading values of debt can display significant swings based on factors far removed from the credit worthiness of individual borrowers. You just have to look at what has happened recently with Dubai World's debt which recovered, post the world financial crisis, to above par only to crash to 40 cents on the dollar in a couple of days - to understand how volatile debt values can be in the marketplace.
Let's get right to the punchline. The Q3 bank delinquency data are awful in general. The only positive things that can be said about it are:
1) Delinquency rates, while at historically record levels for various types of bank loans, did not accelerate quarter to quarter across the board as commercial real estate and credit card delinquency increases slowed in basis point terms from the Q1 to Q2 09. However, all delinquent loans as a percentage of all loans at banks regulated by the Federal Reserve reached an all-time record high of 6.87%, eclipsing the prior peak of 6.33% in Q1 of 1991. The overall number did accelerate, increasing 72 basis points from Q2 to Q3, after a 45 basis point rise between Q109 and Q209. Call me Chicken Little, but I am still worried about the U.S. banking system, TARP or no TARP, stress tests or not. Seeing the FDIC run out of money, while these numbers are still getting worse gives me the willies.
2) Charge-offs have moved up much more aggressively in this cycle, versus the late 1980s, (View image) to early 1990s rolling real estate down cycle. This suggests that despite all of the "kick the can" debt restructuring going on, a lot of bad debt is being written-off. This should bode well for a quicker resolution of the junk clogging up the system. However, it is very possible that banks are modifying loans, keeping owners in properties and taking a smaller charge-off today in hopes of avoiding a bigger one, if they took properties back today, took their lumps and sold them into a distressed buyers' market.
3) Credit card delinquencies look like they may have peaked two quarters ago (View image), which may be taken as a small ray of light indicating improving health for the critical "consumer economy". However, much more restrictive policies by credit card companies have definitely contributed to fewer better loans being made to better borrowers, which should be expected to produce lower loss rates.
On the other side of the coin are some more troubling trends:
1) Commercial & Industrial Loans which turned up late in this credit cycle, as a result of the Lehman (OTC:LEHMQ) induced economic free fall, continued to go delinquent at an accelerating rate (View image), with delinquencies rising 80 basis points quarter to quarter after a 51 basis point rise from Q109 to Q209. This suggests that un-employment trends may not yet be ready to turn the corner as banks may continue to be nervous about extending loans for new business expansion and creation for some time to come. C&I delinquencies have now surpassed the 2000 recession cycle peak of 3.93%, having reached 4.46% of all C&I loans in Q3, although they are still well below the 1990 cycle peak of 6.58%.
2) Residential delinquencies, which remain obnoxiously bad (View image), got worse at an accelerated pace in Q3, increasing 123 basis points quarter to quarter, versus a 44 basis point rise from Q1 to Q2 of 2009. This could have been a result of some catch up in foreclosure activity after a period of bank attempts at forbearance and loan restructuring earlier in the year. Nonetheless, this trend is especially troubling, after the long period of real estate price declines, and an apparent stabilization in the last six months with the help of much government impetus.

Disclosure: No stocks mentioned