Agrium Inc. (NYSE:AGU) is a major retail supplier of agricultural products and services in North and South America, a leading global wholesale producer and marketer of all three major agricultural nutrients (nitrogen, potash and phosphates) and the premier supplier of specialty fertilizers in North America through the company's Advanced Technologies business unit.
Potash markets have been volatile following the breakup of the one of the two large potash groups. Uralkali's decision (OTC:URALL) to part ways with Belaruskali and switch to a volume-over-price strategy has rocked the global potash industry. While the Russian soap opera continues with Russia opening a criminal investigation into the chief executive of Uralkali, it is time for investors to look beyond the near-term challenges the fertilizer industry is facing. We think Agrium is one of those companies that investors need to revisit. Ever since the activist hedge fund JANA Partners took a sizeable position in Agrium it has not been easy for the world's third largest nitrogen producer. However, this Canadian company has little downside risk and offers long-term value.
Since JANA Partners took a large position in AGU, the company has faced pressure for it to return more cash to shareholders. The activist hedge fund has pushed Agrium for more transparency on operations, a review of the company structure (split the wholesale and retail segments), and a change in the composition of the Board. While it has not been an easy year for Agrium, the events of the last year have left this Canadian fertilizer company in a much stronger position. The company recently held its annual investor day and communicated to investors its strategic long-term goals.
The past few weeks have been very eventful for Agrium. The company raised its dividend by 50% to $3.0 per share on an annualized basis. The Calgary, Canada,-based company also completed its long awaited acquisition of Viterra assets and appointed Chuck Magro, company COO, as the new CEO. He will replace outgoing CEO Mike Wilson from January 1, next year. JANA Partners, which was Agrium's largest shareholder before the company cut its stake in AGU to 2.7% from 7.5%, said that it is pleased with AGU's increased capital return and change in top management. In a SEC filing, the activist hedge fund said that it expects the recent management changes to lead to increased openness and responsiveness to proposals for value creating change. After the reduction in its stake, JANA is now the third largest shareholder of AGU.
Focusing On Value-Added Growth
On its annual investor day, Agrium briefed investors about growth themes for both of the two main business groups. The retail business provides the company with a number of growth drivers including Viterra, private label products, and continued tuck-in acquisitions. These levers provide the company a clear line of sight on its financial targets including the $1.3 EBITDA target by 2015, which represents 37% growth over 2012. The other growth theme is related to Agrium's wholesale business and the underappreciated expansion prospects within the company's wholesale portfolio. However, we think that over the next few years, the retail business is likely to be the bigger contributor to the earnings growth than the wholesale segment.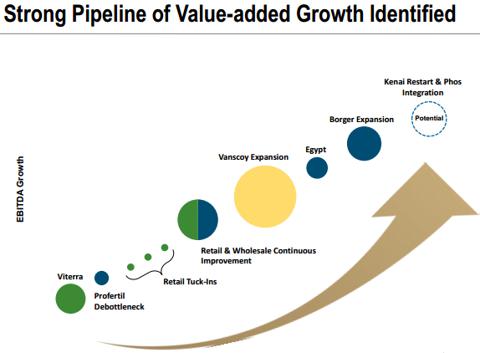 Source: Company Documents
Retail - Focused On Continuous Improvement
Agrium's retail segment offers a mix of growth drivers including the Viterra acquisition, Australia improvements, organic growth, and tuck-in acquisitions. EBITDA improvement from $951 million in 2012 to $1.3 billion in 2015 remains the main discussion point of the retail segment.
With closing of the Viterra transaction, AGU has added 210 farm centers in Canada in addition to 13 already added in Australia. After all the adjustments, the purchase price of the Viterra transaction ended up totaling $300 million, which is the cost of working capital, and the company remains upbeat on the prospects of this acquisition. Viterra is expected to add $75-$90 million in EBITDA in year one and by 2015 that figure is expected to grow to $90-$110 million.
Australia also continues to improve with fertilizer sales volume up 18% and overhead expenses reduced by 28%. Finally the $60-$80 million in EBITDA improvement from greater seed sales remains the main driver behind AGU's organic growth expectations.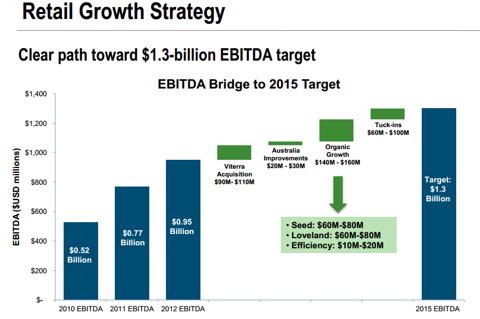 Source: Company Documents
The Underappreciated Wholesale Expansion Portfolio
Agrium has a number of options for capacity expansion within its wholesale portfolio. The Vanscoy potash mine expansion is the biggest source of growth in wholesale. The brownfield expansion project is expected to increase the mine capacity from 2.0 million tons to 3.0 million tons annually. The project is 50% complete and the company believes when it's fully completed the annual capacity could increase to more than 3.0 million tons. Although the current state of the potash markets does raise questions, will this project be profitable and will it return its cost of capital? The answer to these questions is yes. Even if the prices are to stay at $300 per ton forever, the project still returns its cost of capital.
On the nitrogen side, a debottleneck of Profertil's plant in Argentina is expected to add 125,000 tons of urea and 10,000 tons of net ammonia by the second half of 2014. The MOPCO expansion in Egypt is 90% complete but is currently delayed pending negotiations with the new government in Cairo. Out of the 1.2 million ton urea expansion project, Agrium's share is 350,000 tons. The expansion of the existing Borger (Texas) plant by debottlenecking its ammonia production and adding a new urea plant is also progressing.
Valuations And Financials
Agrium is trading at very attractive valuations and at a discount compared to its Canpotex partners. It has a price/earnings ratio of 9.6, lower than the industry average of 12.5 and Agrium's own 5 year average of 13.6. In comparison Potash Corporation of Saskatchewan (NYSE:POT) has a P/E of 12.4, Mosaic Co. (NYSE:MOS) of 10.5 and CF Industries (NYSE:CF) of 7.6. Agrium has a forward P/E of 9.7 and a PEG ratio of 0.3. In comparison, POT has a forward P/E of 13.1 and MOS of 11.0.

The company has a price/book ratio of 1.7, lower than the industry average of 2.9 and AGU's own 5 year average of 2.0. POT has a price/book ratio of 2.7 and MOS of 1.5. Agrium has a price/sales ratio of 0.8, significantly lower than the industry average of 2.3 and POT's price/sales of 3.5. The agriculture products supplier has a price/cash flow ratio of 10.3, higher than the industry average of 9.0 but lower than MOS' price/cash flow of 10.5.

As mentioned earlier Agrium recently increased its dividend by 50% and now pays $3.0 per common share on an annualized basis. AGU has a dividend yield of 3.5%. In comparison POT has a dividend yield of 4.4%, MOS of 2.2% and CF of 0.7%.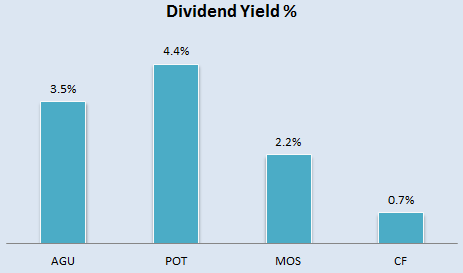 Although, due to the weak price environment, the company's profitability is expected to drop this year from the year before, Agrium has improved its margins substantially in the past 5 years. AGU's EBITDA margin improved from 9% in 2009 to 17% in 2012. It is expected to drop to 14% in 2013E. Similarly net margin improved from 4% in 2009 to 7% in 2013E. Return on equity almost doubled during the same period, from 8% to 16%. ROIC increased from 7% in 2009 to 11.5% in 2013E.

Conclusion
We have a buy rating on Agrium. In the near-term, the lower nutrient prices remain the central story among the fertilizer producers and are keeping investors cautious. Production issues in the nitrogen segment and uncertainty in the potash markets, which has resulted in lower volumes, are likely to result in soft third quarter results. But these headwinds are already well known to the market and it's time for investors to re-evaluate and look long-term. We believe Agrium was unfairly beaten down by the recent events in the potash industry and the recent drop in share price warrants investors' attention, particularly of long-term investors, because AGU has limited downside risk due to its high dividend yield and aggressive buyback program.
Agrium's stable retail business provides protection to the company in periods of weakness. The Canadian company's portfolio balance between wholesale and retail gives investors relative appeal vs. peers given current market volatility. Among the major fertilizer producers, AGU has a large retail operation and is the largest independent agricultural retailer in North America. The company has expanded its large retail presence to Australia and Europe. Agrium's retail business is a distinguishing factor among its peers and the company's combined retail and wholesale structure provides it with greater debt capacity; counter cyclical cash flows, higher potash operating rates, steady growth via acquisitions, and ability to perform big and complex deals such as Viterra.
While the nitrogen markets are nearing a bottom, pressure in the phosphates should be manageable and prices should improve when India returns to the market. The uncertainty in the global potash markets remains, but potash's contribution to Agrium's total profitability is likely to drop as Vanscoy expansion in 2014 will result in lower volumes. However, beyond 2014 Agrium remains logistically advantaged to place part of its incremental potash tons in higher netback areas such as North America and at the same time cutting its average cost substantially Y/Y.
Disclosure: I have no positions in any stocks mentioned, and no plans to initiate any positions within the next 72 hours. I wrote this article myself, and it expresses my own opinions. I am not receiving compensation for it (other than from Seeking Alpha). I have no business relationship with any company whose stock is mentioned in this article.