Hess Corp. (NYSE:HES) is a New-York-based integrated oil and gas company, which engages in exploration and production activity of hydrocarbons in the USA as well as other regions internationally. Its refining and marketing operations are mostly situated in the East Coast U.S. As of Friday, October 18th close, the company has a market capitalization of $28.87B and LTM income of $3.64B (including gains from non-core asset sales). The company is in the process of transformation into a pure E&P player.
Hess's equity has had a remarkable success in the stock market as shares delivered outstanding returns in comparison with the broader market (large alpha): shareholders have enjoyed a ~55% appreciation in stock price since the beginning of the year, while the S&P 500 index delivered a return on investment of about 22%. Historically, Hess has been an "alpha-rich" stock for over a decade: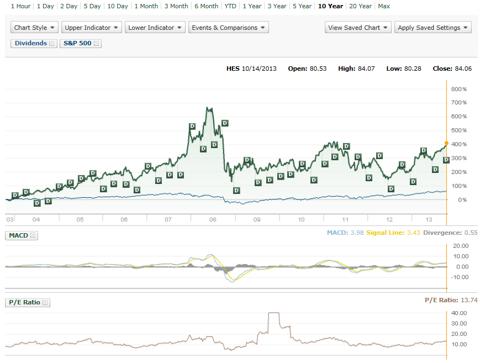 Click to enlarge
(Data courtesy of TD Waterhouse)
As one can see, over the past 10 years Hess's stock has always performed better than the broader market indicating its growth-inclined nature (vs. value). A recent dividend hike to 25 cents per share from $0.1/share has created an effective dividend yield of circa 1.2%. Hess has a good standing among its peers:

Click to enlarge
http://www.google.ca/finance?cid=841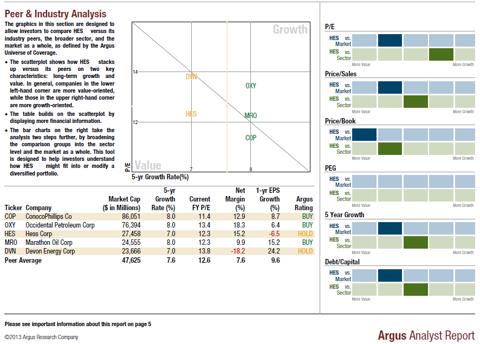 Click to enlarge
(Data courtesy of Argus Research)
The company's P/E of around 13.7X last-twelve-months' earnings places the company roughly in the middle of the peer range, while its dividend yield is in the bottom quartile. Over the last five years, the market has allowed Hess to trade within the following valuation ranges:

Click to enlarge
(Data accessed through Stock Rover platform)
While the shares trade in the upper quartile of the Price/Sales range, the stock is moderately valued on the rest of major multiples. Analysts from TD Waterhouse believe the fair P/E multiple is around 14.3X earnings.
Management's View
A recent September presentation during the Barclays CEO Energy Conference confirmed Hess's on-track position in delivering promises set out to its shareholders. During 2013 Hess has been trimming its financial debt with proceeds from asset sales: the total amount as of 2013Q2 is ~8.1B. So far, the company monetized about $4.5B of non-core assets…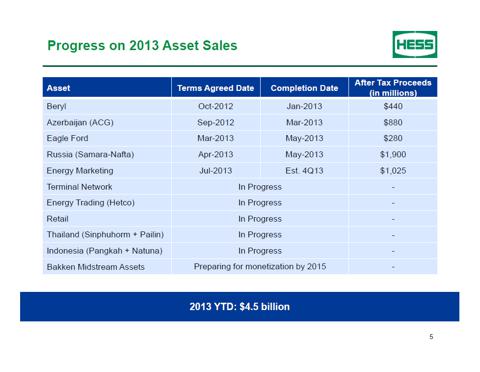 Click to enlarge
(All slides shown come from the presentation)
…and has recently struck a deal with Buckeye Partners, L.P. to sell its terminal network for $850M.
The company also identified new growth areas for its core E&P business which have occurred to be geographically close to the existing assets: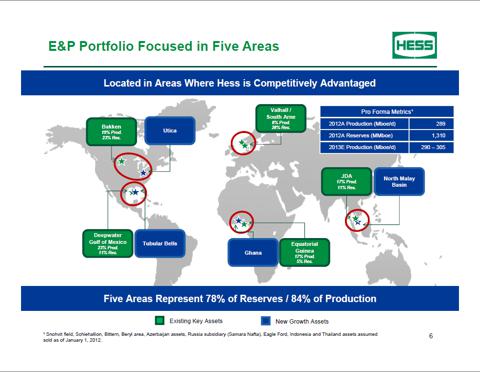 Click to enlarge
The intense portfolio reshuffling does not seem to have affected Hess's total output as it is projected to be at least slightly above the previous year's number.
Despite in-line results with the peers' major strictly financial metrics, Hess has enjoyed one major operational advantage: it has generated more cash per barrel figure than any of its competitors in the past several years. The management proudly presented this achievement: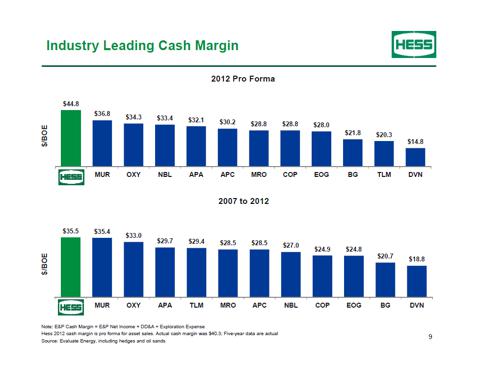 Click to enlarge
Unfortunately, negative changes in working capital have canceled out this advantage over the same period of time: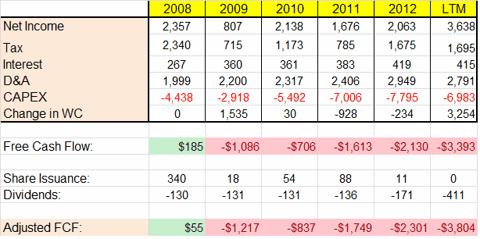 Click to enlarge
Hess proposed plans to slash CAPEX in the near-term and deliver free cash flows after 2014: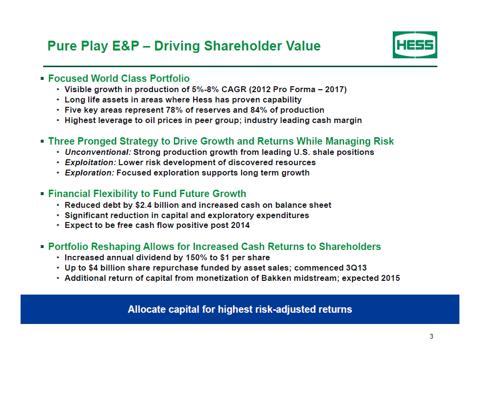 Click to enlarge
A combination of production growth, strategic shifts, deleveraging, and shareholder-rewarding activity has given Hess above-average valuation and a status of a growth stock.
Valuation
Hess has received plenty of coverage from analysts, who mapped out EPS estimates for the next three years: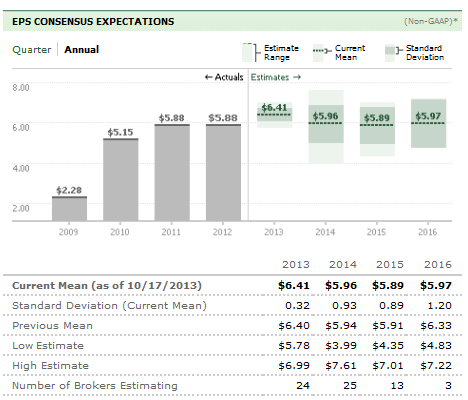 (Data courtesy of TD Waterhouse)
One can see that the standard deviation of estimates is fairly high which means that there is a lot of uncertainty involved in relation to the company's profitability. In fact, the standard deviation is almost three times higher for years 2014 and 2015 than for the full 2013. After applying the "fair" P/E ratio of 14.3X we receive the following output: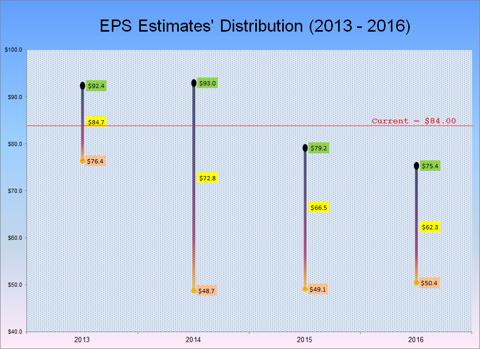 Click to enlarge
The current price of ~$84 indicates that the company's equity is being given a premium valuation with respect to EPS estimates for years to come. While the stock trades in the upper quartiles of the ranges, it can be generally stated that it is fairly valued at this price level.
The question is: where is the growth story? Why should investors hold on to the stock after this year's run up or even buy more of it? The answer is found in Hess's return-on-equity (ROE): the combination of modest profit margin, asset turnover, and leverage produces a return in excess of the cost shareholders have imposed on the company's stock (cost of equity). Adjusting for a fairly low Price/Book multiple, we can get the following output: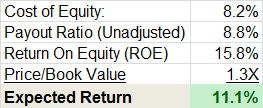 The economic value added (NYSE:EVA), the spread between the return on shareholders' capital employed and the cost of equity capital, is incredibly high which translates into the low double-digit expected return figure.
Technical Picture
The chartists see a "BUY" pattern been developed in the last several months: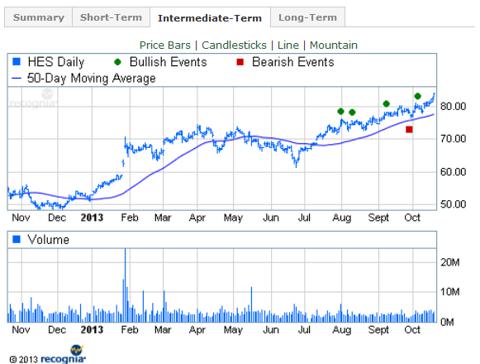 Click to enlarge
(Data courtesy of TD Waterhouse)
The entry points have been positioned above $75 per share, while the only sell-signal in the intermediate-term lies at a price level of circa $72-$74 per share.
Summary
Hess Corp. is being successfully transformed into a high-margin exploration and production company with modest debt on the balance sheet. The concentration of production in specific geographical areas and further organic development of these areas should result in optimization of costs and synergies in the long-run. The company has been successfully divesting non-core assets at premium valuations and, thanks to that, has become more shareholder-friendly with the introduction of share buybacks and dividend hikes.
Conclusion
I issue a "HOLD" recommendation for Hess's stock at current price levels with a "BUY" on pull backs to $75 - $78. Investors are well-compensated for the market risk with high Hess's ROE, modest dividend, and share count reduction.
Analyst Opinion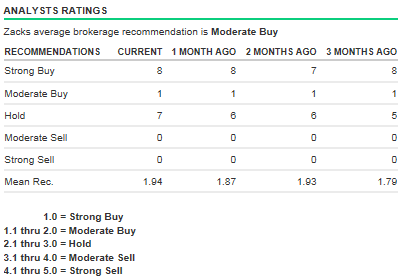 (From MSN Money)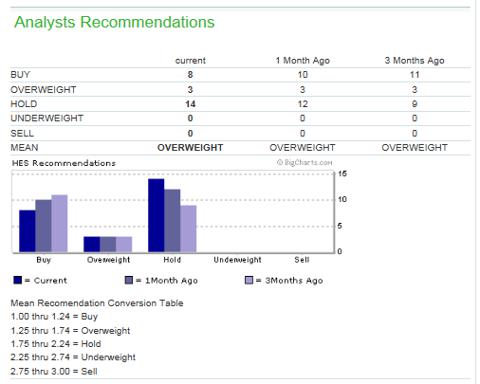 Click to enlarge
(From MarketWatch)
Disclosure: I am long HES. I wrote this article myself, and it expresses my own opinions. I am not receiving compensation for it (other than from Seeking Alpha). I have no business relationship with any company whose stock is mentioned in this article.