If we talk about Herbalife (HLF), Bill Ackman's name is sure to come up. His name has been closely associated with the company and has been in the news for quite a long time now. In December last year, Mr. Ackman, the owner of Pershing Square Capital, declared his $1 billion short position against Herbalife. This was due to his accusation over Herbalife for using a pyramid scheme to improve its business. In contrast to this bold move by Mr. Ackman, the company's share price surged significantly, up by around 100% to year to date.
Earlier, we wrote a series of articles, contradicting Mr. Ackman's HLF thesis, and substantiating as to why, the long term fundamentals of business are still intact. (Please read them here.) Since then this stock has shown tremendous performance.
One of the reasons behind this strong performance is the 18% year-over-year revenue growth to $1.2 billion in the second quarter of 2013. Another reason for this huge uptick in stock price was investors' anticipation of a $50 million stock buyback per quarter, which the company should initiate in coming quarters. Looking at this, on October 3, 2013, Mr. Ackman converted 40% of his short equity position into long-term put options to avoid further losses.
Expected clean chit will boost investor sentiments
Herbalife operates under direct selling methods to sell its product, through its wide global distribution network of 2.5 million distributors. Mr. Ackman raised questions regarding this distribution network; he claimed the company posts its profits from selling its products amongst distributors and not to the consumers. He also claimed that 90% of the profits from the distributors are earned by adding other distributors to the network. In April, Herbalife was in trouble as KPMG, the company's then auditing firm, resigned because of alleged insider trading by an auditor. To prove the accuracy of its numbers, the company appointed PricewaterhouseCoopers in May this year, which will be re-auditing its statements from 2010 to 2012.
This audit is expected to be complete by the end of December this year, and Herbalife is expecting a clean chit. Additionally, Nielsen Company performed a research in June this year. The research showed that 7.9 million people in the U.S. have purchased Herbalife's product within the three month period prior to the study, of which 87% were not distributors. This depicts that a large number of consumers are buying the products, with the vast majority being outside the company's distribution network. We are confident that Herbalife will get a green signal from the auditors. Along with Nielson, Carl Ichan, another activist investor, also believes in the stock and holds more than a 16% stake in Herbalife, which guided him to gain around $500 million.
If it gets a clean chit, we believe this may aid Herbalife to resume the repurchase plan of $50 million per quarter it announced in July 2013. Additionally, the company had a hefty cash balance of approximately $850 million in the second quarter of 2013, through which it can easily fund its repurchase plan. This will help the company to regain investor confidence, which it somewhat lost in the past one year.
Herbalife will spend $100 million to renovate the former Dell plant in Winston-Salem it purchased for $22.2 million on December 31, 2012. In our view, this indicates that it is expanding its production capacity to meet the rising demand for its product. It also plans to hire 250 employees by the end of 2013 and have a workforce of around 500 by the time the plant reaches full production in mid-2014. Through these initiatives, it is poised for growth in terms of revenue in the next fiscal year.
Strengthening distribution network
We believe Herbalife's strength lies in the massive distribution network of 2.5 million distributors around the world. It mainly focuses on making this network stronger and wider by adding new distributors every quarter. The company added around 80,000 new U.S. distributors in the second quarter of 2013, which is the largest increase ever for a market in Herbalife's history. This led to revenue growth in North America in the second quarter of 2013, which was up by 10.19% compared to the second quarter in the previous year.
Along with the rise in the number of distributors, its healthy products including 'Formula 1', which ensures obesity control, and 'Herbalife24', which provides sports nutrition, are also major factors for revenue growth. The U.S. population is becoming more conscious of their health, driving the popularity of Herbalife's products amongst the masses. These healthy products attract the consumers to join the distribution network to gain monetary benefits. In addition to the monetary benefits, Herbalife also provides distributors with a healthier lifestyle from these products. Therefore, this is a win-win situation, and the company tends to expand its network, making the products even more familiar. We believe the more Herbalife increases its distribution, the stronger impact it will have on its top line, and indirectly its value proposition.
Another benefit of a strong distribution network is organic sales growth through relationships and word of mouth rather than depending on advertising to target new customers. In 2012, the company grew revenue by 18% year over year, by spending only 1% of the total revenue on advertising. Herbalife's ability to grow its product sales without significantly spending on advertising proves to be a core competitive advantage. In our view, if the company follows the same approach, it could possibly have a lot of room to invest in the business and grow in terms of revenue.
How is the competition?
Herbalife, along with its strong fundamentals, faces tough competition from its peers, including GNC Holdings (GNC) and Nutraceutical International (NUTR). These two companies engage in retailing, manufacturing, and distributing nutritional products in the U.S. and internationally. GNC mainly focuses on the sport nutrition products and has 27% of the market share in the U.S., where its annual sales for its Pro Performance line reached $300 million this year. Nutraceutical reported more than 2% year-over-year rise in net sales in the third quarter of 2013, which ended in June. This indicates that the companies, including Herbalife, are performing well, and we expect further growth in the coming quarters.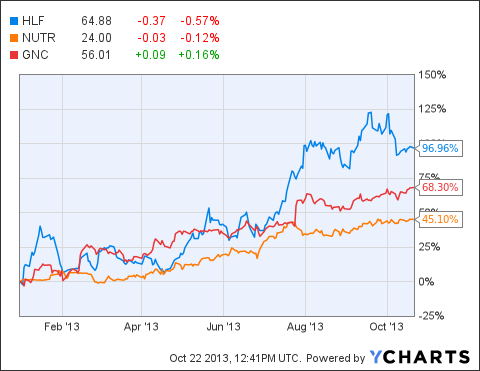 However, Herbalife has been the best performer in comparison to the other two companies, and it has been successful in providing exceptional returns to its shareholder. Herbalife has provided 96.91% of return year-to-date, in comparison to GNC's 67.07% and Nutraceutical International's 44.5%. In addition, Herbalife seems to be fairly valued when compared its peers. Its trailing P/E ratio of 14.33 times is higher than Nutraceutical's 13.74 times and lower than GNC's 21.97 times. When we compare it to the Personal Products industry's P/E ratio of 25.3 times, it is highly undervalued, which makes it more attractive for investment. We believe Herbalife has been and will be an investor favorite, when it comes to providing returns and keeping investors happy. The company's future prospects seem to be bright.
Disclosure: I have no positions in any stocks mentioned, and no plans to initiate any positions within the next 72 hours. I wrote this article myself, and it expresses my own opinions. I am not receiving compensation for it (other than from Seeking Alpha). I have no business relationship with any company whose stock is mentioned in this article.
Additional disclosure: Fusion Research is a team of equity analysts. This article was written by Madhu Dube, one of our research analysts. We did not receive compensation for this article (other than from Seeking Alpha), and we have no business relationship with any company whose stock is mentioned in this article.