In an article I published last February, I initiated a buy statement stating that National Oilwell Varco (NYSE:NOV) was undervalued. At that time the stock was trading in the high $60's. The statement was based on the opinion that increasing global demand for energy and energy services stocks would increase shareholder value. In revisiting my outlook, I believe there is more significant upside from this point and believe the stock is still undervalued compared with today's stock price of $81.87.
Company Description
National Oilwell Varco, Inc. is an equipment supplier in the drilling industries which are used in oil and gas drilling and production operations, oilfield services, and supply chain integration services to the upstream oil and gas industry.
Spin-off
On September 24th, National Oilwell Varco announced plans spin off its distribution business. The spin-off is expected to be completed in the first half of 2014 but is subject to some variables. Delaying or halting the spin-off could be market conditions, customary regulatory approvals, the execution of separation and intercompany agreements and final board approval. As a result of the spin-off, the new company will have 415 locations and operations in 26 different countries around the world. The spin-off is expected to generate approximately $4.3 billion in revenue and $230 million in operating profits annually.
Because of the acquisitions of CE Franklin Ltd. which was indirectly owned by Schlumberger LTD (NYSE:SLB) and Robbins & Myers Inc. for about $2.5 billion in cash, "the company's distribution business now has the market size and scale to operate as a standalone, world class, distribution company," National Oilwells' CEO Pete Miller also stated, the transaction will be done as a "tax-efficient spin-off to NOV shareholders", with both businesses being publicly traded.
Analysts are estimating that National Oilwell Varcos' distribution segment's should increase profitability, in the neighborhood of 8%. As reported by Double Dividend Stocks, This may be used to provide National Oilwell with additional capital to fund acquisitions or pay a special dividend without leveraging the balance sheet.
Deep-Water Developments
Deep-water and ultra-deepwater exploration and drilling have shown a remarkable increase over the past few years. This is due in part to the development of new technologies, which have reduced operational costs and increased safety. These technological advancements have also increased a company's ability find and access more reservoirs that will produce high-quality production wells.
As more advanced technologies have created opportunities, that in turn has reduced costs and increased safety, it has become economical for companies to pursue deep-water reserves. Major E&P companies such as Exxon (NYSE:XOM), Chevron (NYSE:CVX), BP p.l.c. (NYSE:BP) and Royal Dutch Shell (NYSE:RDS.A) have increased their presence in deep-water regions. Exxon is expecting deep-water projects to account for 8% of its new source production over the next decade. Chevron is expecting deep-water projects to account for 40% of its new source production. BP p.l.c. is banking on the most as it is expecting 52% of its new source production to be from deep-water reserves over the next 10 years, while Shell is more reserved in that it expects 25% of new source production to come from deep-water projects. To support their deep-water growth, these major E&P companies along with others have significantly increased their deep-water Capex spending outlook over the next four years.
Over the next four years, It is estimated that global growth in the offshore E&P sector will increase 8 to 10% YOY. Leading the way in E&P spending is Brazil, which is anticipating $250 billion to be spent on the development of its offshore reserves. Second in E&P spending is Norway, which is expecting $220 billion to be spent on the development of the North Sea, Norwegian Sea and the Barents Sea. The region that Schlumberger is focusing on is the U.S. GoM. Within the U.S. GoM, E&P spending is expected to be around $190 billion over the next four years.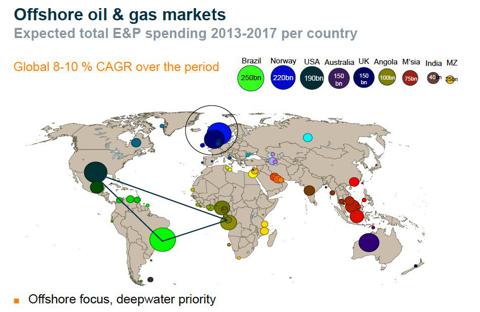 Click to enlarge
Chart by Aker Solutions
The boom in offshore drilling looks to be very promising for NOV. With the company's focus on developing the drill-ship industry and supplying equipment that support all types of drilling rigs which include jack-up, platform and semi-submersible, a sharp increase in revenue and earnings is expected over the next couple of years.
Revenue Estimates
With a global increase in deep-water capex spending relating to National Oilwells' businesses, analysts at MSN Money are expecting significant growth over the next couple of years. They are estimating an EPS for FY 2013 at $5.34 while robust growth is expected to continue into 2014 as EPS estimates increase to $6.30.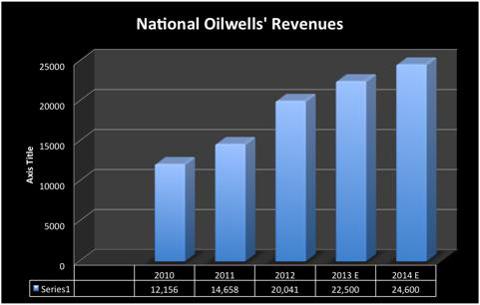 Click to enlarge
Bloomberg Businessweek supports this forecast as it expects the company's revenues to be around $22.5 billion for FY 2013 and increase to $24.6 billion for FY 2014.
Valuation
In the section below, I will use a couple of different methods to find a valuation of the stock price. In this section, I will use the Discounted Cash Flow valuation model and forward P/E ratios to estimate the current value of each share.
I believe using the Discounted Cash Flow valuation model for Halliburton to be fair because DCF analysis can help one see where the company's value is coming from and one can generate an opinion based on that.
Even though there are variations in calculating this formula, this model is based off of a terminal value of $44.088 billion and a WACC of 7.67%. The terminal value $44.088B is based off of the company trading at a very conservative 11X EBITDA. Using these valuations, I have concluded NOV's present value to be $87.77 per share.
In another method, I will use National Oilwells' forward P/E ratios with estimated earnings to find the value. Currently, NOV has a forward P/E of 13.07 and FY 2015 earnings projected at $7.33. These two metrics lead to a target price of $95.80. I believe this to be a fair P/E ratio moving forward. As we look to be heading into a rising interest rate environment, P/E ratios tend to drop during this time.
As of October 20th 2013, National Oilwell Varcos' stock was trading at $82.16 - Using the Discount Cash Flow Formula, this indicates the stock is trading at a 6.83% discount to today's price. If I calculate a valuation using forward P/E ratios this indicates a valuation of $95.80 or a discount of 16.60%.
Analysts Price Targets
Finviz has a price target for National Oilwell at $86.48.
On October 9th, Robert W. Baird gave the company a "Neutral" rating with a target of $82.00.
Strategy
I believe this is an excellent time to purchase stock. Based on the seasonality of the stock, the fall months along with the spring usually are times of strength for National Oilwell Varco.
Conclusion
Even though National Oilwell Varco's stock price has had a solid increase so far in 2013, I believe the stock still has upside. With National Oilwell Varcos' spin-off set to increase shareholder value coupled with the growing outlook for offshore deep-water development, it is my opinion this is an excellent time to purchase the stock. At current levels using the Discount Cash Flow Formula, I have calculated that National Oilwell Varco is currently trading at a 6.83% discount to today's price and if market conditions remain positive could reach the $90+ mark in the spring.
Disclosure: I am long SLB. I wrote this article myself, and it expresses my own opinions. I am not receiving compensation for it (other than from Seeking Alpha). I have no business relationship with any company whose stock is mentioned in this article.